Last Updated on June 6, 2015 by Chef Mireille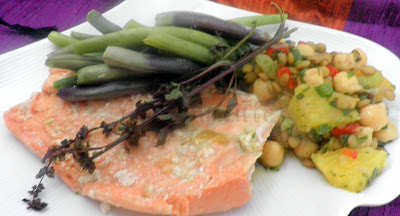 This month's Daring Cooks Challenge is to cook en papillote. This French cooking technique literally means "in paper". The food is cooked in the oven, wrapped in parchment or similar paper. Usually, this is done with tender foods that cook quickly like chicken fillet, fish or vegetables. All the herbs & seasonings are trapped in the paper which lead to a very flavorful end product.
Our July 2012 Daring Cooks' host was Sarah from All Our Fingers in the Pie! Sarah challenges us to learn a new cooking technique called "Cooking En Papillote" which is French and translates to "cooking in parchment".
I haven't done this since I was in culinary school about 8 years ago. It really is a very healthy way of preparing food and there is so much variation allowed depending what you choose to lock in the package. It seals in the seasonings which allow for very flavorful food in a short amount of time. I am going to start using en papillote more often at home.
It had been such a long time I had done this and was not sure of the cooking time, so I ended up overcooking mine, which caused the white stuff on the fish. This occurs when the fat breaks down. Although not aesthetically pleasing because of all the amazing flavors, the fish was still delicious, albeit a little dry. The recipe I recorded below reduces the cooking time for a perfectly cooked salmon.
First, let's make an herb butter to cook with the salmon
Thai Herb Butter
Ingredients:
1 stick butter, a little softened
2 dried chiles, crushed
1 1/2 teaspoons ginger, grated
grated lime zest from 1 lime
Using an electric mixer, beat well.
Shape into a log and wrap in plastic wrap or put in a ramekin, cover and refrigerate.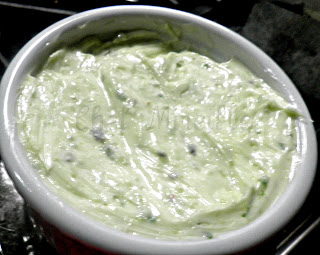 Thai Herb Butter
Salmon is one of the most common things to cook en papillote, which is what I did in combination with some colorful green and purple beans I picked up from my local food coop. Since both the green and purple were the same price, I picked some up for variety.
Thai Salmon en Papillote with Colorful Beans
(click here for printable recipe)
Ingredients:
1 lb. salmon
2 tablespoons Thai herb butter
2 stalks lemongrass
branches from 2 stalks of Thai basil
2 garlic cloves, crushed
1 teaspoon palm sugar
1 tablespoon fish sauce
1/2 lb. green/purple beans
salt, to taste
Preheat oven to 425 F. Sprinkle fish with salt.
Cut off bottom woody ends of the lemongrass. Pound the top with a mallet to release the juices.
In a small bowl, dissolve palm sugar in the fish sauce.
Sprinkle both sides of the fish with salt. Place fish on a large piece of parchment. Spread 1 tablespoon of the herbed butter on top. Place the lemongrass, garlic and Thai basil on top.
Trim the edges of the beans and toss with a little salt. Place the beans on top in the papillote.
Pour the fish sauce mix on top.
There are different ways to tie en papillote. I chose one of the easiest methods which is to grab eveything into a sack shape and tie with kitchen string. I did this twice to make sure I had a tight seal.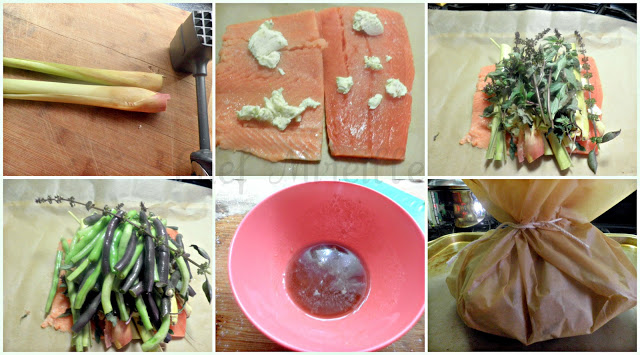 Place on a cookie sheet and bake 10 minutes. (I overcooked mine at 15 minutes)
Wait 5 minutes before opening sack.
This was so delicious with a strong Thai basil flavor that permeated both the fish and the beans, with the chile from the butter in the background. Purple beans do lose color when cooked, so better to use these beans in raw salad.
I complemented this healthy meal with leftover Bean & Fruit Salad.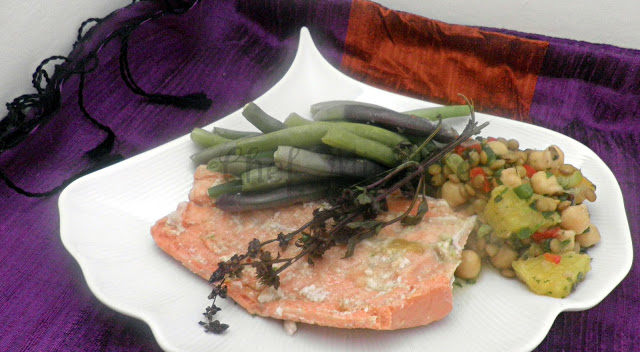 …linking to Around the World – Thailand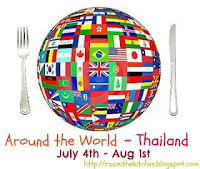 LIKE THIS RECIPE? LEAVE A COMMENT..I LIVE FOR THEM!
Chef Mireille
Like me on FACEBOOK!
Follow me on TWITTER!