Last Updated on May 20, 2015 by Chef Mireille
It has been a few weeks since a blog posting. Please accept my sincerest apologies. A summer full of lots of culinary events has kept us quite busy. Hope you are all staying cool in the extremely hot temperatures we have been having or extremely cold temperatures, if you are in Argentina!
My first task is to resume our Cookbook Recipes series, so here is a second recipe from The Great Curries of India. This is a homestyle recipe using whole spices. Please note these whole spices are to be discarded, as you eat.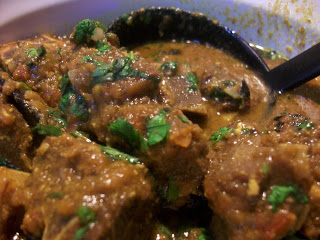 Bhuna Gosht (Delhi-style Lamb Curry)
1/3 cup oil
2 bay leaves
1 black cardamom
1 cinnamon stick
10 peppercorns
4 cloves
1 1/2 onions, very finely chopped
1 ounce fresh ginger, peeled and grated
2 cloves garlic, finely chopped (original recipe had 2/3 ounce)
3 green chiles, chopped (original recipe had 1/4 ounce)
2 1/4 pounds lamb
1/2 teaspoon turmeric powder
1 1/2 teaspoons coriander powder
1 teaspoon cayenne powder
1 teaspoon garam masala
2 tomatoes, pureed
1/3 cup plain yogurt
salt, to taste
1 tablespoon chopped coriander
Heat the oil in a large pot with the bay leaves, cardamom and cinnamon stick, When the leaves begin to fry add the peppercorns and cloves, and after a minute put in the onions and saute until lightly colored, about 15 minutes.
Add the ginger, garlic, green chiles, lamb and 1 teaspoon salt and stir-fry over a low heat for 20 minutes. during this time stir every few seconds, scraping the spices off the bottom of the pot. Add 2 tablespoons water whenever it gets too dry.
Then add the turmeric, coriander, cayenne pepper and garam masala powders and stir continuously for 5 minutes, adding 2 tablespoons water. Add the pureed tomatoes and cook for 5 minutes, stirring frequently.
Add 4 cups water and simmer for 15 minutes. Whisk the yogurt and add to the pot. Cook over gentle heat until the lamb is tender. Garnish with chopped cilantro leaves.
I found this recipe to be inaccurate in regards to timing. It needed more liquid to be added and cooking for about 40 minutes, instead of 20 for the meat to be tender. For this reason, I give this recipe a C, but in terms of flavor once you make these adjustments I give it an A.
I suggest you trying this recipe with these changes and please let me know your feedback.
Chef Mireille