Last Updated on June 6, 2015 by Chef Mireille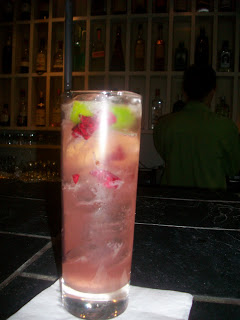 To make up for the inactivity the last few weeks on this blog, I am giving you several posts this week. This is a restaurant review for Rayuela. Rayuela is one of the options for Restaurant Week this summer. Restaurant Week, where you can get 3 course for $35 at select NYC restaurants, has been extended for another week so there is still time to make a reservation.
This was one of the best Restaurant Week experiences I have ever had. Rayuela is a Latin Caribbean fusion restaurant, that does fusion at its best. Using lots of fresh fruits, vegetables and herbs, even in their cocktails, creates many levels of flavor. Using fresh sage leaves in Vodka Cocktails and fresh rose petals in a Champagne cocktail create drinks that are deliciously balanced as well as aesthetically pleasing. While enjoying your Coming Up Roses Cocktail or the wonderfully refreshing Pina Agave (fresh pineapple, cucumber, lemon, agave nectar and white tequila), you are served a cheesy dense bread with roasted garlic and olive butter. There is a real olive tree in the bi-level restaurant.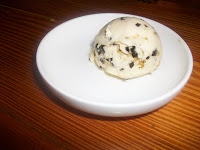 The Restaurant Week menu had varied choices, including vegetarian options. The vegetarian appetizer was a wonderful beet salad, with spinach, grapefruit and goat cheese. However, the best appetizer option is the Caracol con Curry y Fufu – Curried Conch on a sweet plantain shell with pork belly. The curry was mild and complemented the flavors of the conch and plantain wonderfully. The pork belly was delicious with a crispy skin, however, it should have been cooked for a longer period of time. It was not as tender as it should be.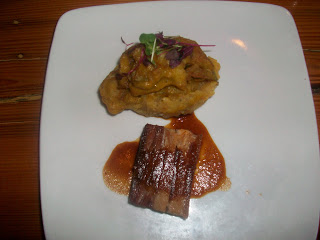 The best of the main course options is the grilled swordfish in an aji-amarillo mango saffron sauce, serve with a mixed rice that included chorizo, shrimp, mussells and eggs. The lamb main course in a rose infused tamarind sauce had many levels of flavor, but again, I thought the lamb should have been cooked to a more tender state, but the fish was cooked perfectly.
Desserts were good, but nothing outstanding, however, the peaches complemented the Red Velvet Cake in a unique way.
After the 3 courses and the most amazing complimentary Gazpacho made with Chilean papaya and saffron, we were content after the meal. This was one Restaurant Week dinner that I did not feel hungry just a few hours later, due to the usually small portions.
Friendly, attentive staff with a great LES vibe, the only thing lacking was a little more thought into the desserts.
For interesting flavors and Fusion Cuisine at its best, I suggest an evening at Rayuela!