Last Updated on June 6, 2015 by Chef Mireille
When people think of vacation spots in the Caribbean, most people's first choice isn't Haiti because they think of images of political violence throughout the years and they usually see news images of poor children in the overcrowded city of Port-au-Prince, but there is another side to Haiti. In light of the recent tragedy in Haiti, I would like to highlight the other side so that when communication and basic infrastructure is rebuilt, going to Haiti for vacation can be your way to help to feed their already weak economy. A stronger economy will help the poor people of this impoverished nation.
In the countryside, you will find breathtaking beaches, native artisans and a historical Citadelle. A unique cuisine will also await you. The national dish of Lambi is one of my favorite stews of conch, onions, garlic and peppers, finished off with Picklese which goes on everything Haitians eat. Picklese is the Haitian native hot sauce, but not the typical red sauces you find in other places of the world. Picklese is made by taking the hottest Scotch Bonnet peppers and letting them soak in vinegar, with carrots, thyme, allspice berries and onions. Let this sit for a week and then a few drops of the pepper infused vinegar on a plate of food adds the perfect amount of acid and heat, that will complement any meal.
So if you would like beach fun, a little history and delicious food – try Haiti for your next vacation. Please check out Lonely Planet for travel information and resources. This can be your little way of helping the people of Haiti and having fun at the same time.
Please keep the people of Haiti in your prayers and if you would like to donate to reputable aid organizations, see here.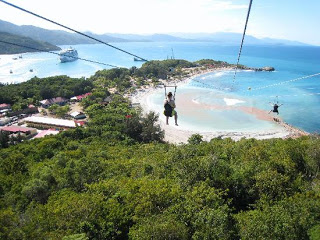 Chef Mireille
https://www.globaltasteinc.com
Like me on FACEBOOK!
Follow me on TWITTER!