Last Updated on May 20, 2015 by Chef Mireille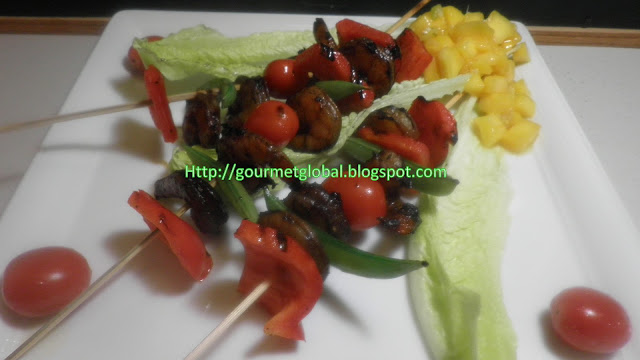 I love all types of seafood and especially shrimp. Grilled, sauteed or even just steamed, I could eat shrimp every day, although my cholesterol level would start to suffer.

Don't forget to Check out the Blogging Marathon page for the other Blogging Marathoners doing BM# 13 )
Asian-inspired Shrimp Kebab
Ingredients:
1/2 lb. shrimp, peeled and cleaned (if you're vegetarian, substitute tofu or paneer)
1/4 cup soy sauce
2 stalks lemongrass, pounded and chopped (it is important to crush the lemongrass with a mallet to release the flavor)
1 tablespoon ginger, chopped
1 tablespoon finely chopped mint leaves
sugar snap peas, tossed with a little olive oil, salt and pepper
bell pepper,cut into large pieces and tossed with a little olive oil, salt and pepper
grape tomatoes, tossed with a little olive oil, salt and pepper
soaked wooden or bamboo skewers (soaked in water for at least 2 hours)
In a bowl, combine shrimp, lemongrass, ginger,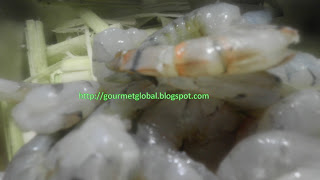 mint leaves and soy sauce. Stir to combine and put in refrigerator to marinate for 2 hours.
Remove shrimp from marinade. Season with a little salt and pepper.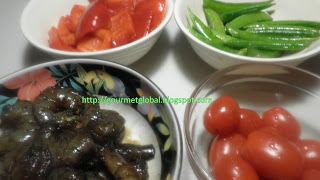 Make kebabs by placing an assortment of vegetables and shrimp on each skewer.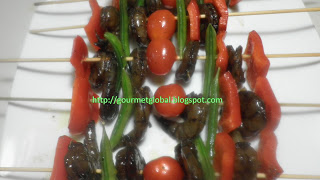 Heat a grill pan and brush with olive oil. Place skewers on heated grill pan and cook for a few minutes on each side until shrimp is cooked through, about 2-3 minutes on each side.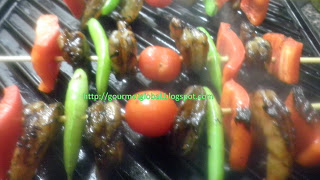 Serve with Mango Achar (adapted from Malaysian Pineapple Achar recipe from Authentic Recipes from Malaysia)
1 cup Mango, chopped small
1 chile, finely chopped
1 scallion, finely chopped
2 tablespoons lime juice
1 tablespoon sugar
1/4 teaspoon salt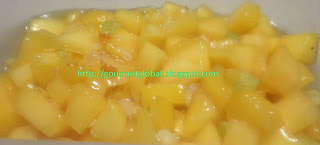 Combine all ingredients in a bowl and place in refrigerator for at least 1 hour, before serving.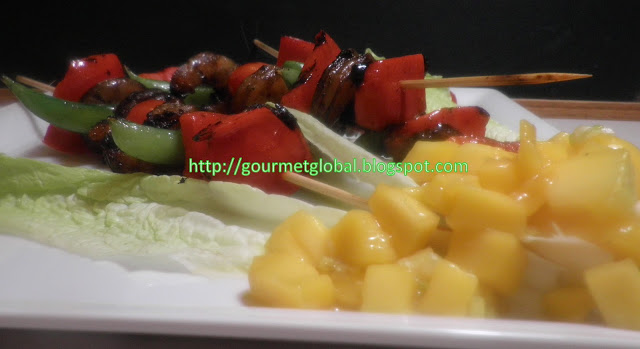 This delicious recipe was also submitted to Kebab Mela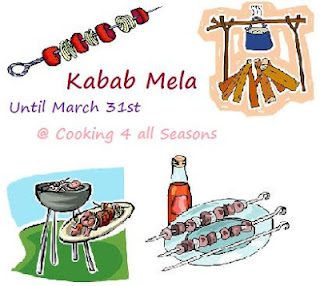 Chef Mireille