Last Updated on May 20, 2015 by Chef Mireille
Since so many of my Blogging Marathon cohorts are vegetarian, when I am participating in BM, I do try to keep at least some of my contributing recipes vegetarian.
Don't forget to Check out the Blogging Marathon page for the other Blogging Marathoners doing BM# 13
Shami Kebab is a popular street food item in India, however, it is usually made with minced meat and chickpeas. I did discover a few vegetarian versions online, substituting the meat with green plantain. Initially, I was going to use this recipe. However, after shopping, I had forgotten to buy the green plantain. I did have a sweet potato. I created this unique vegetarian version of Shami Kebab, using sweet potato.
1 cup sweet potato, boiled and mashed
1/2 cup chickpeas, cooked and mashed
2 teaspoons oil, seperated
1 onion, chopped
3 chiles, chopped
1 teaspoon garlic paste
1 teaspoon ginger paste
1 teaspoon salt
1 tablespoon Shami Kebab masala (the one I bought had left the cloves and black peppercorns whole, so I pulsed these in a coffee grinder before adding them)
1/2 cup khoya, grated (khoya is a dried milk product, available at Indian markets) (If you can't find it, here is a you tube video how to make it yourself. If you do this and the khoya is fresh, it may not be necessary to grate it.)
1 teaspoon garam masala
1 dash salt
2 tablespoons pomegranate seeds, plus extra for garnishing
oil, for frying
Heat1 teaspoon of the oil. Saute onions and chiles, until vegetables are softened.
Mash sweet potato and chickpeas together. Add sauteed onions and chiles with masala, salt, ginger paste and garlic paste.
Combine khoya, pomegranate seeds, garam masala, remaining teaspoon of oil and dash of salt to form a dough.
Seperate into 4 balls.
Take some of the mashed sweet potato-chickpea mix and form a pattie in your hand. Place one of the khoya balls in the pattie and form the pattie around the khoya.
Heat oil in a skillet and pan fry until golden brown on all sides. They may start to fall apart a little because the sweet potato is a lot softer than the traditional green plantain. Just use a wooden spoon to hold it together, if any of them start breaking apart. They will eventually set together.
Some of the onions, sweet potato, etc. will leak into the oil during the cooking process. Reduce it and you have a sauce you can pour over the shammi kebab and garnish with pomegranate seeds.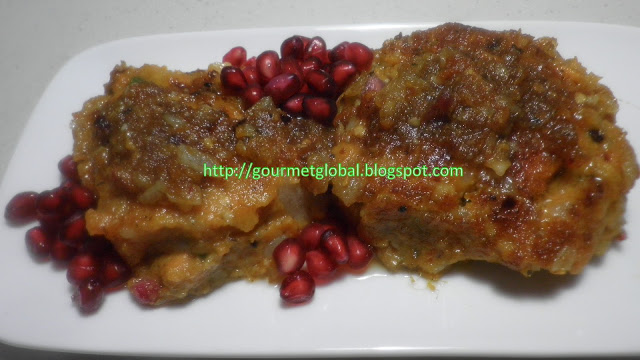 Hope you enjoy my version of a Vegetarian Shammi Kebab!
Recipe also submitted to Kebab Mela
Chef Mireille
https://www.globaltasteinc.com
Like me on FACEBOOK!
Follow me on TWITTER!
Contact me at [email protected] for personal chef and cooking class services!