Last Updated on November 13, 2019 by Chef Mireille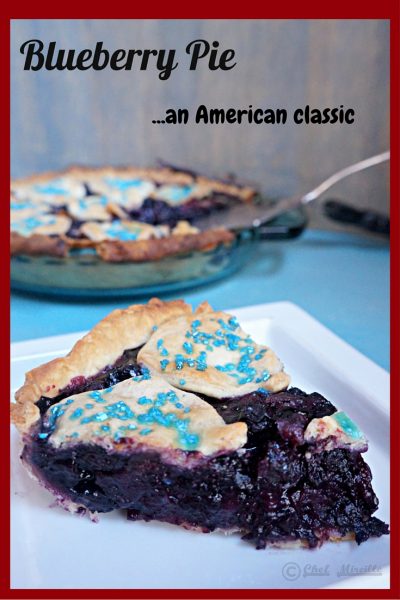 Americans are a pie culture. More than cakes or cookies, a summer barbecue isn't complete without an Apple Pie or a Blueberry Pie. What's Thanksgiving without Pumpkin Pie or Sweet Potato Pie. Is there anything more American than pie a la mode? This part of Americana is not one I grew up with because of my Caribbean parents, however it is one I have whole heartedly embraced.
Although I often like to put my own twist to things, if something is delicious to begin with, it's not always necessary to mess with perfection. I stuck with the classic recipe, although I used frozen berries instead of fresh. At this time of year, despite the unseasonably warm temperatures we are having, blueberries have already reached their fall prices. During the summer when berries are abundant, prices are great and using fresh berries makes sense. However at this time of year, when the berries double in price, using frozen berries is a more cost effective method.
Blueberry Pie
Prep Time: 2 hours
Cook Time: 1 hour
Yield: Serves 8
Ingredients:
6 cups frozen blueberries
3/4 cup sugar
1/2 cup all purpose flour
1/2 teaspoon ground cinnamon
1 tablespoon lemon juice
1 tablespoon decorate sugar (or plain sugar)
Place berries in a colander over a bowl to defrost and drain liquid.
Preheat oven to 425 F.
In a large bowl, combine berries, sugar, flour, cinnamon and lemon juice. Mix to combine.
Transfer to baked pie crust.
On a well floured board, roll out unbaked pie crust. You can go with a traditional top crust and cover completely or you can do as I did and use a seasonal cookie cutter to cut out shapes and place around as the top "crust". Brush the top with water and sprinkle decorative sugar on top, or just sprinkle a little regular sugar.
Cover edges of bottom crust with aluminum foil. Bake for 1 hour.
Cool and serve.
Serve with ice cream or whipped cream, if desired.
Notes:
My crust is a little dark because it was only covered with foil for half of the cooking time. Your crust will be perfect if you leave it covered for the entire baking time.
Don't forget to check out my other blogger friends also doing Bake-a-thon!