Last Updated on May 20, 2015 by Chef Mireille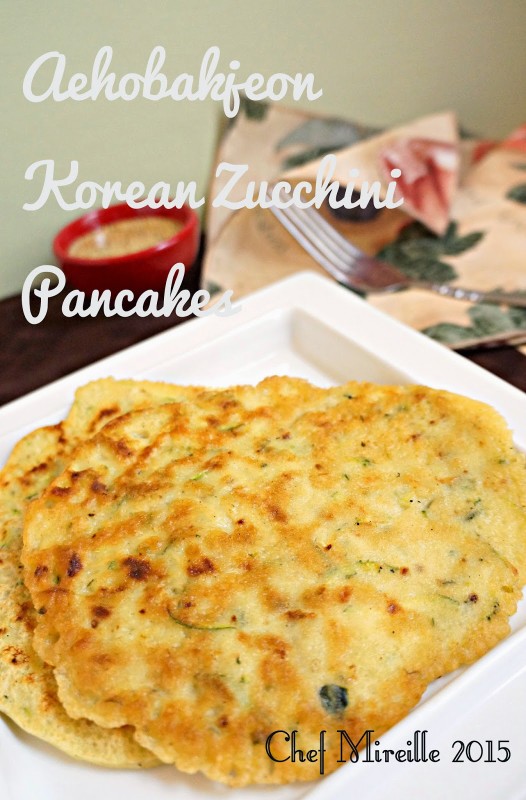 This month Food of the World is celebrating Korean food. I remember the first time I tried Korean food many years ago and I was shocked by how spicy it was.
A friend of mine was at work on a Saturday. A few of us were planning on going out to dinner, but when we arrived she was stuck waiting on a lab result, so the rest of us decided we would go and buy some take out and we would eat with her at her office, while she waited for the results. Her office was inside the Empire State Building, which is just a few blocks from NYC's Koreatown. None of us had ever had Korean food before and we decided it was a good time to try it. We purchased several dishes so we could share them and taste different Korean food options. My friend who cannot tolerate spicy food at all ended up not being able to eat anything – after just a few bites from any of the dishes, her mouth was on fire. I was able to eat most of the dishes, except for one.

Many years later, I have grown to LOVE Korean food and this year especially I have explored the cuisine many times with dishes like:
Bibimbap
Korean Cornish Hens
Hugimjajuk – Black Sesame Seed Pudding
Gochujang Dak Juk
Korean's love pancakes…it's one of the most popular street foods in Korea. There are countless variations that can include any variety of vegetables, meats and seafood. I previously made these Kimchi pancakes here, but this time I decided to present these Vegetarian Zucchini version. Although I grated the zucchini's, it is often cut in matchsticks instead.
Aehobakjeon
(Korean Zucchini Pancakes)
Yield: 14 pancakes
Ingredients:
2 grated zucchinis
1 teaspoon salt
2 eggs
2 cups water
2 cups all purpose flour
1 tablespoon grated ginger
2 cloves finely chopped garlic
3/4 -1 teaspoon gochugaru (Korean red chile powder), according to taste
Sesame Dipping Sauce Ingredients:
2 tablespoons soy sauce
2 tablespoons rice wine vinegar
2 1/2 teaspoons sugar
1 teaspoon sesame oil
1 teaspoon fish sauce
1 tablespoon toasted sesame seeds
Combine all sauce ingredients in a bowl and whisk well.
In a large bowl, beat eggs. Add salt, ginger, gochugara, flour and water. Beat to make a smooth batter.
Add zucchini's and mix to combine.
Lightly oil a skillet. Place 1/3 cup of batter in the skillet for each pancake. Fry until golden brown on both sides.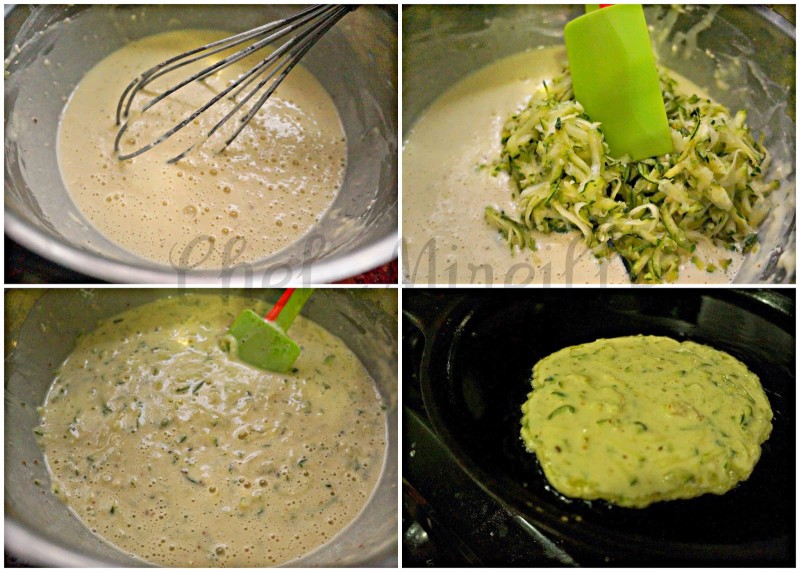 Drain well on paper towels.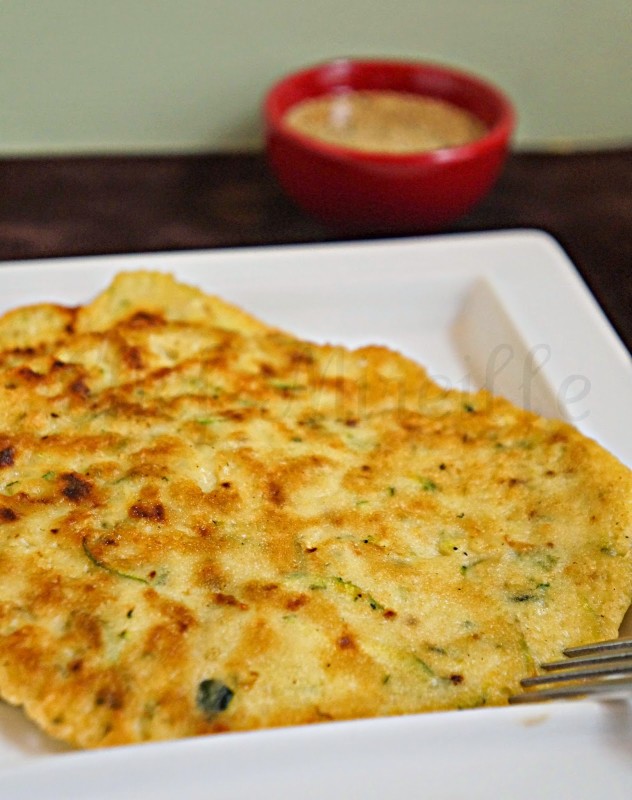 Serve with sauce.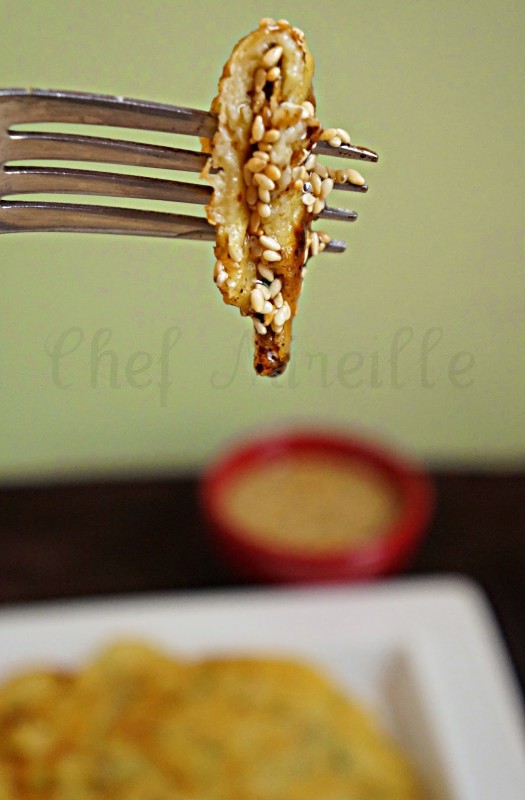 Celebrate Korean food with me and my co-hosts by inserting our logo into your post and linking up your Korean recipe here.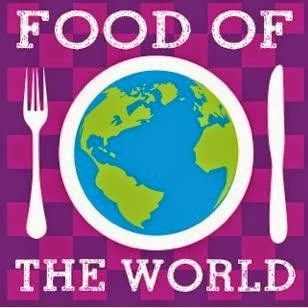 Visit our co-hosts and follow their sites:
Lisa:
https://cookingwithcurls.com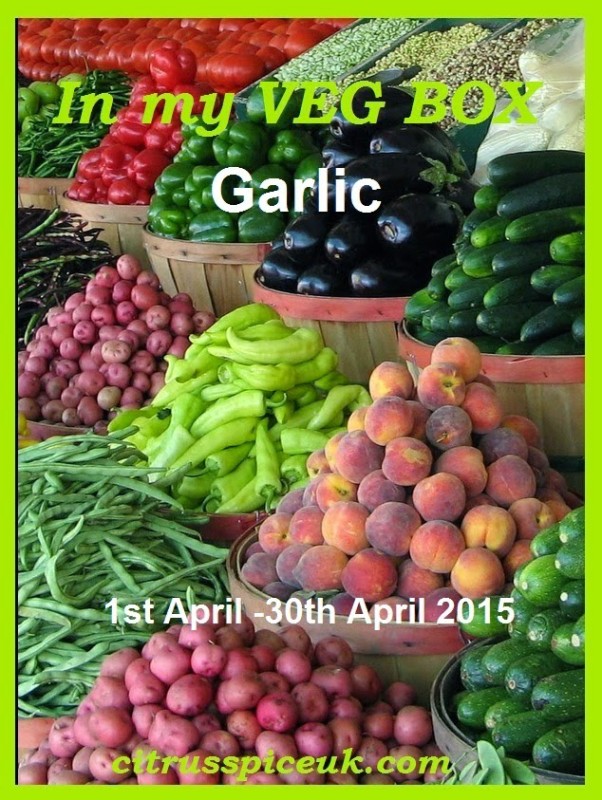 …also linking to
In My Veg Box – Garlic
Let's start a conversation…Leave your thoughts
Chef Mireille