Last Updated on February 8, 2019 by Chef Mireille
5 Movies to Inspire Wanderlust (and TV) – Want to inspire someone to travel with you? Get them hooked on one of these movies or TV shows and they will be on the plane next to you before you know it!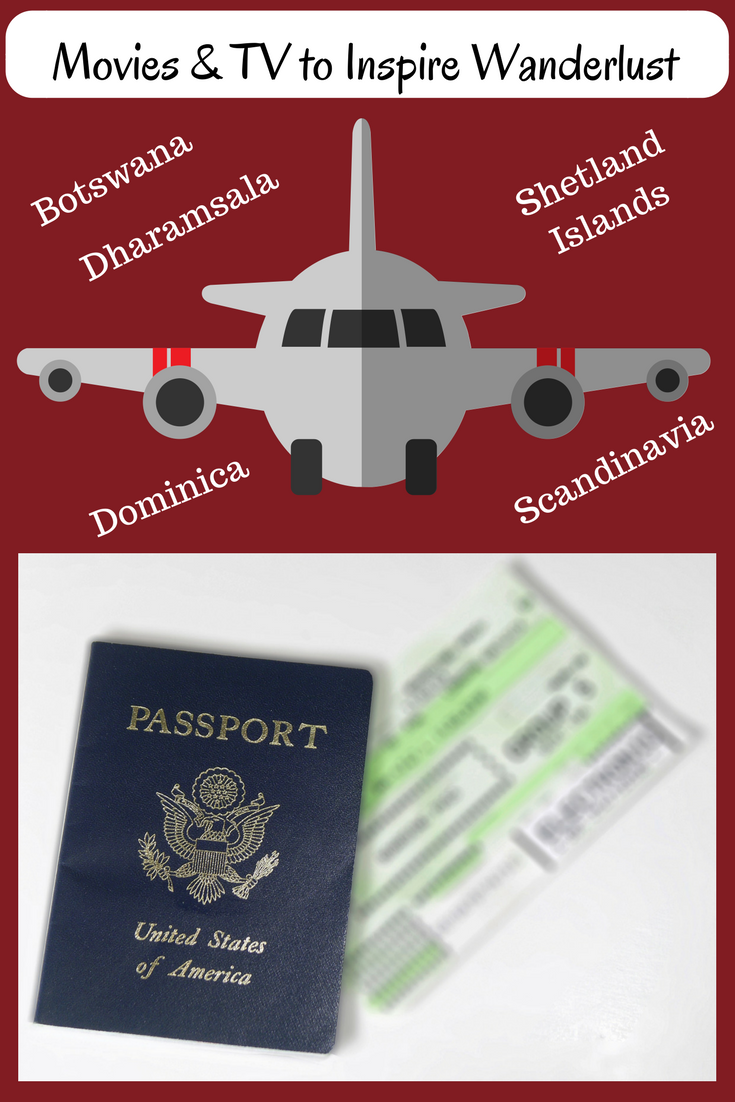 Do you love to travel and your partner doesn't? OR you have to drag your teenage kids kicking and screaming to get them to leave their friends and social media behind for the summer?

Here are some great movies and TV shows to possibly wake up the wanderlust spirit in them. These are shows and movies that have inspired me to visit these locations.
1 – Pirates of the Caribbean – The Pirates of the Caribbean franchise films were all filmed in Dominica, the Nature Island of the Caribbean. You can even go on a POC tour when you are there, visiting many of the sights presented in the films. For more on what you can see on a trip to Dominica, check out my post here.
2 – When Hari Got Married – This is an Indian documentary, detailing the story of an average person, in this case a taxi driver, who gets married in Dharamsala, Himachal Pradesh, India. The film is interesting as it balances both traditional and modern customs. However, the beautiful mountain scenery is what has inspired me to visit Dharamsala on my next trip to India. Dharamsala is the home in exile of the Dalai Lama and Tibetans. There is a large Tibetan community there, so the Buddhist culture is strong in Dharamsala. However, I imagine enjoying treks through the mountains that surround Dharamsala. So if you're into hiking, I imagine Dharamsala would be a great vacation with breathtaking views and also much spirituality with the temples. Available on Netflix. For more on what you can expect on a trip to Dharamsala, read more about it here.
3 – Shetland – Shetland is a British TV crime drama that takes place in the Shetland Islands. The show is great, but the scenery is absolutely breathtaking. You learn a lot about what it's like on the different islands of the Shetlands. The Shetlands are part of Scotland, however, they are linked strongly to Icelandic and Viking culture, celebrating many Viking festivals. Want to know more about what you can expect on a trip to the Shetlands? Read all about it here! Available on Netflix. Speaking of Vikings….
4 – Vikings – Vikings is the only scripted drama on the History Channel. It starts with the character of Ragnar Lothbrok, who is historically credited with starting Viking exploration into the rest of Europe and eventually all the way to Morocco via his sons. You learn a lot of the Viking culture and history through this series. It has inspired me to want to visit all of Scandinavia and walk in an actual Viking longhouse or sail in a Viking longboat. Skansen in Sweden has a replica Nordic village. One place to check out for sure! NOTE: As the Vikings were a sexually free culture, this show is not kid friendly. Available on Amazon Prime.


5 – The No. 1 Ladies Detective Agency – This was an HBO series based on the books written by Alexander McCall Smith. It details the personal life and mysteries solved by Mma Precious Ramotswe in the city of Gabarone, Botswana.  Many of us westerners have incorrect and provincial biases about Africa. This series helped unveil the mystery of Africa to me and I can't wait to stroll the streets of Gabarone or sit down with a pastry and a cup of red bush tea. I already know how to greet people in Botswana – "Good Morning Rra" (if it's a man) and "Good Morning Mma" (if it's a woman). Available on Amazon Prime (for rent or purchase). Full episodes are also available on You Tube here. To find out all you need to know about traveling to Botswana, check out the info!
…and you might like to try some of my recipes until you get there…
Tibetan Bread & Madra (Chickpea Curry)from Dharamsala