Last Updated on November 19, 2019 by Chef Mireille
25 Spring Break Recipes to keep both kids and parents happy!
Spring Break is here and the kids are at home! Here are some recipes to keep kids busy learning how to make new recipes and some quick and easy recipes to get food on the table quickly when they are hungry.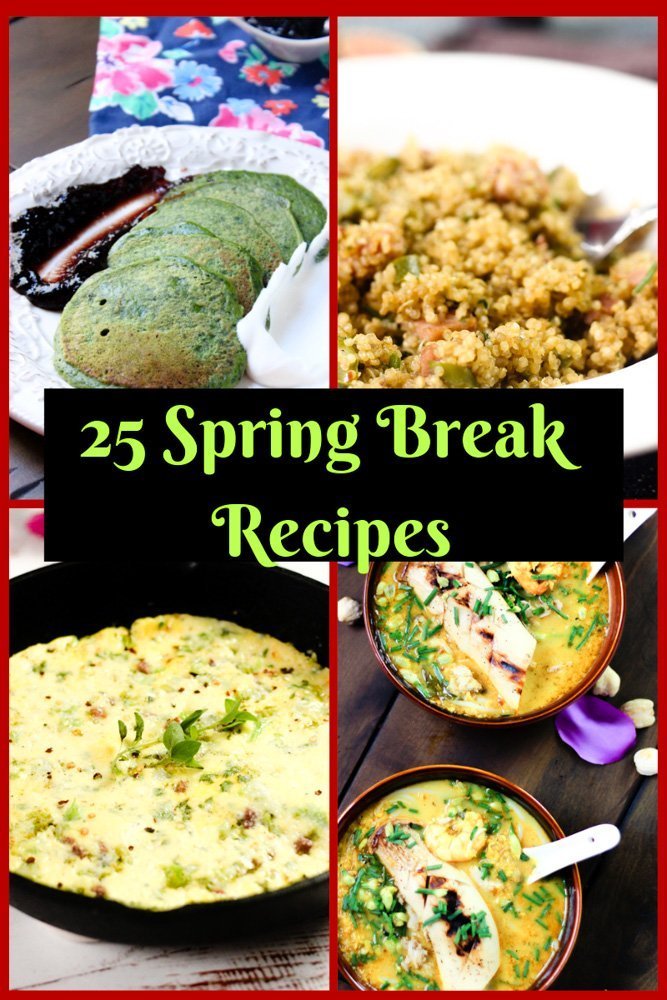 This week in NYC schools are on Spring Break. That means it's a slow week for me as I teach after school cooking classes, but that means it's a busy week for parents.
School activities and classes are cancelled. Now it's up to you to keep boredom at bay and bellies filled all day long.
Today, I have a collection of recipes to help you. This compilation has something for everyone. Quick and easy breakfast recipes and more complicated recipes that busy families don't always have the time to make.
Now is the time to make them. Do your kids love to cook, but are usually too busy with school work and activities? This is the week to finally make some home made bread or other delicious delicacies. Older kids can definitely make these recipes on their own, so when they come to you that they are bored or you want to unglue them from their electronic devices – COOKING PROJECT IS ON!
5 Smoothie Recipes
Smoothies are one of the most kid friendly treats. These are healthy snacks and they can even serve as breakfast on their own if you add in some flaxseed or toasted oats to make them more filling.
5 Breakfast Recipes
As most of us wake up hungry, breakfast should be quick and easy, but delicious and healthy. It is the most important meal of the day and should include a good dose of protein.
Don't let the kids lounge around until noon before they eat their first meal. Eating will get their energy going and help them engage in some productive activities at least at the beginning of the day.
5 Snack Recipes – Both Sweet & Savory
It's good to have activities planned for the week, to keep at bay the boredom hunger. "I'm hungry" is often the result of boredom and not actual hunger. No matter what, extra snacks are going to be required this week.
Here are some delicious kid friendly snacks that they can help you make, if not make themselves, depending on their age.
5 Recipes for Adventurous Foodies
Do your kids have adventurous palates and like trying new foods? The recipes in this group may require you to go to some specialty markets for unique ingredients, however, if it will give your kids a project and introduce the family to new foods, why not?
You can also add value to the recipes by giving your kids some extra projects. Identify the country of origin on a globe or a map and have them teach you a little bit about the country via Wikipedia or other online sources.
Or prompt them with questions. For example, if you decide to make the laksa, here are some questions you can have them research
Laksa Questions
How many islands make up Indonesia?
What country did Indonesia gets its independence from?
What language do they speak in Indonesia?
What is the capital of Indonesia?
5 Baking Recipes
More detailed and time consuming but worth the effort
Baking is usually one of the first things people start to make if they develop an interest in culinary arts when they are young. After omelette's, the first things I started making were cookies and cakes.
However, when school is in session although the children may have interest, the time for more complicated recipes just isn't there.
This is the time to let them try their hand at making home made bread and other more time consuming recipes.
So these more intense recipes are for the ones who really love to cook and learn how to make new things.
Here's a video to help you guys in the bread making process for the Oatmeal Bread Recipe below!
Of course, you can always get more inspiration by visiting the Recipe Index!
Do you know anyone else who likes learning about international recipes, culture, history and travel? Start Here to find out how The Schizo Chef can help with your cooking, travel and other needs!
SHARE WITH ALL YOUR FOODIE FRIENDS & COOKING KIDS
SHARING IS CARING