Last Updated on May 19, 2020 by Chef Mireille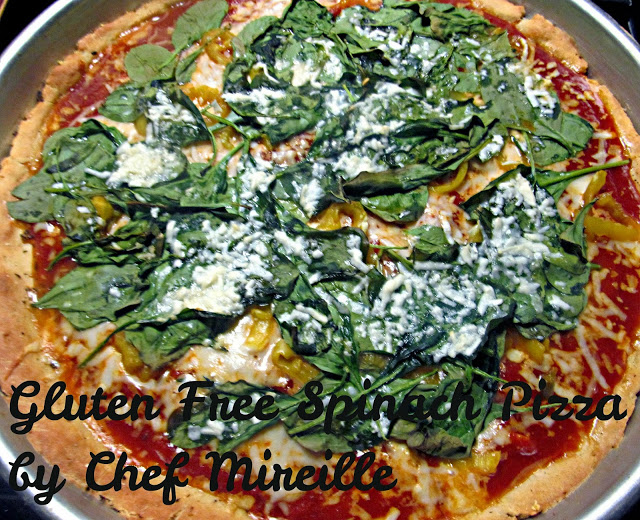 Blogging Marathon #32
Theme: Miscellaneous


I think everyone participating in this month's Blogging Marathon by Alphabet will agree with me that X was the hardest letter. Lots of emails went back and forth from America to Europe and India as we brainstormed for recipes beginning with the letter X.
Lots of Chinese food items begin with the letter X, but unless it's a Chinese recipe I didn't want to use that easy method of just using a different language. Finally, I discovered Xalwo, which is Somalian Halwa. I wrote up the post and it was sitting in the Drafts folder for me to do. However, a few things had me procrastinating doing the recipe. One was having to spend an hour over a pot, stirring and secondly, was the fat content in the recipe.
I went to my baking supply store to get something I needed for a client and they had xanthan gum so I decided I would try my hand at gluten free baking. Both xanthan gum and guar gum are thickening/gelling agents used in gluten free baking to bind the ingredients together.
Xanthan gum is a corn based fermented product. It is commonly used in store bought products like sauces and other products for thickening. Guar gum comes from the seed of a legume like plant. It is higher in fiber and a fraction of the cost than xanthum gum.
Due to the frequency of individuals with Celiac's disease, it is advantageous to anyone working in the culinary business today to have the knowledge of how to adapt recipes for the gluten free individual. Gluten free eating has become a fad in the United States, even for those who do not suffer from Celiac's disease or any wheat tolerance issues. Many believe it aids in weight loss, even though most doctors disagree with this presumption. Since I have no wheat/gluten issues, this is not something I would make on a regular basis, however additional knowledge is power. You never know when you might have a house guest or a child with Celiac's. Here I am arming you with knowledge and delicious recipes too!
When using these gluten substitutes, it is necessary to use a leavening agent like baking powder. Vinegar is also often used to aid in the end product having a rise. I have done low gluten bread recipes before but never a completely gluten free bread. I decided I would first try pizza. Most gluten free recipes I have seen utilize a variety of flours with different textures, so I did the same. Additionally, since many people on gluten free diets run the risk of being deficient in protein and fiber, it's good to use protein rich flours (lentil/bean based) if possible.
Gluten Free Pizza Crust:
Serves 12
Ingredients:
1 1/2 cups potato starch (using some kind of starch product like potato or tapioca starch aids in the binding)
1 cup urad dal flour (split and hulled black lentil)
1 cup sorghum flour (jowar)
1/2 cup millet flour
3 teaspoons baking powder
2 teaspoons xanthan gum
1 teaspoon salt
2 tablespoons granulated brown sugar
1 teaspoon sugar
1 cup warm water (110 – 115 F)
1 pkg. dry active yeast (2 1/4 teaspoons)
1/4 cup olive oil
1/4 cup rice vinegar
1/4 cup egg whites, beaten
1 tablespoon dried herbs (any combination of basil, oregano, thyme and parsley)
Although I usually use a pizza stone for making pizza, due to the soft nature of this dough, I used pizza pan instead.
Grease two pizza pans. I used one pizza pan and one cookie sheet as I only have 1 pizza pan.
In a large bowl, combine potato starch, dal flour, sorghum flour, millet flour, baking powder, xanthum gum, salt and brown sugar.
In a small bowl, combine water and sugar. Sprinkle yeast on top. Let rest for 10 minutes until yeast turns bubbly and foamy.
In another bowl, beat egg whites, with olive oil and vinegar.
Add proofed yeast to flour and mix well. Add olive oil combination and mix well. Knead until dough is soft and sticky. The dough will be closer to batter than traditional bread dough.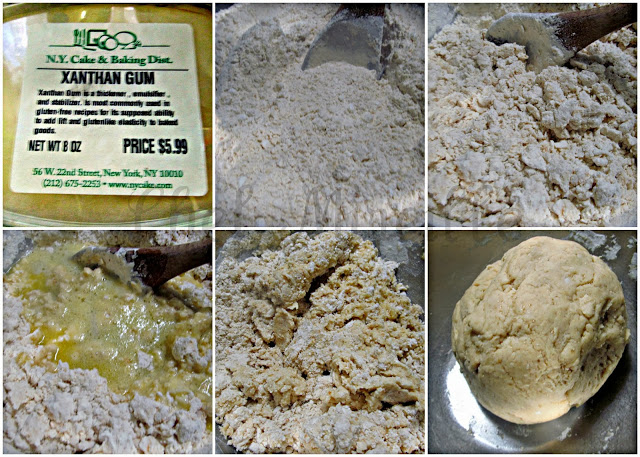 Divide dough in half and with wet hands, press the dough into the bottom and sides of pizza pans. It is like molding clay. When it starts to get a little dry, wet your hands again and continue to push the dough out to the perimeter of the pan.
Leave to rest in a warm place for 20 minutes. Believe it or not, it will rise!
Preheat oven to 400 F.
Bake for 15 minutes. Remove from oven.

Brush shell with olive oil. Sprinkle dried herbs on top.
Add desired toppings – sauce or pesto, meat, vegetables and/or cheese. I used Hunt's Zesty & Spicy Pasta Sauce, Mozzarella Cheese, Pickled Hot Peppers, Baby Spinach and Pecorino Romano cheese on top.

Place back in oven for another 15 minutes, until cheese melts.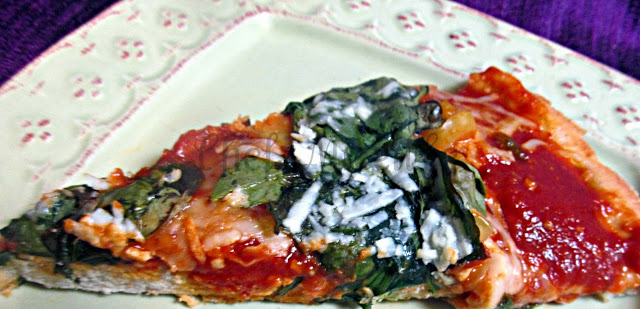 Is the texture the same as regular pizza? No. However, it's close and once you laden the pizza with delicious toppings, I found it delicious. Would I make this pizza instead of regular pizza just for the heck of it? No, but if I had a gluten free guest, I would make this and not feel the need to make something else for myself. I would enjoy my meal with them digging into this gluten free version of pizza!
Here are a few more of my gluten free treats:
Cocoa Olive Oil Cake
Gluten Free Banana Pancakes
Fiorentini

Logo courtesy : Preeti
Check out the Blogging Marathon page for the other Blogging Marathoners doing BM# 32
LIKE THIS RECIPE? LEAVE A COMMENT..I LIVE FOR THEM!
Chef Mireille

document.write('