Last Updated on January 12, 2020 by Chef Mireille
Whole Wheat Lahmacun – Turkish Pizza is a complete meal with vegetables and meat. Cook it on the grill and have it at your summer barbecue.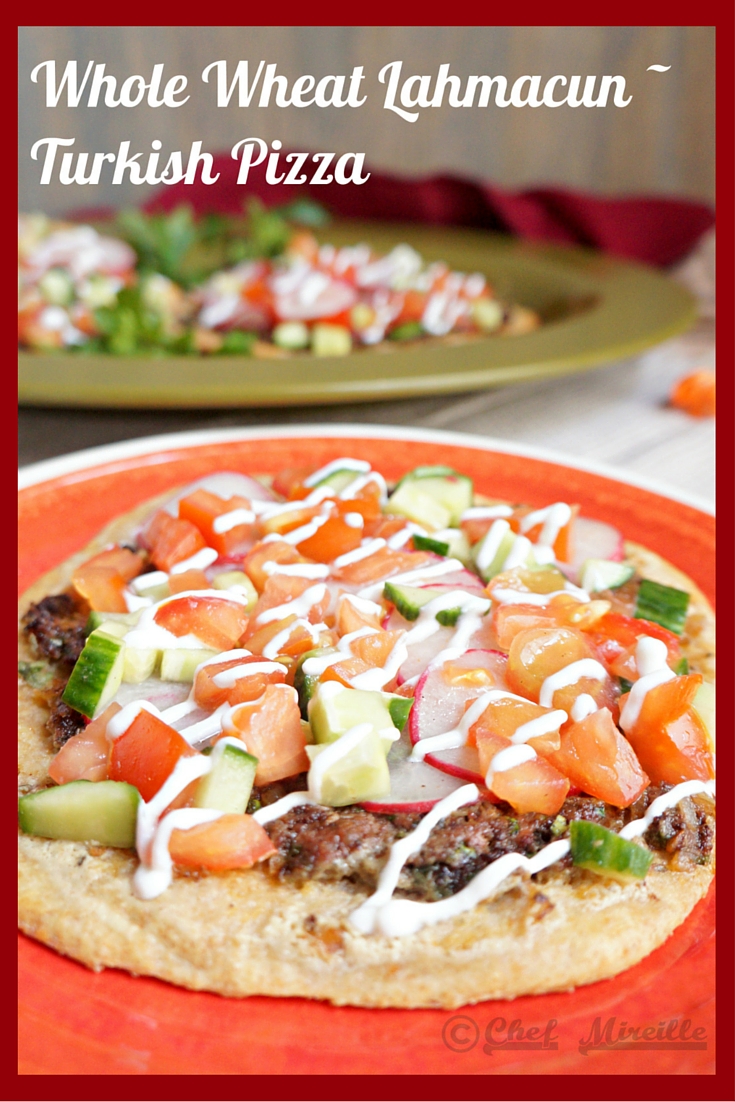 As many of you know, my main job among several, is teaching culinary classes to children. As a freelance chef instructor, I have several employers. Some of the classes I teach I am completely in charge and have the freedom to teach what I think is the best to teach them culinary skills and nutrition. However, with some of my employers, I have to use the recipes the program has developed.
Most of you know I am a stickler for history and authenticity. Sometimes, it is so difficult for me to teach a recipe that is not being done in a traditional way or uses ingredients that are not native to the cuisine we are presenting. Even if substitutions are being used, they should be geographically accurate in my opinion. The main focus of this program is to teach kids how to eat nutritionally balanced meals and they are less concerned with the authenticity of the recipes used. Whether or not if it's a fusion recipe is irrelevant to them. Since they are the ones providing my paycheck, I teach what I must, but I still tell the students the authentic way so the students can be informed and try it again the right way on their own, if they desire.
I had never before heard of Lahmacun – salad and meat on a pizza. I browsed around the internet a bit to view some different sources. I then used the guidebook I teach from for inspiration for this recipe, however, I improved it a bit by adding some traditional ingredients that were omitted by my guidebook version. This is still a nutritionally balanced meal that your kids can enjoy making with you and you can feel good about feeding to the kids. Salad on top of a pizza is making sure they get their daily veg intake, in addition to protein and whole grains, with a wheat crust.
Turkish food is such a flavorful cuisine at the crossroads of both Europe & the Middle East. Looking to add some more Turkish flavor into your meals. Check out some of these recipes!
Turkish Recipes

IN THE MAKING – HOW TO MAKE LAHMACUN
You can make a Vegetarian version by using soya granules for the meat.
I did not use the nuts in the photos above, but traditionally it would be included.
A complete #kidfriendly meal.
Whole Wheat Lahmacun – Turkish Pizza
Ingredients
Dough Ingredients:

1/2

cup

warm water

110 - 115 F

1 1/2

teaspoons

sugar

2 1/4

teaspoons

dry active yeast

1

cup

all purpose flour

1 - 1 1/2

cups

whole wheat flour

1

tablespoon

dry milk powder

1 1/2

teaspoons

salt

1/2

cup

olive oil

divided

1

egg

Lamb Topping Ingredients:

1

lb.

ground lamb

ground beef can also be used

1

chopped onion

2

finely chopped garlic cloves

1

teaspoon

ground cinnamon

1 1/2

teaspoons

ground allspice

1 1/2

teaspoons

sumac

1/2

teaspoon

crushed red pepper

2

tablespoons

pomegranate molasses

1 1/4

teaspoons

salt

2

tablespoons

finely chopped parsley

2

tablespoons

finely chopped mint

2

tablespoons

finely chopped cilantro

2

tablespoons

tahini

1/2

cup

toasted pine nuts

Salad Ingredients:

2

cups

chopped tomato

3 vine ripened tomatoes

1

cup

chopped English cucumber

1/2 cucumber

1

cup

thinly sliced radishes

about 3 large radishes

2

tablespoons

lemon juice

1

tablespoons

olive oil

1/2

teaspoon

salt

1/2

teaspoon

ground black pepper

Yogurt Sauce Ingredients:

4

tablespoons

Greek yogurt

1

tablespoon

lemon juice

1 1/2

tablespoons

olive oil

1/2

teaspoon

salt
Instructions
In a shallow bowl, combine warm water and 1/2 teaspoon of the sugar. Give it a quick whisk. Sprinkle yeast on top. Leave for 5-10 minutes until foamy.

Place all purpose flour and 1 cup of the wheat flour with the dry milk, remaining sugar and salt in the bowl of an electric mixer.

In a small bowl, whisk together 1/4 cup of the olive oil and egg. Add to bowl of electric mixer. Using dough attachment, mix for 1/2 a minute.

Add proofed yeast and knead for 5 minutes, until the dough is soft and elastic. Add up to 1/2 cup of more flour as necessary. Place in a lightly greased bowl.

Cover with plastic wrap and a kitchen towel. Leave for 1 hour, until the dough is almost doubled in size.

Meanwhile, let's make the lamb topping. Combine all lamb topping ingredients except tahini and nuts. Mix well until thoroughly combined.

Combine all salad ingredients and toss well.

Whisk together yogurt sauce ingredients until thoroughly incorporated. Transfer to a squeeze bottle

Preheat oven to 400 F. Cover 3 cookie sheets with parchment paper and spray with non stick spray.

Divide dough into 6 pieces. On a lightly floured surface, roll into 7" discs. Lightly brush tops with the remaining olive oil. Cover with a kitchen towel and leave for 15 minutes.

Brush the top with tahini. Divide meat filling into 6 portions and spread on top in a thin layer. Sprinkle nuts on top. Bake for 12-15 minutes, until just cooked.

Sprinkle salad on top. Drizzle yogurt sauce on top.
Notes
Traditionally, the dough would be made with 100% all purpose flour, but I used the healthier version from my guidebook which replaces half of the flour with whole wheat.
I did not use the nuts in the photos above, but traditionally it would be included.
Did you try this recipe? Leave a comment below.
Please follow me on Instagram @chefmireille or tag me #chefmireille with your pics! I'd love to share them!
Check out the Blogging Marathon page for the other Blogging Marathoners doing this BM#62