Last Updated on June 3, 2015 by Chef Mireille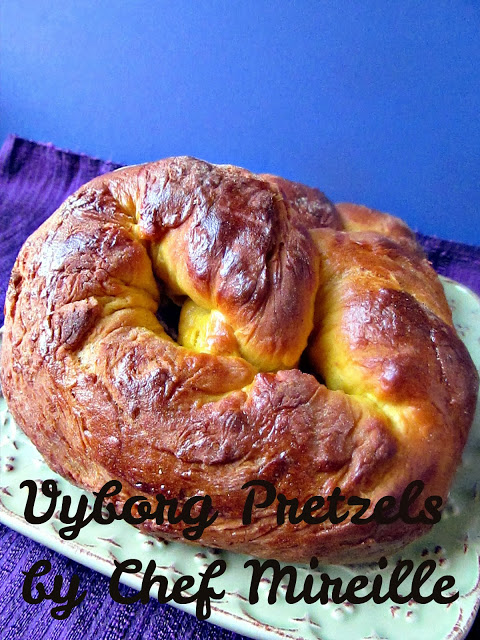 Blogging Marathon #32
Theme: Miscellaneous – Street Food
Letter V eluded me for a long time. The only thing I could come up with was something with vanilla but as you know I really don't like to do ordinary things so that excluded vanilla pudding or vanilla ice cream and anyway, my freezer already had ice cream in it. So then I thought I would do a unique dessert sauce and for a long time this post was reserved for a Vanilla Anise Sauce but then I would have to make a cake or something to go with the sauce right? I already have too many sweets in the house right now with Kordoi and Kouramnbiedes still lingering in the cookie jar.
Then I was going through one of my cookbooks for ideas for one of the themes I picked up for next month's BM and I came across this recipe and it was perfect to fit into the category and the last letter remaining for me to cook. The photos in the book showed pretzels that were dark, fat and sassy! The ones I am used to getting on NYC streets are thinner and lighter so I really wanted to try this version.
I have to play catch up with the last few months of We Knead to Bake, so I am taking this opportunity to bake pretzels. Pretzels is a common street food in New York and has been for many years. It was brought here by the Dutch but really popularized by the German immigrants in the 1800's as it became one of New York's first street food. The German influenced street food carts that sell frankfurters, sausages, knishes and pretzels remain to this day.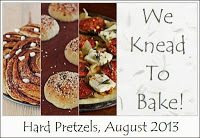 I am doing a slight variation of the Alton Brown recipe Arparna used here and doing a Russian/Finnish variation called Vyborg Pretzels, popular in the city of Vyborg, which was previously part of Finland. This spiced variation is an interesting twist to the ever popular pretzel.
Vyborg Pretzels (Vipurin Rinkelit)
(adapted from The Food & Cooking of Finland by Anja Hill)
Ingredients:
3/4 cup milk
7 tablespoons butter, softened
1/2 cup + 2 tablespoons sugar
1 teaspoon ground cardamom
1/2 teaspoon ground nutmeg
1 teaspoon saffron threads
1/2 teaspoon salt
1 pkg. dry active yeast (2 1/4 teaspoons)
4 tablespoons warm water (110-115 F)
2 eggs, beaten
3 to 3 3/4 cups bread flour (if using all purpose flour, you will not need as much flour)
Glaze Ingredients:
1 egg yolk
2 tablespoons milk
Put the milk in a saucepan with the butter, nutmeg, cardamom and saffron. Heat until the butter melts. Let cool to 115 – 120 F.
Meanwhile, mix 2 tablespoons of the sugar with the warm water. Sprinkle yeast on top and let sit for 5-10 minutes until yeast becomes frothy.
In a large bowl, combine 1 cup of the flour with the remaining sugar and salt. Stir to combine. Add milk and eggs. Mix well. Add the remaining flour,1/2 cup at a time, mixing well after each addition until the dough is no longer sticky and you are able to knead by hand.
Knead for 10 minutes, until smooth and elastic, adding more flour if necessary. Place dough in a greased bowl. Cover with plastic wrap and a kitchen towel. Let rise in a warm place for 1 hour, until doubled in size.
Knead again for a few minutes. Divide the dough into 4 pieces.
Form each piece into a ball. Form into a long rope, about 12 inches long.
Shape into an upside down U. Bring the ends together and twist them to seal together. Bring to the top of the loop to form standard pretzel shape. Press to seal.
Place on a baking sheet and leave to rise for another hour, until doubled in size again.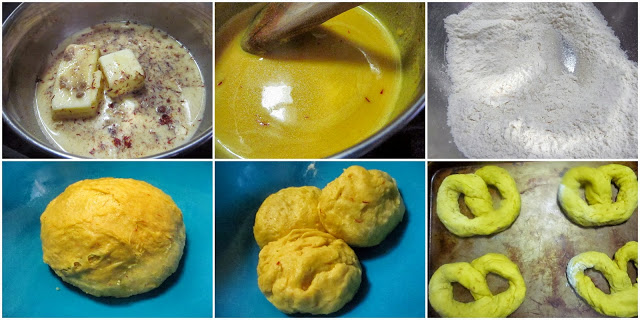 Preheat oven to 375 F.
Make the glaze by combining the egg yolk and the milk. Mix well.
Brush glaze over pretzels and bake for 15-20 minutes, until golden brown. Leave to cool.
Here you will have your fat and sassy pretzels – the flavor especially from the saffron is amazing with a slight sweetness – these are delicious plain with a cup of tea or coffee. However, if you find it necessary, feel free to serve with mustard.

They are crusty on the outside but soft and tender on the inside; not as dense as the German type NYC street food pretzels. Inside, the texture is closer to brioche than traditional pretzels (probably because of the use of the eggs). However, I know there are a lot of pure Vegetarians reading this post who would not be able to make this with the use of all of these eggs so I went on a search for an eggless brioche recipe just for your guys and found one by one of our fellow BM participants here, so if you want to try these yummy pretzels, I would suggest using her recipe, adding the spices and sugar content I used and shaping and baking like pretzels. I hope one of you try this soon and let me know how it turns out!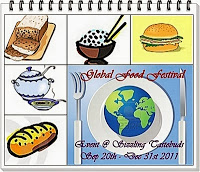 Logo courtesy : Preeti
Check out the Blogging Marathon page for the other Blogging Marathoners doing BM# 32
,,,linking to Kalyani's Global Food Festival
LIKE THIS RECIPE? LEAVE A COMMENT..I LIVE FOR THEM!
Chef Mireille


document.write('