Last Updated on May 20, 2015 by Chef Mireille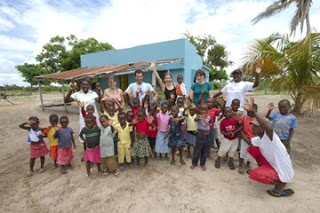 Volunteer Vacations are a wonderful way to see a new country, meet new people, experience a different culture and give back to a local community.
There are many companies that offer volunteer vacations. I am going to highlight three of them here.
Global Volunteers is a wonderful organization that has projects located internationally, as well as here in the United States. I participated in one of their domestic projects in Worthington, MN several years ago. I volunteered in a variety of ways, including teaching English to new immigrants, teaching children about different cultures to instill tolerance via language skills and cooking lessons and working to put together an International Fair to highlight culture and food from the recently arrived immigrants. At the time, this was a community struggling with an influx of immigrants, mostly from Laos and Cambodia, although Latin America and Africa were also represented. It was a way to teach the Americans about the new people in their community, to help break down biases and assumptions based on nothing but ignorance and fear. I met some of the nicest people in Worthington, including my host family. They were an older couple whose children were no longer living at home. It was a peaceful place with an endearing host who was always trying to feed me. It was a rewarding experience I will NEVER forget. Depending on the project, housing is sometimes provided in apartments or dorm like scenarios. You may also be placed with host families.
Planterra is another company offerring volunteer vacations to global destinations. These are different in that they include more touring. There tours will include sightseeing like any other vacation tour, but it will also include a few days working on a community project like the Los Pinos Coffee Cooperative in El Salvador where you will assist in the activities of the cooperative as well as teaching English to the children or the Kathmandu Valley Project in Nepal where you will help the community in reforrestation and planting after mudslides ruin crops.
Young Judaea: Amirim is limited to those committed to living a Jewish life. Part of Hadassah, the world's largest Zionist charitable organization in the world, it is a wonderful option for young people, aged 18-27. Housing, public transportation, health insurance, weekly day trips and a 2-day tour is included in the program fee. Participants are placed in various volunteer organizations in Israel, according to their interests. You can choose to be based in 1 of 3 locations in Israel: Bat Yam, Jerusalem or Arad. This is a great summer option for college students or young teachers who have the summer off.
Depending on the organization, part of your flight costs may be tax-deductible.
Have a wonderful vacation and feel good, knowing you have given back to the community, while gaining insight into their culture through personal interaction with locals.

Chef Mireille
https://www.globaltasteinc.com
Like me on FACEBOOK!
Follow me on TWITTER!