Last Updated on September 15, 2021 by Chef Mireille
Also known as Kiymali Pide, Turkish Pide is just one of the many ways Turkish street food interprets their version of Italian pizza. This is one of the most delicious representations of Turkish cuisine. It is one of the most traditional Turkish Flatbread Recipes served during the holy month of Ramadan, the month when Muslims fast daily from sunup to sundown.
Pide Recipes can be made with various fillings like ground lamb, ground beef, spinach, feta cheese and eggs.
This version of the world famous delicious Turkish Pide Recipe is made with a ground lamb filling infused with Middle Eastern spices and pomegranate.
So are you you ready to made Turkish traditional pide?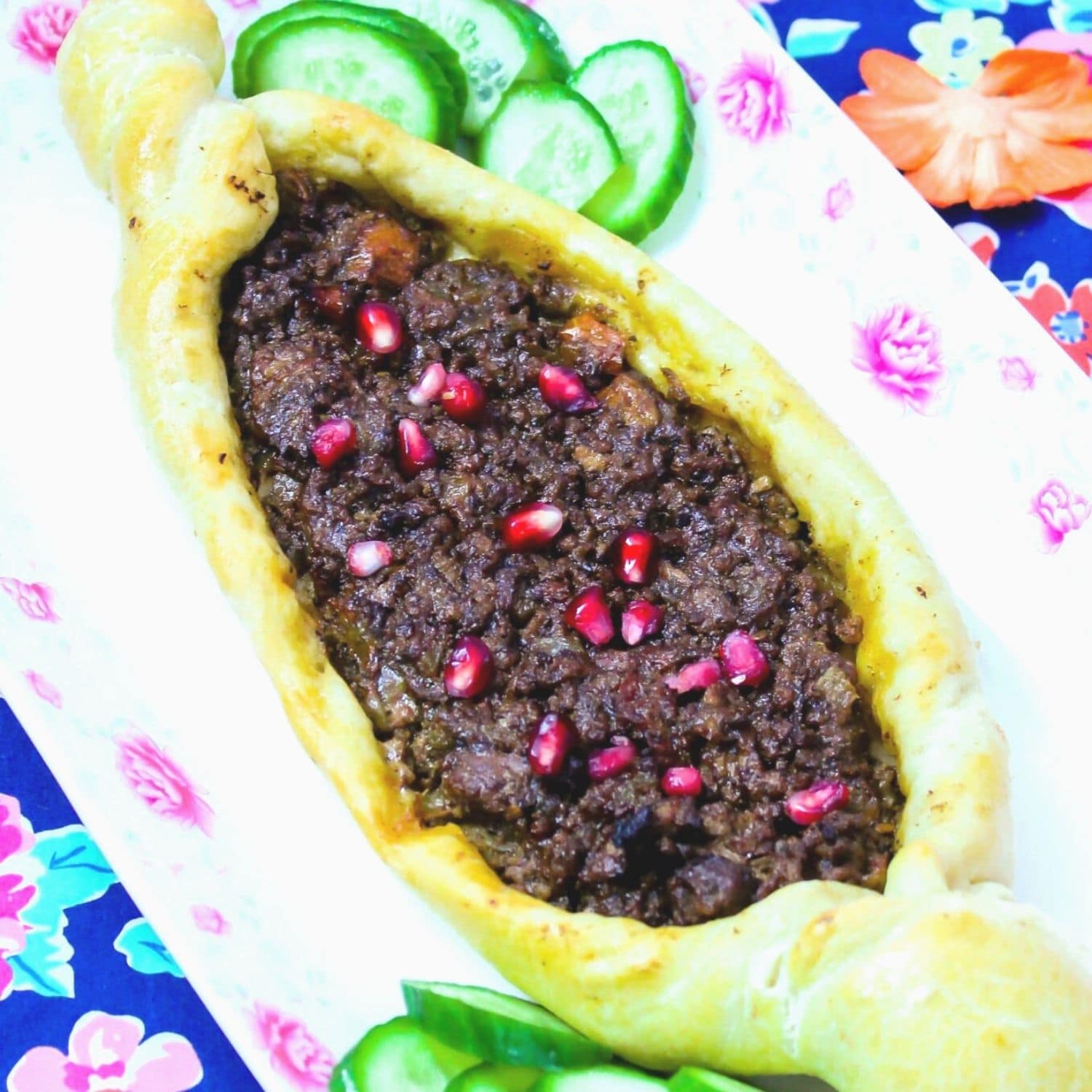 This post may include affiliate links.
I'm sure you're thinking pizza??? what's with the oval shape and the toppings without cheese? Well, the word pizza doesn't necessarily mean the same thing in every country. Although every county in the world now has something they call "pizza", there is a lot of interpretation to this global word. They know everyone knows the word pizza so it's a good marketing tool.
There are many kinds of "pizza" in Lebanon and Turkey. Pretty much any kind of flatbread topped or stuffed with a filling is called pizza, although it may also have traditional local names. In Turkey, all of the different names like pide, bil-ajine and lahmacun are all referred to as a kind of Turkish pizza and are some of the most popular street foods in the country. The most popular fillings/toppings are usually lamb, spinach or cheese.
Other Lebanese/Turkish "pizza":
But let's focus on pide.
What is Turkish pide bread?
Pide Bread is basically Turkey's form of pita bread. There are many
There are versions of this Turkish Flat Bread Pizza throughout the country made with a variety of toppings. There are regional differences to the topping. In some areas, lemon juice would be added instead of the pomegranate molasses. Pine nuts and bell pepper may also be included. So let's go over some of the variety you can put into your Turkish Pide.
Although kiymali pide in its traditional boat shape is made with meat, there are many different forms of pide. Some are baked into a round shape and only topped with sesame seeds. The different varieties of bread pide are endless.
Variations
Add 1 tablespoon of nigella seeds or sesame seeds to the pide dough.
Use any kind of ground meat topping you prefer such as ground beef or even ground chicken/turkey if you prefer.
Add fresh herbs to the filling including fresh cilantro, fresh mint or fresh parsley.
Pomegranate Molasses is not always easy to source. If so, you can use lemon juice instead.
Make it healthier by making the pide dough with wheat flour.
For a traditional taste, make it in a wood fired oven, if you are lucky enough to have one.
How to make Turkish Pide
Make the basic dough.
Leave the dough to rise in a warm place for 1 hour.
Now we make the delicious pide filling with the minced meat.


Now we fill the dough with the spiced meat filling.
Bake the pide for about 40 minutes.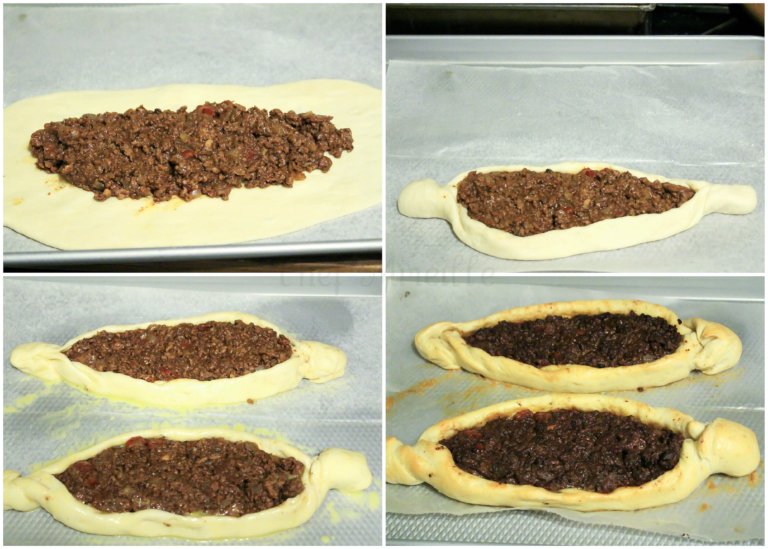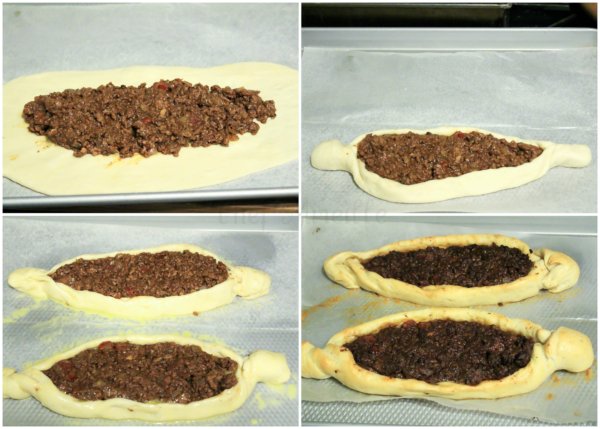 Then we garnish with the pomegranate seeds.
After the pizza's are made, they are sold in slices on the street of Istanbul and throughout the country.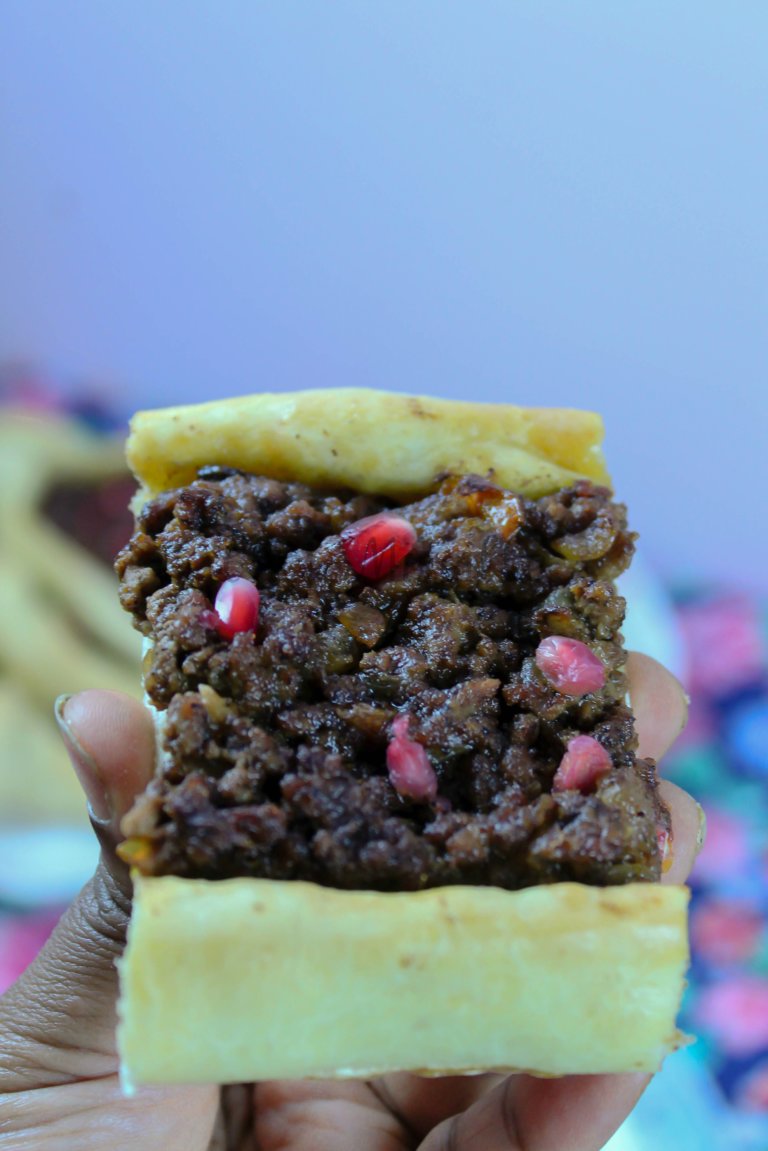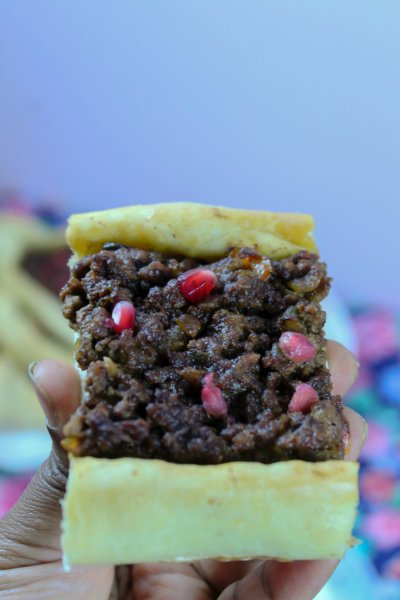 Combine with a salad and make it into a meal!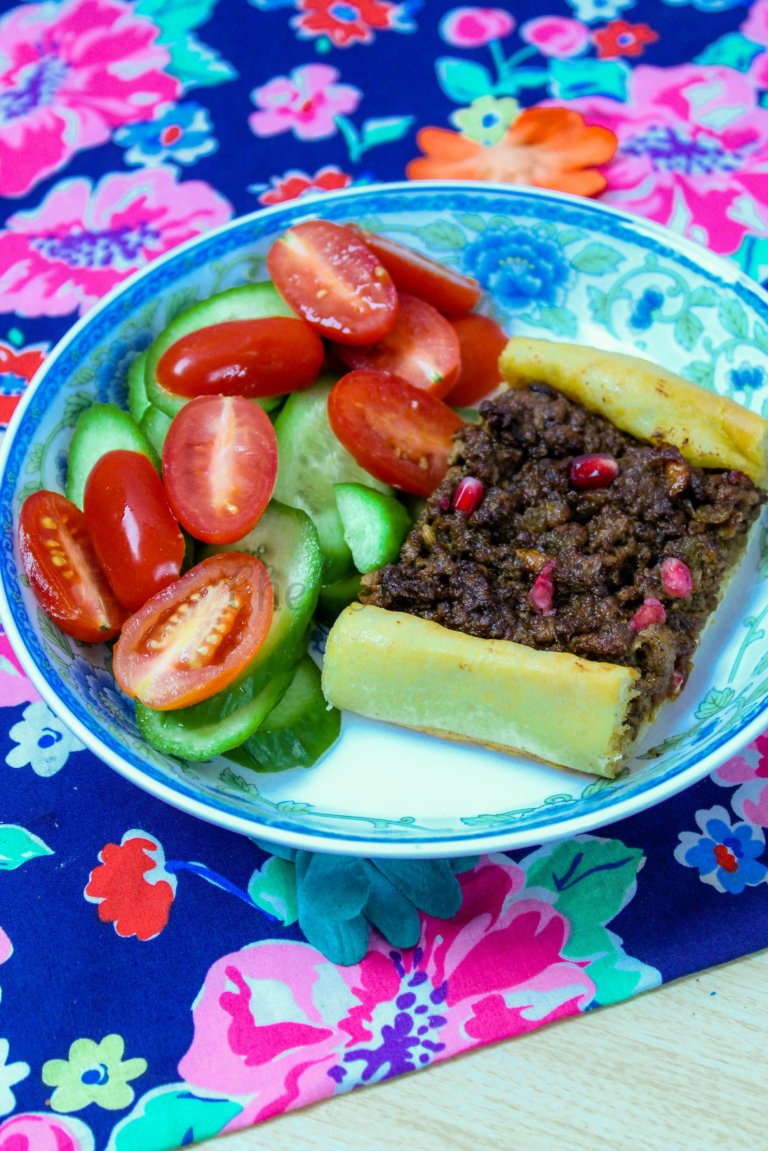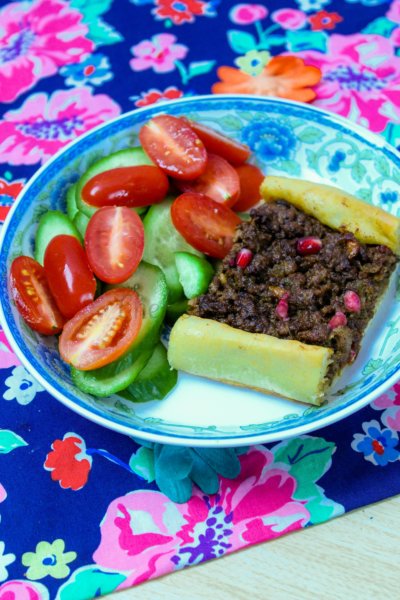 Turkish Lamb Pide
Turkish Pide is often referred to as Turkish Pizza. The boat shaped pizza can be made with a variety of fillings, including this spiced flavorful lamb filling.
Ingredients
Dough Ingredients
Filling Ingredients
1

tablespoon

olive oil

1

chopped onion

2

finely chopped garlic cloves

1

chopped tomato

11

oz.

ground lamb

2

teaspoons

ground coriander

1

teaspoon

ground cumin

½

teaspoon

paprika

2

teaspoons

sumac

½

teaspoon

ground allspice

½

teaspoon

ground black pepper

1

tablespoon

tomato paste

2

tablespoons

water

2

tablespoons

pomegranate molasses

Salt

to taste

1

egg

for egg wash

1

tablespoon

pomegranate seeds

garnish
Instructions
To make the dough, heat water to 110 – 115 F.

Add sugar with ½ cup of the water and mix. Sprinkle yeast on top. Leave for 5 minutes, until it looks frothy.

In the bowl of an electric mixer, combine, flour, salt and olive oil.

Add yeast water and knead for 5 minutes until you have a smooth dough, adding the remaining heated water as necessary.

Place in a lightly greased bowl and cover with plastic wrap and a kitchen towel. Leave to rise until doubled in size, about 1 hour.

Meanwhile, let's prepare the filling.

In a large skillet, heat oil.

Add onion, garlic and tomato. Cook on high heat until the vegetables soften, stirring often, about 3 minutes.

Add lamb, coriander, cumin, paprika, sumac, allspice, and black pepper. Cook until the meat is cooked through.

Add tomato paste, water, pomegranate molasses and salt. Stir to combine. Cook for about 3 minutes on high heat until some of the liquid has boiled off, but the mixture should still be wet.

Set aside to cool. Divide the meat into 4 equal sized portions.

Preheat oven to 350 F. Line 2 cookie sheets with parchment paper and spray with non stick spray.

Turn dough onto a lightly floured board. Divide into 4 portions. With each portion, roll into a rectangle about 10' x 6".

Transfer rectangle to prepared cookie sheet.

Place one portion of meat in the middle. Fold in the sides, creating a small border and roll the border over to create a rim. At the ends, twist to seal and shape into a boat.

Repeat with the other 3 portions of dough.

In a small bowl, beat 1 egg with 1 tablespoon of olive oil.

Brush the pastry part of the pide with the egg wash.

Bake 35-40 minutes until golden brown and crusty.

Garnish by sprinkling some pomegranate seeds and pressing into the meat filling.
Nutrition
Calories:
237
kcal
|
Carbohydrates:
25
g
|
Protein:
10
g
|
Fat:
11
g
|
Saturated Fat:
3
g
|
Polyunsaturated Fat:
1
g
|
Monounsaturated Fat:
5
g
|
Trans Fat:
1
g
|
Cholesterol:
33
mg
|
Sodium:
277
mg
|
Potassium:
230
mg
|
Fiber:
2
g
|
Sugar:
3
g
|
Vitamin A:
125
IU
|
Vitamin C:
5
mg
|
Calcium:
31
mg
|
Iron:
1
mg
Did you try this recipe? Leave a comment below.
Please follow me on Instagram @chefmireille or tag me #chefmireille with your pics! I'd love to share them!
Don't forget to visit the RECIPE INDEX with over 1000 recipes from around the world including lots of Vegetarian Recipes and Gluten Free Recipes!