Last Updated on May 20, 2020 by Chef Mireille
Thai Winter Melon Stir-Fry
This quick stir-fry is made with Winter Melon, aka Ash Gourd or simply as White Pumpkin, available at Asian markets.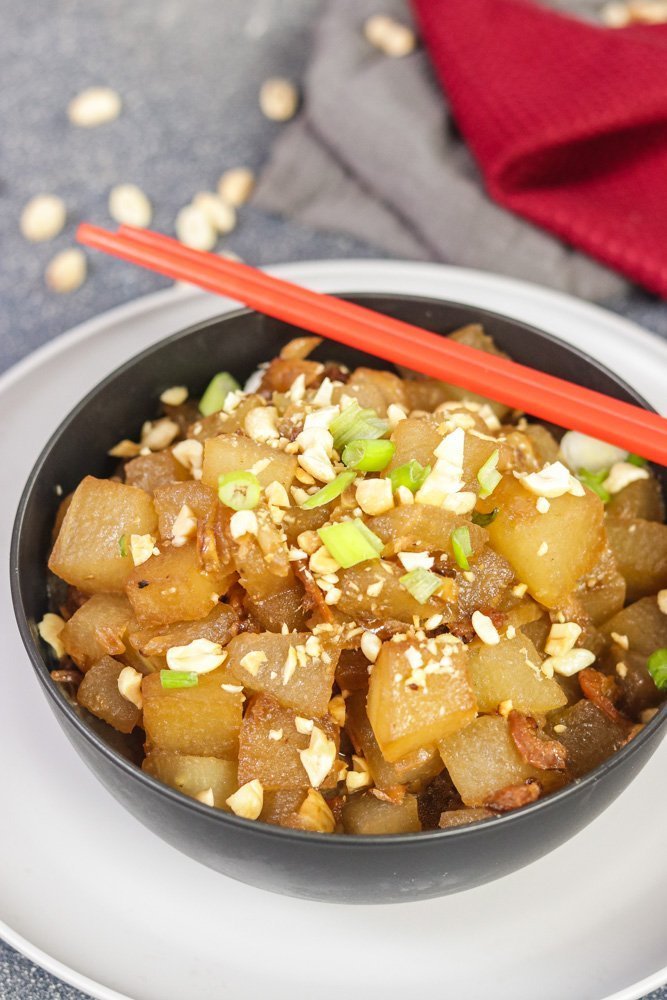 With globalization, there are both positive and negative effects that have come into our lives. One of the biggest positive effects is the availability of food products from around the world in our local supermarkets.
I have been amazed in recent years even in small towns or cities I have visited, the diversity of cuisine and food ingredients I see.
You don't have to live in a big city like I do, in order to experiment with world flavors. You might have to step a little bit out of your comfort zone by going to a specialty market, instead of your local supermarket. However, if you have the desire to do so, cooking from around the world is at your fingertips.
Don't get worried that you won't be able to try this delicious recipe if even with globalization, you can't find Winter Melon. There are other vegetables with similar flavors and textures you can use that make great substitutes.
Winter Melon Substitutes
All About Winter Melon
Winter Melon is a variety of pumpkin with green to white skin and white flesh. It's about the size of a watermelon, so usually sold in the markets in large slices. Also known as ash gourd or winter melon, it is utilized a lot in Asian cuisines, including Indian. It's also sometimes called fuzzy melon because the skin is fuzzy when it is less ripe.
White Pumpkin has a very clean and refreshing taste, similar to cucumber or chayote squash.
Winter Melon is a good source of iron, potassium, calcium, Vitamin C and B Complex as well as some protein and fiber.
In Asian cuisines, it is mostly used in either stir fries, since it cooks so quickly or soups.
In South Asian countries like India, it is widely used in everything from curries and rasam to desserts like kheer or halvah.
So the next time you are in an Asian or Indian supermarket, pick up some winter melon and try a new recipe this week like Thai Winter Melon Stir-Fry.
Thai Winter Melon Stir-Fry
Thai Winter Melon Stir-Fry – is quick and easy and a great utilization of this vegetable, available at Asian Markets. Also known as white pumpkin, fuzzy melon or ash gourd.
Ingredients
3

tablespoons

oil

1

thinly sliced onion

3

finely chopped garlic cloves

2

tablespoons

finely chopped ginger

3

finely chopped bird's eye chiles

1/3

cup

dried shrimp

1

cored and chopped starfruit/carambola

5

cups

chopped white pumpkin

3

tablespoons

fish sauce

1

tablespoon

soy sauce

4

tablespoons

coarsely chopped peanuts

optional

Chopped scallions

garnish
Instructions
Place dried shrimp in a bowl and cover with boiling water. Leave for at least 10 minutes, while they soften.

Drain and reserve liquid.

In a wok or deep skillet, heat oil.

Add onion and cook on low heat until the onions are halfway caramelized, about 10 minutes.

Add garlic, ginger, chiles, shrimp and starfish.

Stir-fry for 2 minutes.

Add pumpkin, fish sauce and soy sauce. Add a few tablespoons of the reserved shrimp liquid. Stir to combine.

Cover and cook on medium low heat until vegetable is cooked, about 8-10 minutes.

To serve, garnish with chopped peanuts and scallions.
Notes
You can add more or less of the shrimp liquid as you desire, depending on how wet or dry you prefer the stir-fry.
Did you try this recipe? Leave a comment below.
Please follow me on Instagram @chefmireille or tag me #chefmireille with your pics! I'd love to share them!
With so many people trying to eat less meat, this is such a quick and easy recipe for dinner. It only has a bit of dried shrimp and still makes a delicious one pot meal. All you need is some steamed rice to serve it over!
All pumpkin fanatics RAISE YOUR HAND!!! Do you love pumpkin and all it's varieties as much as I do!
Then check out some of my other Pumpkin Recipes!
Pumpkin Recipes
I'd love to see how you recreated this delicious recipe! Tag me on Instagram with your pics!
SHARE THIS DELICIOUS RECIPE WITH YOUR FOODIE FRIENDS
Do you know anyone else who likes learning about international recipes, culture, history and travel? Start Here to find out how The Schizo Chef can help with your cooking, travel and other needs!