Last Updated on January 13, 2020 by Chef Mireille
Sripaphai – Thai Restaurant Review – NYC – traditional Thai food in Woodside.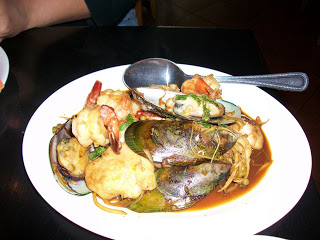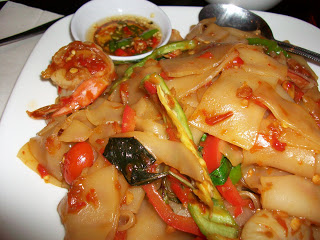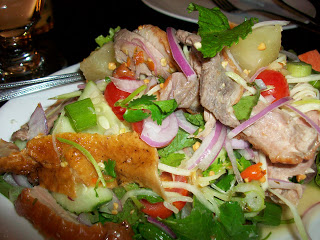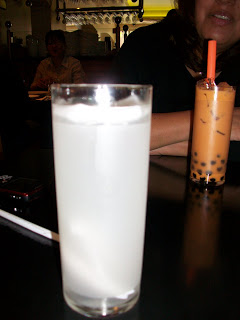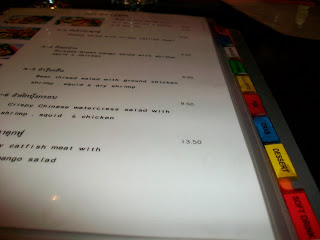 To get the most authentic Thai food in New York, Manhattanites are going to have to cross the bridge into Queens to reach Sripaphai. Here you will not get the muted flavors and spices apparent in so many Manhattan restaurants that are catering to bland, American palates.
Here the food is cooked for Thai's with spices and heat that leap into your mouth with every bite. More than Pad Thai, Green Chicken Curry and Basil Chicken, you are greeted with a 27 page binder that is your menu and this does not include the 2 page Vegetarian section in the back. With such a large selection, it would take a year of weekly visits to try everything on the menu, but everything we had was delicious – authentic Thai Iced
Tea
with black tapioca pearls and Coconot juice with slices of fresh young coconut meat.
We started with an appetizer of Roasted Duck Salad (pictured above) with a perfect balance of flavors – the heat of the chilis were muted by the cool refreshing taste of fresh mint and coriander. The sharpness of raw red onions were muted by green papaya and cucumbers. Next was an entree of flat noodes with chili, Thai Basil and any meat of your choice, for the same price (my choice was Shrimp). For a spicy dish like this, you can request it to be made mild. Again, a perfect balance of flavors and absolutely delicious. An incomparable seafood stew finished the impeccable culinary adventure to Bangkok!!
Too full to consider the refrigerator full of unique desserts as we entered, the desserts will have to wait until next time (and there certainly will be a next time). I haven't been here in a few years and the renovation makes it a wonderful place to enjoy dinner in the summertime with a back courtyard, complete with fountain.
OH and you can't beat the price – $37 for 2 people – 2 entrees, 2 specialty beverages and 1 appetizer (some food was taken home in a doggie bag also)!!!
If you want to try some delicious, authentic Thai food, hop on the 7 train and 30 minutes later you will be perusing over the expansive binder menu, ready to get your taste buds in gear!!
Do you know anyone else who likes learning about international food, culture, history and travel? Bring them over here to join the party! Don't forget to use those share buttons!
Start Here to find out how the Schizo Chef can help you with your cooking, travel and other needs!
If you like this recipe, PLEASE LEAVE A COMMENT & SUBSCRIBE!