Last Updated on June 4, 2015 by Chef Mireille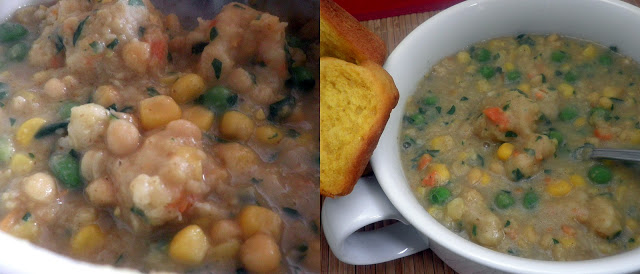 Caribbean Split Pea Soup
a little bit of history and travel, as well as a recipe..I hope you enjoy this post (sorry if it's a bit on the long side)
Perusing through my ample cookbook collection for inspiration for more carrot recipe's to continue this week's carrot theme, I found this recipe for Carrot Dumplings in Classic Caribbean Cooking by Sharon Atkin.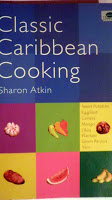 I picked up this book when I was in Trinidad several years ago (other people get t-shirts and keychains as souveneirs when on vacation…I bring home cookbooks) because I liked the variety of recipes included from throughout the entire Caribbean diaspora. However, many of the recipes I can do blindfolded and for this reason, I have yet to use this book, as I rarely go to it for inspiration for new recipes.
This dumpling recipe is a unique, innovative Caribbean recipe that is a Montserrat recipe, according to the book – an island I have not visited nor have I ever known anyone from this island. Montserrat is part of the Leeward group of Caribbean islands, which extends to as far south as Dominica, my grandmother's birthplace. While some sources list Dominica as part of the Leeward islands, some sources list it as part of the Winward islands. This is because Dominica basically separates the ocean from the sea. In this photo taken on my last visit to the southern coast of the island, known as Scotts Head, you can see the calm waters of the Caribbean Sea on the right and the active waves of the Atlantic Ocean on the left.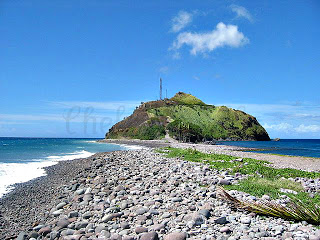 Scotts Head, Dominica
While my grandmother's birthplace is known as the Nature Island of the Caribbean, Montserrat is known as the Emerald Isle of the Caribbean because of it's Irish history and it's resemblance to coastal Ireland. Only 1/3 of this British island is inhabited as the rest of it is unsafe to live on, due to an active volcano. For more information on Montserrat, see here. Don't you wish you were lying on the beach in the photo? I know I wish I were! Until then, I have my memories of me swimming in the Emerald Pool in Dominica…until I can get back to the Caribbean. A little bit of trivia…all the Pirates of the Caribbean movies were filmed in Dominica!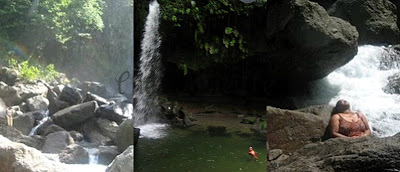 relaxing in Dominica
…and now to the recipe
I added the dumplings to Split Pea Soup, which is one of my staple soups I make often.
Split Pea Soup with Carrot Dumplings
Ingredients:
1 cup yellow split peas, soaked overnight
1 tablespoon oil
1 onion, finely chopped
2 cloves garlic, finely chopped
1 tablespoon ginger, grated
1 tablespoon roasted cumin powder (jeera)
7 cups water
1 cup frozen green peas
1 cup canned or frozen corn
1/4 cup parsley, finely chopped
2 oz. carrots, finely grated, (about 1 carrot)
3 oz. all-purpose flour (a little less than 1/2 cup)
2 oz. cold unsalted butter (1/2 stick)
1 teaspoon baking powder
1/2 teaspoon salt
Heat oil. Add onion, garlic and ginger. Saute for 1-2 minutes, until onions are translucent.
Add split peas, cumin and water. Bring to a boil. Skim foam off the top. Reduce to a simmer and cook until peas are tender.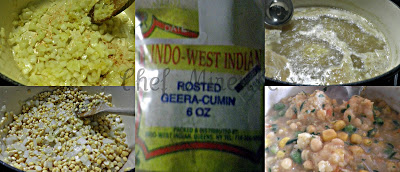 Once peas are cooked, turn off the fire and let cool for 10 minutes.
While the soup is cooling, get the carrot dumplings ready.
In a bowl, sift flour, baking powder and salt. Using a pastry blender or a fork, cut in butter until the mixture resembles breadcrumbs.
Add carrots and enough cold water to make a stiff dough. (I used 2 tablespoons)
With floured hands, shape dumplings. You can shape them into whatever shape you want. Some people make dumplings into discs, some balls. My mom always made them into oblong shapes so that is what I did.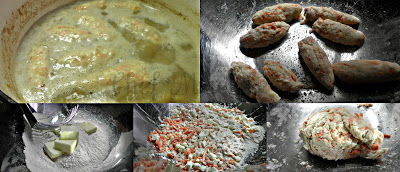 Using a blender or food processor, puree half of the soup.
Return pureed soup to the pot. Add peas and corn and bring to a boil.
Add dumplings and reduce to a simmer. Cook for 15 minutes.
Add parsley and salt, to taste.
Enjoy with Pumpkin Rolls!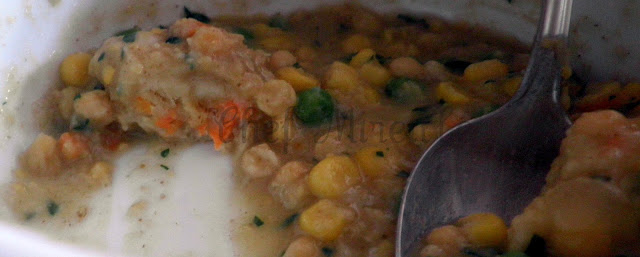 my bowl of soup and dumplings…almost finished…Delicious!
I always loved dumplings and they are standard fare in Caribbean soups. Whenever my Mom would make soup, my sister and I would fight over who got the most dumplings. My mom's did not include vegetables and she did not make them with butter. This biscuit method of making dumplings with all the butter make a much softer dumpling, so they don't firm up as well as the butter-free dumplings and fall apart as they cook. I do like the addition of carrot, but these are a little too soft for my liking. In order for these to stay firm, less water would have been needed. Perhaps, I should have made the dough stiffer, however, with all the butter in this recipe, I really don't think it would have made much difference. This is why I don't like recipes that say "enough water to make a stiff dough" or "enough water to make a soft dough". This is how this recipe was written. If you've never made it before, this is difficult and you are playing a guessing game.
The dumplings were good, but just a different texture than what I am used to. Next time, I will use my Mom's dumpling methodology which I have been making for years and just add the grated carrot to this recipe. This recipe was not as carrot focused as I had planned (forgive me Srivalli). Regardless, it makes a yummy bowl of soup and dumplings and I find it interesting to see the variation of making the same foods in different Caribbean islands. Another time, I had dumplings at a Jamaican friend of mine and they were so heavy, I had to feign being full to avoid what I called "the hockey pucks". However, to her, that is what dumplings are supposed to be like.
When people dump all the Caribbean in one basket, I find it quite annoying. Our cuisine is as diverse as the languages we speak and our varied history. I was once chatting with an American born Chinese co-worker about my upcoming vacation to Jamaica. I was excited going to a place I had never been before and she said to me that I was going home. I asked her what she meant and she said, "Well aren't you from the Caribbean? Isn't it all the same?" I responded, "Well you're from Asia, isn't it all the same?"
In Aruba, where my Mom is from, we speak Dutch and Papiamento & because of our proximity to Venezuela, Salsa music is more popular than Reggae…so NO! we are not all the same!
Check out the Blogging Marathon page for the other Blogging Marathoners doing BM#16
Chef Mireille