Last Updated on November 19, 2019 by Chef Mireille
Spiced Vegetable Couscous
Spiced Vegetable Couscous is a simple vegetable dish that mixes vegetables and grain in one dish, making it more kid friendly.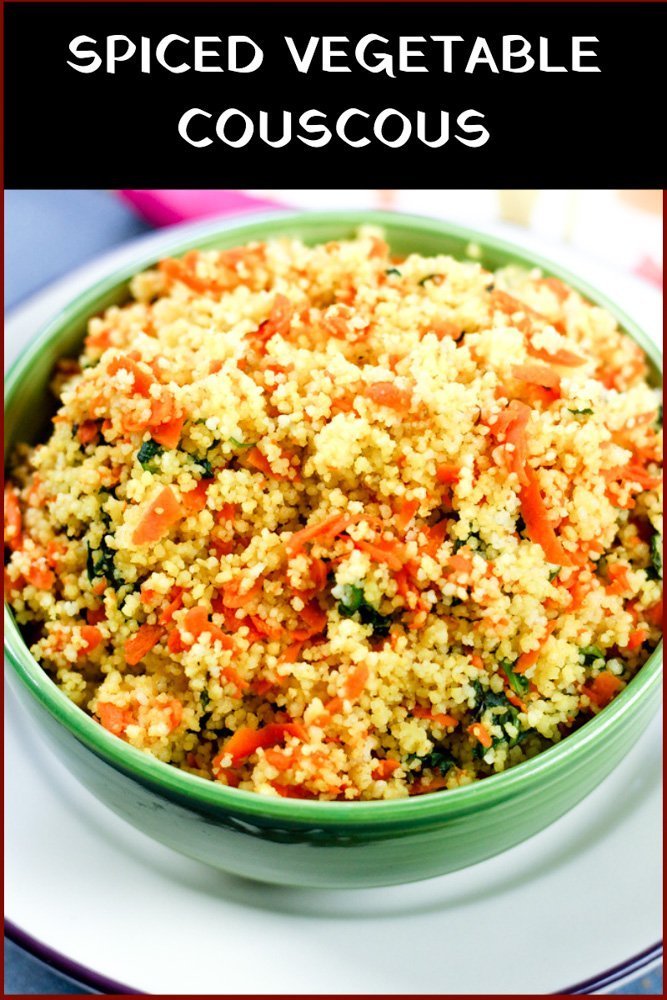 In some meat centric cultures, vegetables are practically non existent. I currently teach family cooking classes to mostly Latino families. While the mom's are ready and willing to make changes to their family meals to include more vegetables and cook healthier meals for their families, getting the kids to try vegetables is torturous. You would think I was trying o poison them with the passion they use in running away from vegetables.
Getting a kid to add one slice of onion and bell pepper to a quesadilla took me about 10 minutes of convincing. It's really difficult when no one has been pushing the kids to each vegetables and then all of a sudden at age8-10, we are telling them they have to eat vegetables. That is an age when kids are very resistant to change.
This is why it is so important to give kids balanced meals that include protein, carbohydrates and fresh produce of vegetables and/or fruit as soon as they are on solid food. If you wait until later, it becomes an almost unsurmountable task.
I used to be a chef at a nursery school and those kids had no issues with vegetables, because we gave them balanced meals from Day 1.
So how do I get these super resistant 8-10 year olds to eat vegetables. One way is to combine it with the grain. If the vegetable is separate, they are more likely to avoid it. However, if the veggie are mixed in with the rice, quinoa, pasta or couscous, there really is no avoiding them and they end up eating the vegetables, whether they want to or not.
It's time for the monthly Food Blogger Recipe Swap and Mina's Couscous with Vegetables makes an easy side dish and a great way to get the kids to eat more vegetables.
You can use whatever variety of vegetables you like. I used carrots and spinach.
Spiced Vegetable Couscous
Spiced Vegetable Couscous is a quick and easy side dish and kid friendly.
Ingredients
1

cup

couscous

1

cup

cooked vegetables

I used carrots and spinach

1

teaspoon

green chili sauce

½

teaspoon

crushed red pepper

½

teaspoon

dhana jeera powder

cumin-coriander powder

1

teaspoon

lemon juice

¼

teaspoon

sugar
salt

to taste
Instructions
Bring 1 ¼ cups of water to a boil.

Add couscous and stir to combine.

Turn off heat, cover and leave to rest for 5 minutes, until the couscous absorbs the water.

Add vegetables, chili sauce, pepper, dhana jeera powder, lemon juice, sugar and salt.

Stir to combine.
Did you try this recipe? Leave a comment below.
Please follow me on Instagram @chefmireille or tag me #chefmireille with your pics! I'd love to share them!
SHARE THIS DELICIOUS RECIPE WITH YOUR FOODIE FRIENDS
Don't forget to visit the RECIPE INDEX with over 1000 recipes from around the world including lots of Vegetarian Recipes and Gluten Free Recipes!