Last Updated on June 3, 2015 by Chef Mireille




Blogging Marathon #32
Theme: Baked Goods
This is another popular treat served during the Christmas Eve Feast of the Thirteen Desserts celebrated in Provence. While the rich butter cookies of France originating in Normandy called sables are popular throughout the country, this Provencal specialty is a little different in that it is not a sweet cookie. Instead, this savory cookie is a welcome reprieve from all the sweets served on this day.
Yield: 28 2″ sables
Ingredients:
2/3 cup + 2 tablespoons all purpose flour
1/3 cup semolina
1/3 cup almond flour/almond meal
1 teaspoon fennel seeds
1 teaspoon cumin seeds
1 teaspoon anise seeds
3/4 teaspoon salt
1/2 cup cold butter, cut into small cubes.
2 eggs, beaten
Preheat oven to 350 F. Line a baking sheet with parchment paper.
In a large bowl, combine all the flours, spices and salt and mix well. Using a pastry blender, cut in the butter until it resembles small peas. Add eggs and mix well.
Turn dough onto a well floured surface and roll out to 1/4″ thick. You will need to sprinkle some flour on top of the dough as well.
Using a cookie/biscuit cutter, cut out cookies and place on prepared baking sheet.
Bake for 12-15 minutes until slightly golden at the edges.
These came out delicious. It's hard to describe them – really more the texture of a rich, buttery, flaky pastry than a cookie but not sweet. The flavor in them is fantastic, especially with the minty undertones of fennel. They are perfect with a cup of tea.
Logo courtesy : Preeti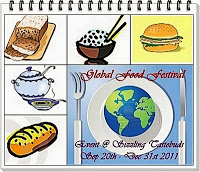 Check out the Blogging Marathon page for the other Blogging Marathoners doing BM# 32
…linking to Kalyani's Global Food Festival & Bake Fest hosted by Palachinka
LIKE THIS RECIPE? LEAVE A COMMENT..I LIVE FOR THEM!
Chef Mireille

document.write('