Last Updated on May 20, 2015 by Chef Mireille
Indian food is one of the most popular cuisines in the West today. This is why so many of my blog posts are on this topic. Many people enjoy the flavor of Indian food, but can't take the heat of the chile. There are ways to incorporate the flavor of this cuisine into your meals, without the use of chile peppers. One of the ways that so much flavor is brought into Indian cuisine is how the spices are introduced into the meal. Even when the spices are ground (which is not even done in much of the home cooked meals), they are first roasted to bring out the flavor. Ground processed spices loose their potency through the processing. Most people in India purchase the whole spices and then roast and do the grinding themselves. They would not even consider purchasing store-bought ground spices.
Here is a wonderful fusion recipe, using cooking methods of the West and the spices of the East.
Indian-Spiced Roast Chicken and Vegetables
2 T coriander seed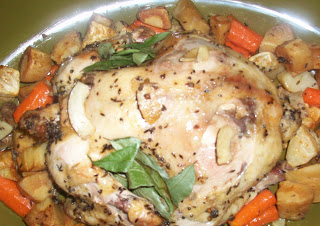 1 T cumin seed
1 T black peppercorns
16 green cardamom pods
2 cinnamon sticks
2 T dried coconut slices
1 T yellow mustard seed
1 parsnip*
1 celery root*
3 carrots*
1 small chicken
5 garlic cloves
1 large piece of ginger
1 good handful of curry leaves, plus extra for garnish
salt and pepper to taste
1 T mustard oil (if you can't find mustard oil, bring olive oil and mustard seeds to a boil. Turn off the flame and let it rest for 1 hour. Drain and discard mustard seeds.)
* or any assortment of root vegetables you prefer
Directions:
1 – Place spices in a dry pan on high heat. As soon as the mustard seeds start to pop, reduce heat to medium and cook until fragrant, about 2 minutes.
2 – Cut vegetables into large pieces. If they are too small, they will turn to mush by the time the chicken is cooked. Using a fork, prick the chicken, so that the spices can permeate the skin. Clean the chicken and season both chicken and vegetables with salt and ground black pepper.
3- Stuff the ginger, garlic and curry leaves into the cavity of the chicken. Rub mustard oil and then roasted spices all over the chicken. Place in an oven bag with the vegetables. Cooking in an oven bag will keep the flavors trapped inside the chicken and vegetables, so that marinating is not necessary. Prick the top of the bag with a fork 2 or 3 times. Roast in a 350 degree oven for about 2 hours, until cooked through.
4 – Place on a serving platter, surrounded with the vegetables. Garnish with extra curry leaves.
5 – Serve and enjoy!!!

Chef Mireille
https://www.globaltasteinc.com
Like me on FACEBOOK!
Follow me on TWITTER!