Last Updated on June 3, 2015 by Chef Mireille




Blogging Marathon #24
Theme: Kitchen Appliance Cooking – Rice Cooker/ Slow Cooker
Chili is one of the most popular dishes of the American southwest region. Several states have annual chili competitions. It is a spicy stew of beans and sometimes meat.
Before I show you today's chili recipe, let's first talk a little about chiles & chili powder. What is referred to as chili powder in America is different than cayenne pepper, which is what chili powder is in most other countries. American chili powder is actually a blend of cayenne pepper mixed with other spices like cumin, garlic, onion and oregano. In addition to American chili powder, I have used both chipotle and ancho in this recipe. Chipotles are dry smoked jalapenos and ancho are dried poblanos.
I have used the slow cooker/Crockpot to make this chili. When this product first came on the market around 1970, it was the answer for households with 2 working parents. You could put everything in it, go to work and when you came home, dinner would be waiting for you. Newer models however, cook much faster so that even on a low setting, foods cook much faster in a Crockpot made within the last 5 years. I learned this the hard way by the food and the pot being burned so bad the pot had to soak for 2 days before I was able to scrub it clean again. Be careful when following Crockpot recipes for the first time, especially if it is an old recipe. Monitor the cooking time well, as it will vary depending on the model. Some newer models have a timer on them, so that you can set the time and then it will automatically switch to warm. However, the model I have only has a a low, high and warm setting which must be switched manually.
After these Crockpot mishaps, I mostly use it as an extra pot when I am cooking large meals and run out of room on my stove and in my oven. Other than that, the Crockpot stays in the back of the bottom shelf of my pantry and collects dust. When Srivalli announced this theme, I thought of my slow cooker collecting dust in the back of the pantry and decided to try again to embrace this modern convenience.
I decided to make this chilli using a lot of liquid to make sure it would not burn. I figured even if it ended up being too liquidy, it would still make a delicious soup.
It came out perfect. Just mix all the ingredients together and put in the slow cooker. Go to work or run errands and 10 hours later, you can be greeted with this delicious chili waiting for you. Some nice crusty bread and a salad and dinner is ready! (Note: you can cook the chili in half the time using canned beans)
Using a slow cooker is not only convenient, but also a healthy cooking alternative. Minerals and nutrients that break down during higher temperatures remain in the foods at the lower cooking temperature.
Vegetarian Three Bean Chili
(click here for printable recipe)
Serves 8-10
Ingredients:
1 onion, chopped
1 cup roasted red bell peppers, chopped
3 cloves garlic, finely chopped
3 tablespoons brown sugar
2 tablespoons American chili powder
2 teaspoons Ancho chile powder (if you don't have access to this, combine 1 1/2 teaspoon paprika and 1/2 teaspoon cayenne pepper)
1/3 cup chipotles, chopped (I used canned chipotles in Adobo sauce)
1 cup brown lentils, soaked overnight
1 cup pinto beans, soaked overnight
1 cup small red beans, soaked overnight
1 28 oz. can diced tomatoes
1 28 oz. can crushed tomatoes
4 cups vegetable broth
salt, to taste
grated Pepper Jack or Cheddar cheese
Combine all ingredients except the cheese in Crockpot and mix well. Set to low.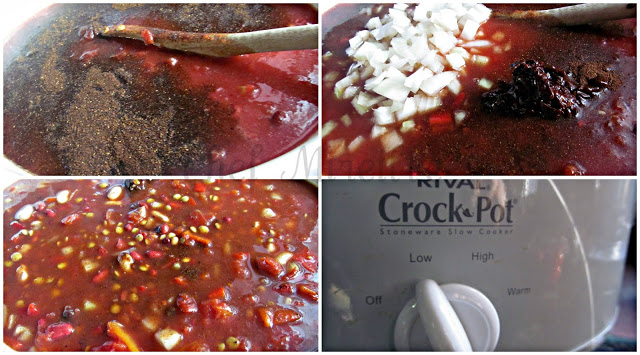 Cook for 10 hours.
The beans will be cooked in about 8 hours, but cooking longer will allow the flavors to develop more and the liquid to thicken.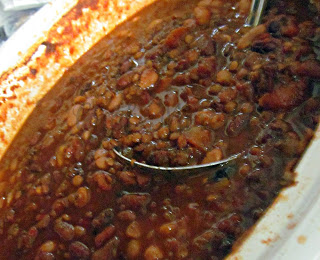 Chili is a versatile food that can be served in many ways. You can make a big batch and it can turn into five different meals, depending how you serve it. Here are some ways I like to serve it: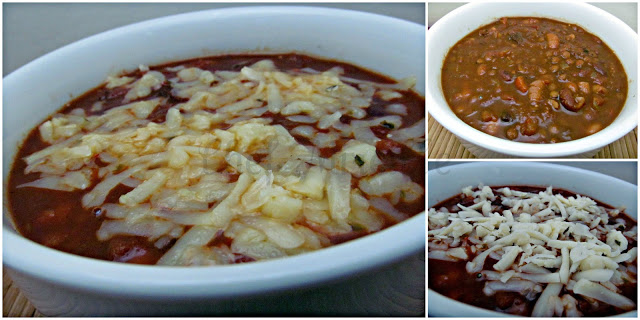 Pour into a serving bowl and top with a little grated cheese. Wait for 5 minutes and the heat of the chili will melt the cheese.
Can also be simply served with rice
On its own with some nice crusty bread or crackers
Sprinkle a little salt and butter over a split baked potato. Spoon a little of the chili on top. Top with cheese and wait a few minutes to let the heat of the chili melt the cheese. (this is my favorite option)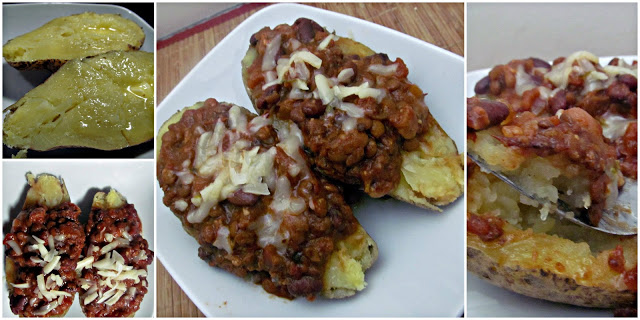 Serve over mashed potatoes/vegetables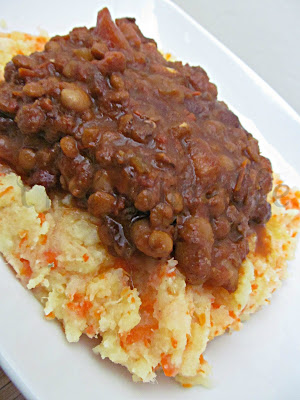 Chili over Mashed Vegetables (potato, parsnip & carrot)
Slow cooked chili with lots of smoky flavors, served in different ways. You won't get tired of eating this delicious chili, even if it is every day!
It also freezes well. Make this big batch and freeze half of it for those busy days when you don't have time to cook a home meal and feel tempted to purchase fast food.
Check out the Blogging Marathon page for the other Blogging Marathoners doing BM#24
LIKE THIS RECIPE? LEAVE A COMMENT..I LIVE FOR THEM!
Chef Mireille
Like me on FACEBOOK!
Follow me on TWITTER!