Last Updated on December 14, 2020 by Chef Mireille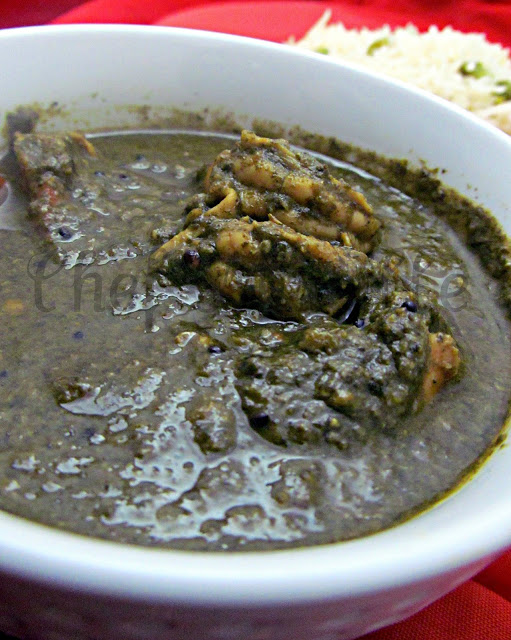 Blogging Marathon #19
Theme: Cooking with Greens
This week's challenging theme is not just Cooking with Greens, but I must come up with a specific type of dish for each day's entry. I have selected Combo 3, which is one dish with a green as the main ingredient, one deep fried/steamed dish & a dish where the green leaf vegetables is cooked with a tuber vegetable. Today's recipe highlights the vegetable as the main ingredient.
Every time I go to the Indian enclave of Jackson Heights, which is pretty often since my Mom lives by there, I try to purchase a new vegetable I have never had before.
In between the spinach, palak and saag, were a bunch of red leaves. The sign above them simply said red leaves. I decided to try these and when I went home via google I would try to figure out what they were exactly and if all else failed, I would email my fellow BM participants. I wasn't worried. Within a few short minutes on google I figured out it was red leaf sorrel.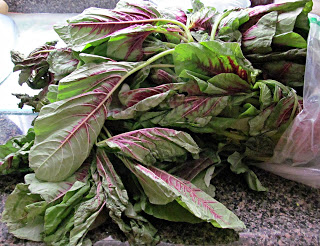 Sorrel is also a common green leaf vegetables used in French cuisine, but I have never had it, although I have seen it on many a French menu, especially when I was in Paris. I created this curry, using this new green leaf vegetable to add to my diet.
Shrimp & Sorrel Curry
(click here for printable recipe)
Ingredients:
2 chiles
10 curry leaves
2 teaspoons coriander seed
1 tablespoon oil
2 teaspoon mustard seeds
1 teaspoon cumin seeds
1 large onion
5 cups red sorrel leaves, firmly packed
1 large tomato
1 cup buttermilk
2 teaspoons ginger paste
1/2 teaspoon ground turmeric
1/4 teaspoon aamchoor (dried mango) powder
1 lb. shrimp, peeled and deveined (substitute paneer or tofu, if you would like to make it vegetarian)
In a small skillet, dry roast chiles, curry leaves and coriander seed for a few minutes until coriander seed turns golden and oils start to release from curry leaves. Let cool.
Steam sorrel leaves for about 10 minutes, until wilted.
In a food processor, grind roasted coriander, chiles and curry leaves. Add sorrel, tomato, onion and buttermilk. Puree well.
Heat oil. Add mustard seeds. Once they begin to pop, add cumin seeds and toast for 1 minute. Add ginger paste and cook for 1 minute.
Add contents from food processor to saute pan with turmeric and aamchoor and bring to a boil. Add salt, to taste.
Reduce to a simmer and add shrimp. Cook for about 3 minutes until shrimp is cooked through.

Serve with steamed rice.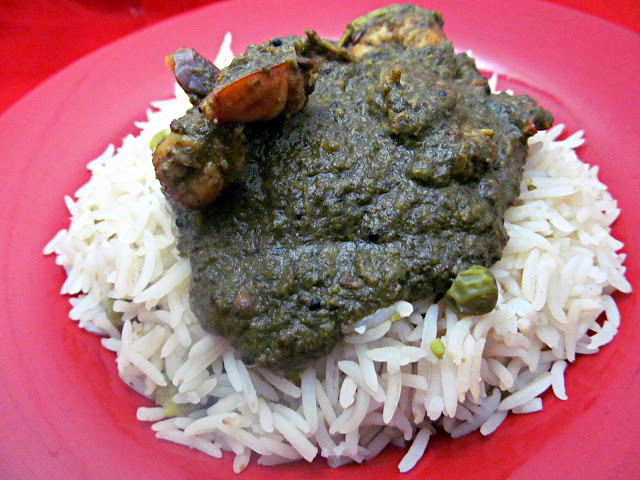 This has a spiciness that comes from the strong mustard flavor, as well as the chile. Hope you enjoy it as much as I did!
Check out the Blogging Marathon page for the other Blogging Marathoners doing BM#19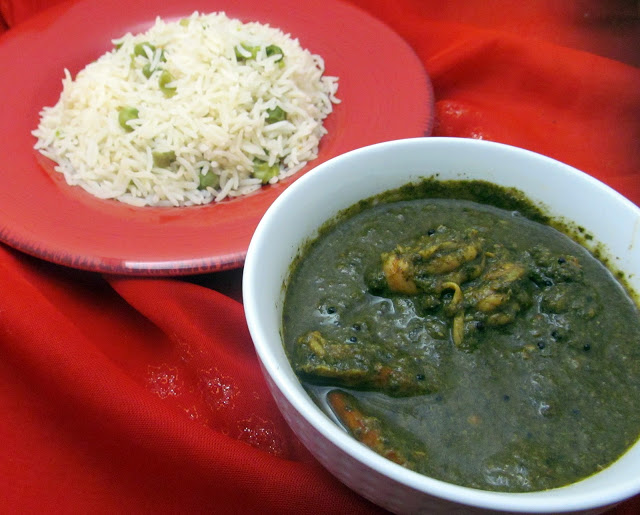 LIKE THIS RECIPE? LEAVE A COMMENT..I LIVE FOR THEM!
Chef Mireille
Like me on FACEBOOK!
Follow me on TWITTER!