Last Updated on November 17, 2021 by Chef Mireille
Seroendeng is a crispy crunchy savory topping used in Southeast Asia. It is full of spices and is how you can elevate the flavor of any noodle dish, rice and vegetable dishes. It is also often served as a side dish or condiment with curries and stews. Typical of umami Southeast Asian cuisine, it combines lots of different flavors in one fabulous condiment – sweet, savory, smoky, sour all into one super addictive Peanut Coconut Crunch.
Both Malaysia and Indonesia have many cuisine similarities and there are different versions of this flavorful condiment in both countries. The main difference is that the Malaysian version includes chili peppers and omits the coconut, while the Indonesian version is not spicy. Therefore this Indonesian Seroendeng is kid friendly. Not to say, that some people do not add a little chili pepper in the Indonesian version if they are looking for an extra kick of flavor.
As many of you may already know, I'm all about cooking with your kids using global recipes to teach them about the world and raise the next generation of global citizens. That's the whole reason for my Kids Korner.
You can sprinkle some on top of Indonesian dishes like Nasi Goreng (Fried Rice), Green Bean Stir Fry or Indonesian Laksa.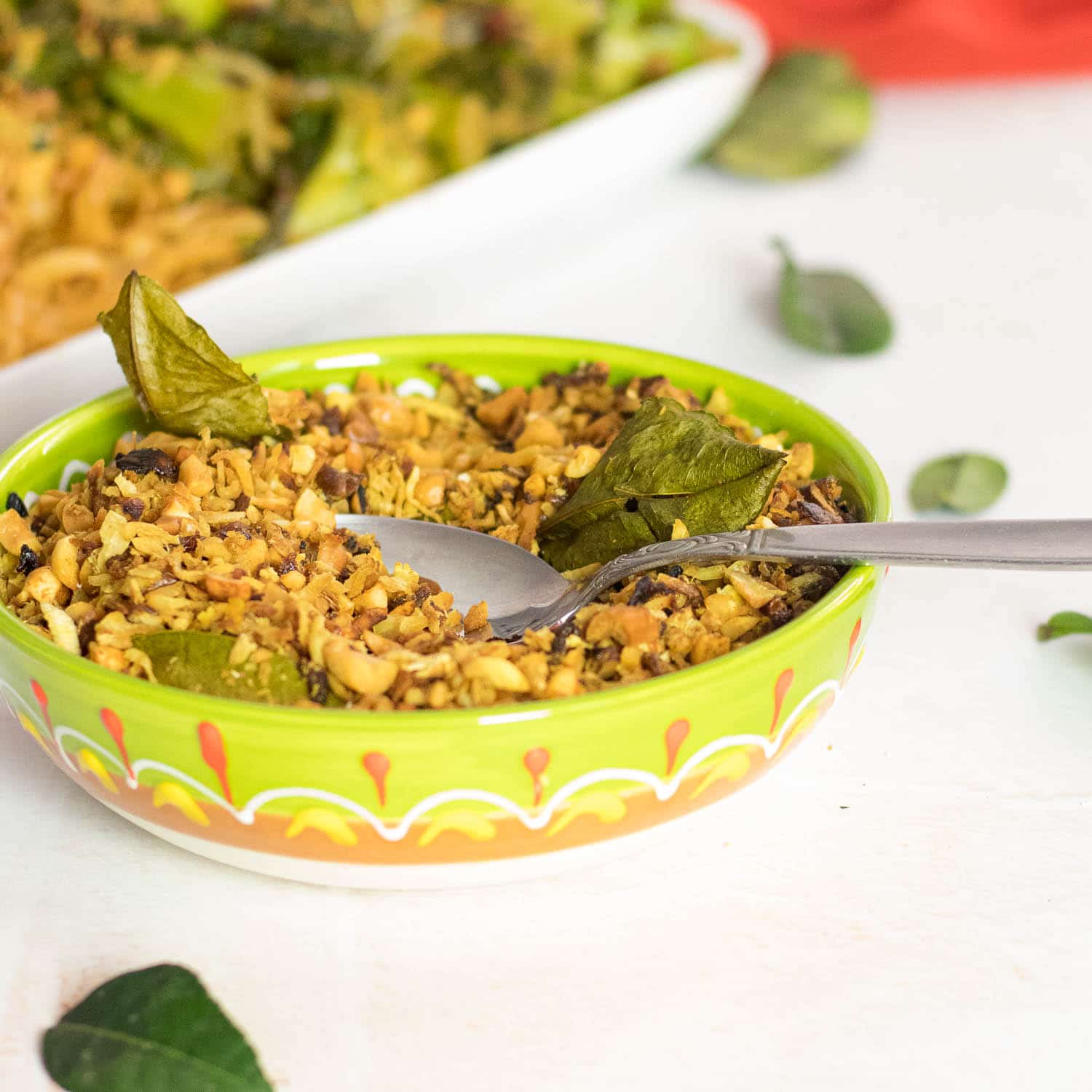 This post may include affiliate links.
With my family being from Suriname with it's huge Indonesian population, this has always been a staple pantry item at home. Not just a condiment, but it makes an awesome snack. Who needs popcorn? When the munchies attack while watching a great Netflix movie, having this in the pantry saves the day and no need for me to make some Homemade Popcorn.
Instant Seroendeng
In modern times, some people will make an instant version of Seroendeng which just involves mixing some ready made ingredients that you can get from good Asian markets that sell Southeast Asian products like:
dry roasted peanuts
toasted coconut
lemongrass powder
Kaffir Lime Leaf powder
crispy shallots
Then you just mix this up with the spices and you are done! Sure it takes just 5 minutes, but you are seriously compromising on flavor!
The flavor of the traditional method makes it so worth the extra time to make it the old fashioned way. Is just a little over a 1/2 hour really that much time that you can't spare it to have a ready made full of flavor snack in the pantry that is so delicious and addictive it is often called Malaysian Crack or Indonesian Crack!
What's so good about this is you can make up a big batch and then it will keep in the pantry for up to 1 month, for optimal freshness.
Recipe Notes
Although in the Indonesian/Suriname version we always include shrimp paste (what we call trassi) , you can omit it if you want a Vegan version. It will still be super flavorful without it.
Fresh Kaffir Lime Leaves may be difficult to source. If you have no alternative, you can use dried Kaffir Lime Leaves but the flavor will be less intense.
It is important to let it cool completely before transferring it to the jar. You want to make sure it is completely cool and dry so that it will not go rancid, as it is stored in the pantry.
Palm sugar can sometimes turn rock hard when it is left in the pantry for a long time. If this has happened, stick it in the microwave for about 15-30 seconds until it softens. The time will vary depending how hard it is. If your palm sugar is fresh and pliable, there is no need to melt it in the saucepan and you can just mix it with the other ingredients in the bowl.
Now let's see what you need to add to this week's shopping list.
Ingredients for Seroendeng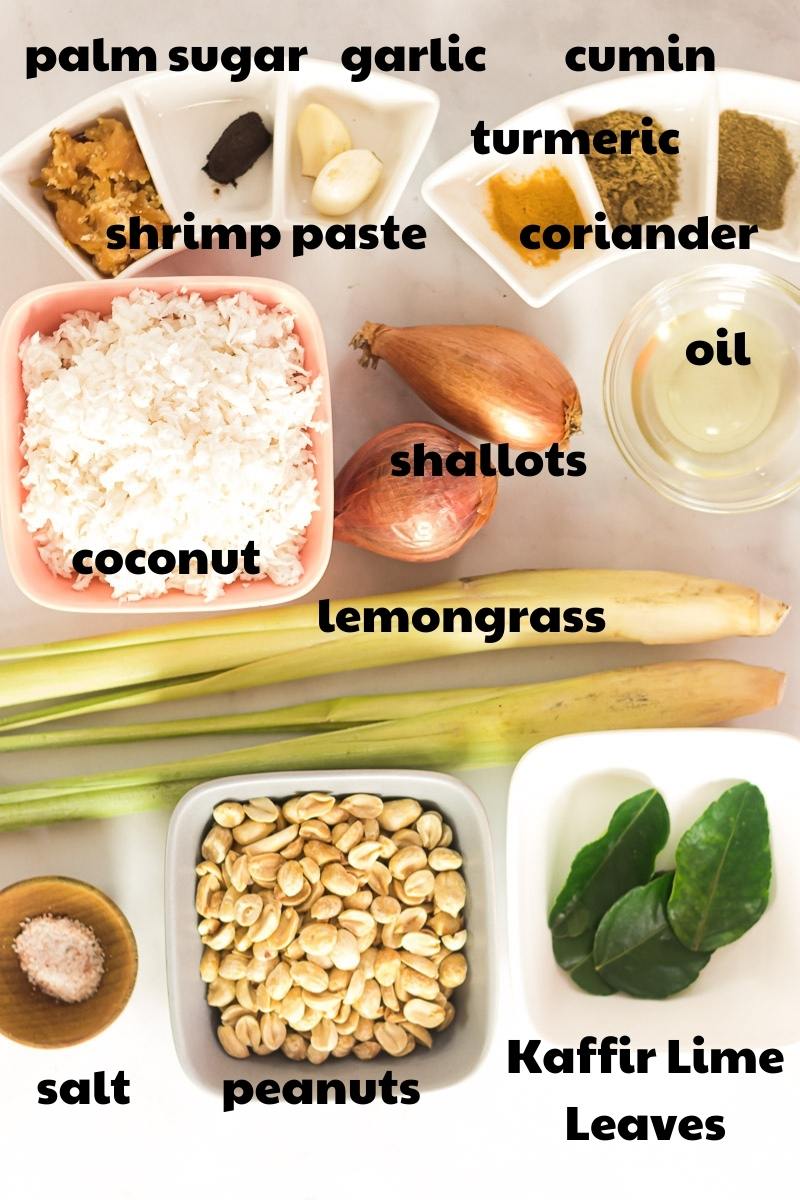 shallots
lemongrass
unsalted peanuts
garlic
salt
frozen grated coconut (or freshly grated coconut)
Kaffir lime leaves
ground turmeric
ground coriander
ground cumin
palm sugar (or brown sugar)
peanut oil
shrimp paste
How to Make Seroendeng
First prep the peanuts and the lemongrass.
Chop the peanuts.
Using a mallet, pound the stalk of lemongrass to release the flavor.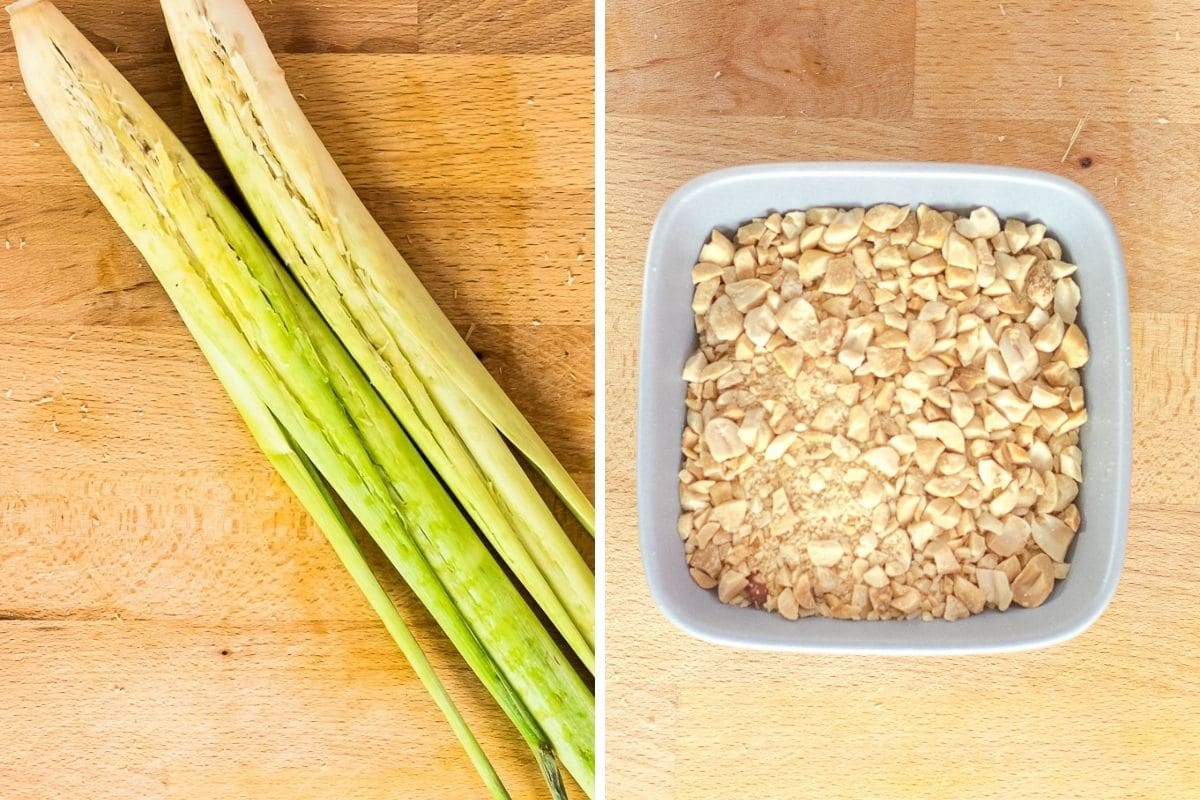 Using a food processor, grind the shallots, garlic and salt using the pulse action. You don't want too much water to release from the vegetables so just pulse it until it is finely chopped, but before it gets watery.
Saute this mix in a saucepan until it is softened and turning golden brown.
Add the shrimp paste and fry for another few minutes.
Add palm sugar and mix until it melts. (see recipe notes)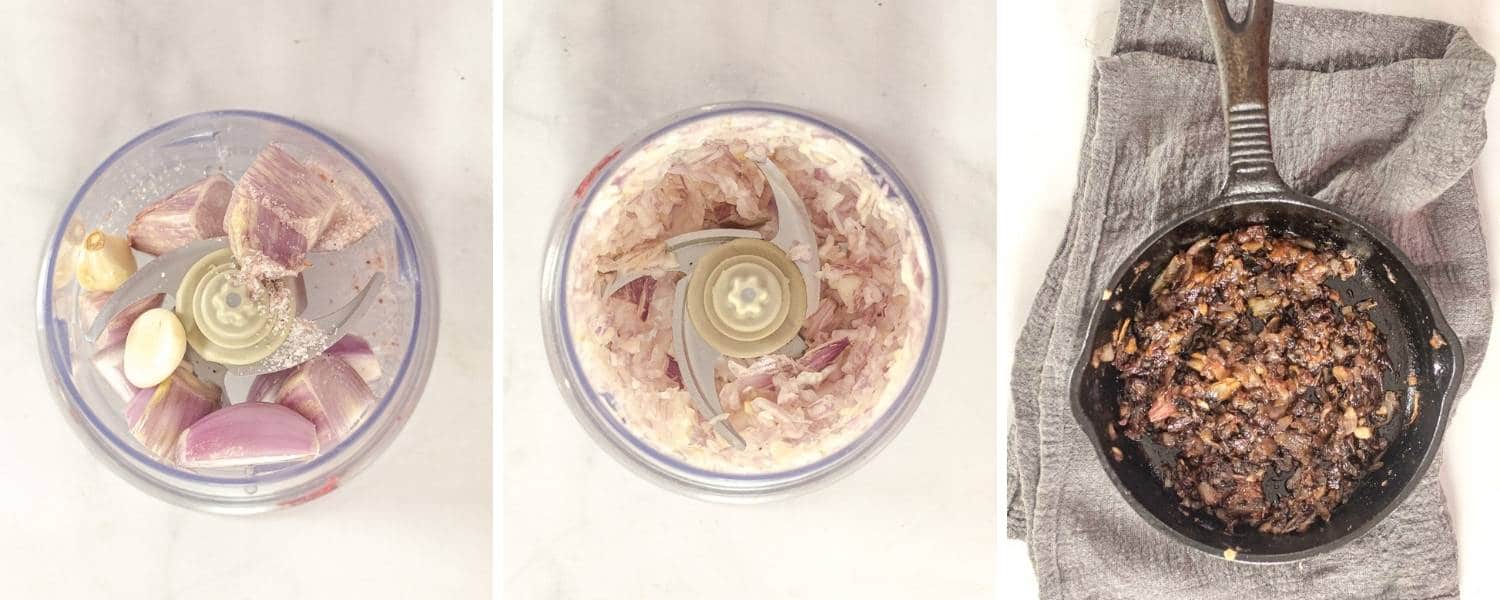 Place the pounded lemongrass on a baking tray.
In a large bowl, mix all of the other ingredients together.
Add the fried shallots to the bowl and mix until thoroughly combined.
Spread this mixture evenly over the lemongrass.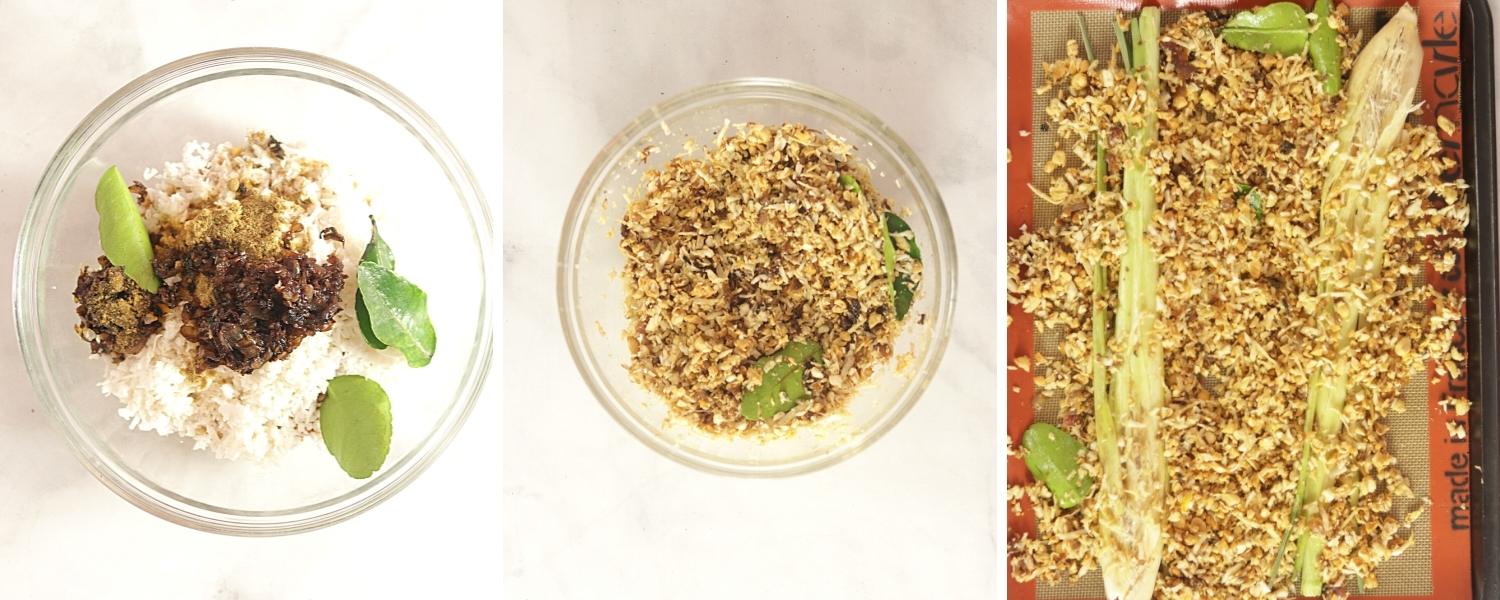 Bake for about 20-25 minutes, tossing a few times throughout the roasting process.
Remove lemongrass and discard it as soon as it is cool enough to handle.
Leave the Seroendeng to cool completely and then store in an airtight jar.
Personally, I can eat this by the spoonful. It's such a perfect blend of flavors – sweet, salty and smoky!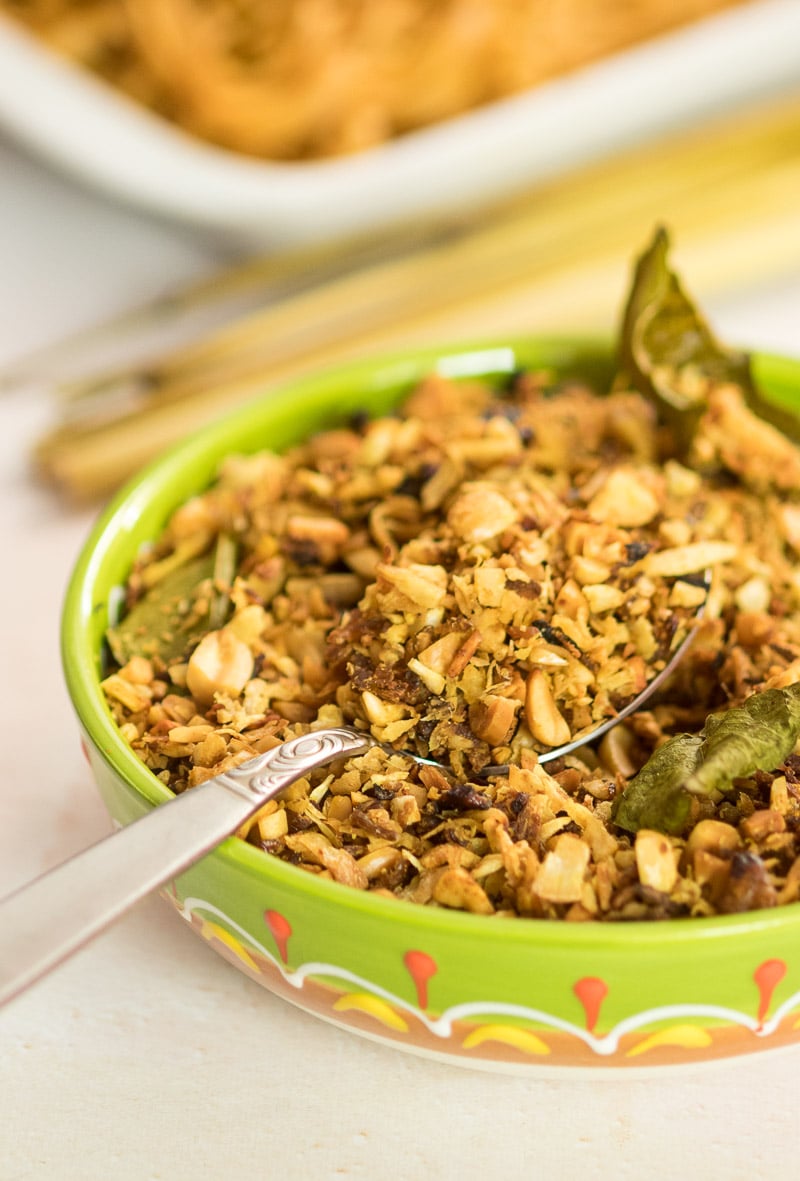 Indonesian Seroendeng Topping
Seroendeng is a cruncy Peanut Coconut Condiment that is delicious over rice, noodles and veggies. It is also delicious as a snack on its own – move over popcorn!
Ingredients
2

large shallots

rough chopped

2

stalks lemongrass

1

cup

dry roasted peanuts

2

garlic cloves

1/2

teaspoon

salt

8

oz.

frozen grated coconut

defrosted (or freshly grated coconut)

4

Kaffir lime leaves

1/4

teaspoon

ground turmeric

1

teaspoon

ground coriander

1/2

teaspoon

ground cumin

2

tablespoons

palm sugar

1

tablespoon

peanut oil

1/2

teaspoon

trassi

shrimp paste/ belachan
Instructions
Preheat oven to 400 F. Line a cookie sheet with silpat or parchment paper.

Pound the lemongrass to release the juices. Place on the cookie sheet.

Rough chop the peanuts. It's alright if some are left whole

Using a mortar and pestle or food processor, grind the shallots, garlic and salt.

Heat oil in a skillet and add shallot mix. Saute until softened.

Add shrimp paste (trassi) and fry on medium-high heat for about 3-5 minutes, until all the moisture is gone.

In a large bowl, combine coconut, peanuts, lemongrass, lime leaves, turmeric, coriander, cumin and sugar. Stir to combine.

Add shallot mix and mix to combine. Spread evenly on a cookie sheet over the lemongrass.

Bake for 20-25 minutes, until golden and it as dry as possible, without burning. Toss it frequently.

After the first 10 minutes, toss every 5 minutes.

Remove lemongrass and lime leaves.

Leave to cool completely.

Store in an airtight jar.
Notes
You can also make this stovetop and toss mixture in a dry skillet on low heat to ensure it cooks evenly until very dry.
If using this method, cut the lemongrass in smaller pieces to make it easier to toss in the skillet.
Nutrition
Calories:
239
kcal
|
Carbohydrates:
12
g
|
Protein:
6
g
|
Fat:
21
g
|
Saturated Fat:
10
g
|
Polyunsaturated Fat:
4
g
|
Monounsaturated Fat:
6
g
|
Cholesterol:
4
mg
|
Sodium:
296
mg
|
Potassium:
234
mg
|
Fiber:
4
g
|
Sugar:
5
g
|
Vitamin A:
2
IU
|
Vitamin C:
1
mg
|
Calcium:
20
mg
|
Iron:
1
mg
Did you try this recipe? Leave a comment below.
Please follow me on Instagram @chefmireille or tag me #chefmireille with your pics! I'd love to share them!
Don't forget to visit the RECIPE INDEX with over 1000 recipes from around the world including lots of Vegetarian Recipes and Gluten Free Recipes!