Last Updated on June 3, 2015 by Chef Mireille
Blogging Marathon #32
Theme: Miscellaneous – Non Recipe Post
I consider myself lucky to live in the global melting pot of New York City. I always say almost any food item from any part of the world can be found in New York. You just have to know where to look for it. Sometimes it has taken me years of looking for an ingredient, but I've encountered everything from Malaysian pandan leaves to African palm oil. One of my favorite places to visit to find unique produce is Chinatown. Chinatown is a haven for the fruit lover – full of fruits not available at local supermarkets like Rambutan, Dragonfruit, Jackfruit and Durian.
You might be afraid to try some of these fruit. Rambutan, which looks like a porcupine with needles growing out of it and then there is Jackfruit, which is larger than a watermelon and also looks like needles are growing out of it. You might be at a loss for how to chop these fruit up. If you don't experiment with these delicacies, you are missing out on some delicious flavors.
Lychee
First is my favorite – Lychee. Lychee is the most popular of these exotic Asian fruit in New York. This is one you don't have to trek to Chinatown to purchase. Many supermarkets now carry these. Lychee are sweet and juicy. They are a perfect snack on a hot, summer day. You might wonder how to eat it…as a man recently asked me as I was picking some at the Asian food cart in my neighborhood. If you've never had a lychee, you must first peel it's paper like skin and then when you eat the fruit, there is a pit in the middle, that needs to be discarded. Lychee also make wonderful ice cream and many bars/restaurants serve Lychee Martinis, which I highly recommend.

Lychee
Rambutan
After I had been eating lychee's for many years, I was always intrigued by the hairy looking fruit that was usually right next to the lychee's. Finally, one day I decided to try them and I was so happy I did. Very similar to lychee, but these are firmer and therefore are great to use in desserts. They have the same sweet, fresh flavor of the lychee, but more body to them. Similar to a lychee, they also have a pit, but the skin is a little thicker.

Rambutan
Jackfruit
It takes a lot of work to butcher down jackfruit to remove the inedible parts. In addition to all the work, you are also paying for a lot of poundage that ends up in the garbage. I prefer to buy containers of already butchered jackfruit. A small container is about $2.50 in Chinatown. It's difficult to describe the taste of ripened jackfruit – kind of like a custardy mango.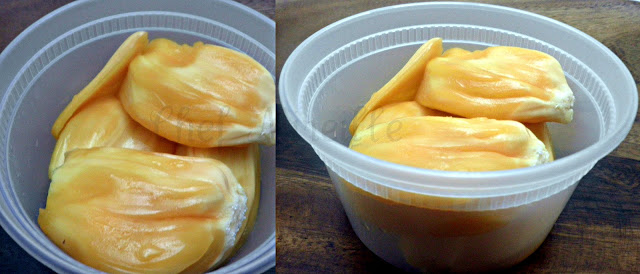 Edible Jackfruit
Dragonfruit
For many years I saw these vibrant colored fruit and was intrigued by the beautiful color, however was hesitant to purchase them. First of all they are a little expensive and the skin looks almost plastic like in texture. Finally, one day I threw caution to the wind and bought one. I cut it open and was surprised to find a white and black speckled soft interior.Often described as a Chinese kiwi, the taste is virtually identical. Due to their beautiful exterior, they are great to use for presentation.

Durian
This is one fruit I still have not gotten the nerve to purchase yet. I've heard that the taste is heavenly, despite its awful odor. Very large in size, I am not sure how to chop these down. Due to their large size and the cost per pound, I am hesitant to purchase an entire durian, just in case I end up not liking it. Maybe you have more nerve than I do, so here's a YouTube video to assist you in butchering down a durian.

Now for some recipes using these fruits, do try some of my recipes here if you have access to these fruits:
Dragonfruit Salad
Jackfruit Payasam
Lychee Limeade
LIKE THIS RECIPE? LEAVE A COMMENT..I LIVE FOR THEM!
Chef Mireille
document.write('