Last Updated on December 14, 2020 by Chef Mireille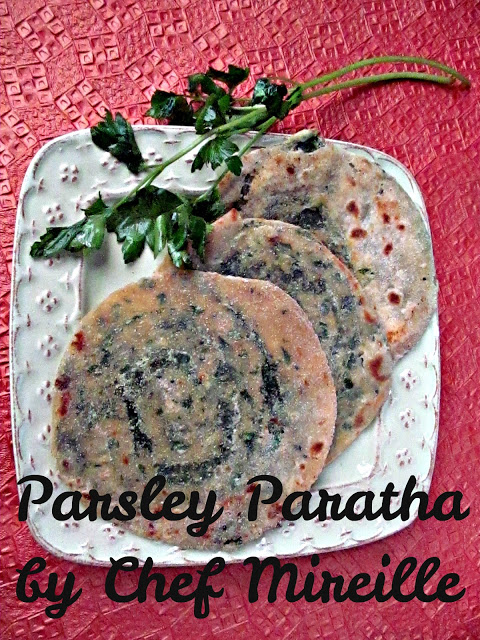 Blogging Marathon #32
Theme: Indian Regional Cuisine – Punjab
For my fifth recipe within the Indian Regional BM theme, I am taking you to the northwestern state of Punjab. As this cuisine is the most represented one in Indian restaurants in America, many of their foods you have probably eaten like Naan, Tandoori Chicken and Muttar Paneer. Besides its popular cuisine, Punjab has made other contributions to Western culture including the popular bhangra music. What started out as folk music is now often mixed with hip hop and other Western music genres. Additionally, Sarina Jain has developed a workout routine based on Bhangra called the Masala Bhangra Workout. Here in NY, she teaches this class at NYSC (New York Sports Club), Crunch Gym and the Alvin Ailey Extension Studio. I've taken the class and its a great workout.
After you've done your Masala Bhangra workout, you deserve a good meal so why not try one that includes these delicious parathas? Where parsley is mostly used as a finishing herb in Western cuisine, Punjabis use it as a vegetable, in much the same way we would use spinach or mustard greens. According to Julie Sahni, "Flavored with the highly aromatic parsley called bandhana…In the western province of Punjab in North India, where this bread comes from, parsley is used not as seasoning herb but as a green…"
Parsley Pinwheel Paratha (adapted from Julie Sahni's Indian Regional Classics)
Yield: 8 parathas
Ingredients:
1 1/2 cups chappati flour
1/2 teaspoon black onion seeds (nigella/kalonji)
1/2 teaspoon salt
1/3 cup ghee
1/2 cup warm water
2 cups lightly packed parsley leaves, chopped
In a large bowl, combine the flour, onion seed, salt and 1 tablespoon of the ghee. Mix well. Add warm water. Mix and knead into a soft dough. Cover and let rest for 15 minutes.
In a small bowl, mix the parsley leaves with 2 tablespoons of the ghee.
On a lightly floured board, roll dough into an 8 inch square. Spread parsley mixture on top. Roll.
Slice into 8 equal portions. Place cut side down on a lightly floured board and roll into a 6 inch circle.

Heat griddle/tawa.
Place rolled out paratha on griddle and cook on both sides until brown spots start to appear on the paratha, brushing the border of the paratha with a little ghee.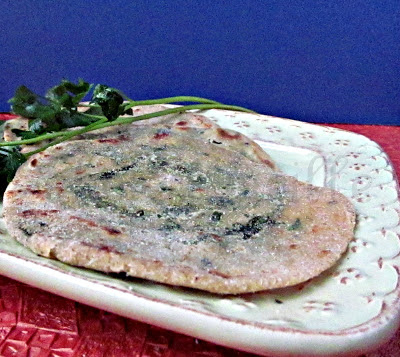 Serve with your favorite Punjabi curry.

Logo courtesy : Preeti
Check out the Blogging Marathon page for the other Blogging Marathoners doing BM# 32
LIKE THIS RECIPE? LEAVE A COMMENT..I LIVE FOR THEM!
Chef Mireille


document.write('