Last Updated on November 13, 2019 by Chef Mireille
Purple Yam Sweet Potato Rolls for #BreadBakers – This mildly two toned bread is delicious and packed with sweet potato power.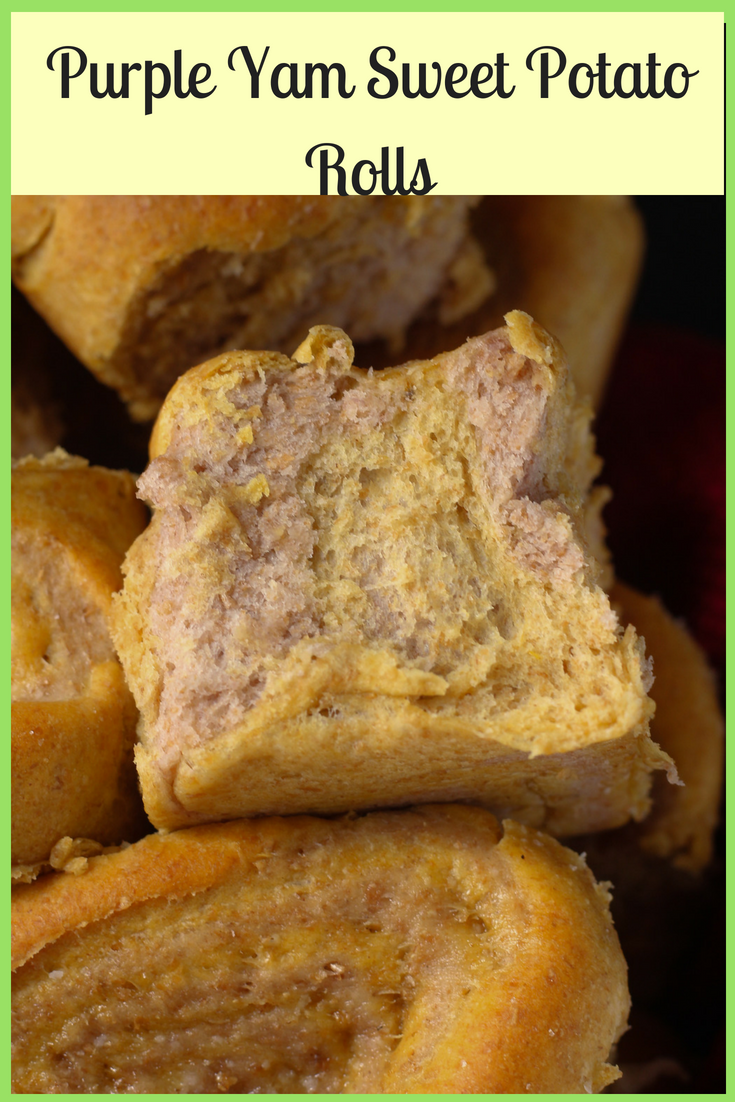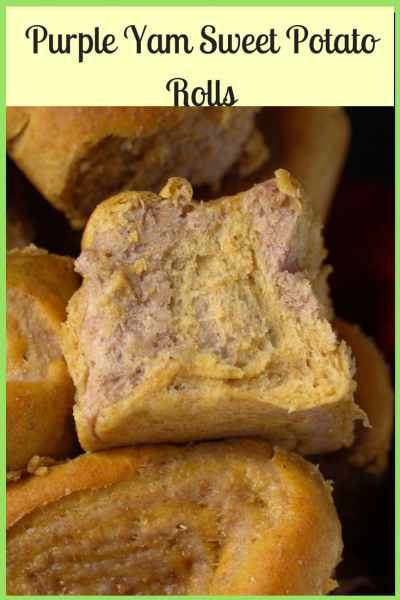 It's time for #BreadBakers again and this month I'm hosting with the theme of natural colors. With only using the natural colors of fruits and vegetables, the colors are mild but the flavors and nutrients are strong in my bread this month.
My bread is flavored with two types of sweet potato – our regular old American orange fleshed sweet potato and purple yam.
All About Purple Yam – Ube
Purple yam, also known as ube is very commonly eaten in the Philippines and it's becoming much easier to find now in most Asian supermarkets. Although I occasionally see it fresh, it's more commonly available frozen. It's used to make a variety of Filipino foods from breads to cakes and ice cream. Sometimes Helayang Ube, which is a Gluten Free Purple Yam Cake forms the basis of these foods. It's then processed to make ice cream, sweet breads and more.
In this bread, I just used the frozen purple yam to save you the work of first making Helayang Ube. Since I didn't want to use any additives and keep it all natural, the colors are muted. For bolder colors, you can add some ube extract (also available at Asian markets) like I did when I made Purple Yam Puto (Gluten Free Steamed Muffins).

IN THE MAKING – MAKING PURPLE YAM SWEET POTATO ROLLS
Make sure to make the Purple Yam Dough first. It is more dense than the Sweet Potato dough, so making that dough first will ensure that they both finish rising at the same time.
This is the perfect tea time bread, enjoyed with Apricot Lavender Curd!
These came out super soft and tender and with the curd -an absolute treat!
You can also split them in half and make cheese and tomato sandwiches – that was my breakfast this morning 🙂
Naturally Colorful Breads List by #BreadBakers
#BreadBakers is a group of bread loving bakers who get together once a month to bake bread with a common ingredient or theme. You can see all our of lovely bread by following our Pinterest board right here. Links are also updated after each event on the #BreadBakers home page.
We take turns hosting each month and choosing the theme/ingredient. If you are a food blogger and would like to join us, just send Stacy an email with your blog URL to [email protected].