Last Updated on June 19, 2023 by Chef Mireille
Punjab is the most well known Indian state in the West for two reasons – it's cuisine and it's music. Bhangra has become very popular in recent years. There are even workout routines called the Masala Bhangra workout, as well as Bhangra beats being incorporated into Hip Hop and other American/British music forms.
Unless it is clearly identified as a South Indian restaurant, you cannot go to any general Indian restaurant in NY and not find Naan, Samosa & a variety of Paneer recipes. However, I also wanted to introduce some other Punjabi dishes that would be new to most – like Pakora Kadhi.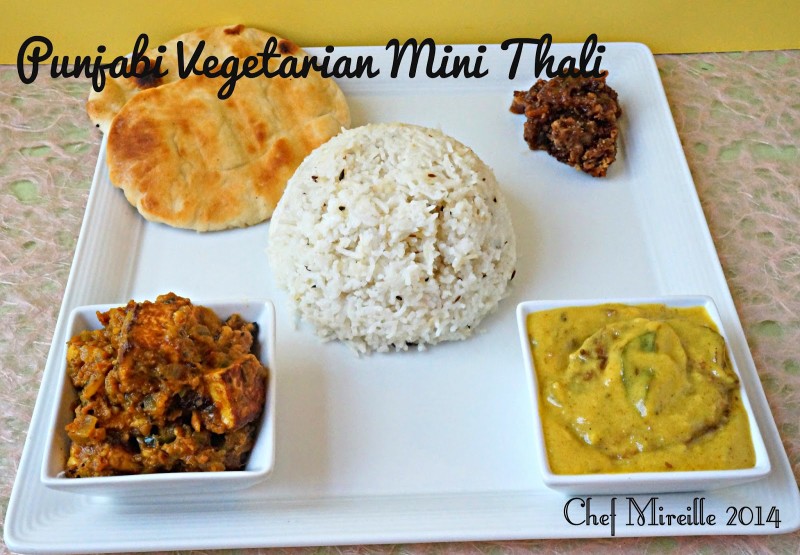 Table of Contents
Traditional thali Indian meals are traditional meals that involve many dishes and usually go with very strict rules regarding which dishes to be included and which dishes should follow what. While I truly respect the tradition, I decided to just go with dishes that interest me and that I could relatively easily execute.
Many dishes of North Indian origin cross state lines. Depending what sources you go to, some will note parts of this thali of Punjabi origin, while others will swear to their Rajasthani origins. Probably even the natives will argue over who deserves the right to lay claims to the dish.
If some Rajasthani's want to argue with me….take it up with the culinary historians!
Before we get into the delicious Punjabi delicacies I've prepared, let's learn a little about Punjab.
Punjab
The large state of Punjab was divided between India and Pakistan when Pakistan was carved out of India in 1947. Therefore, there are many similarities between Pakistani and Punjabi food. Due to its border location, it has always been the gateway to India from other countries and many battles were fought in Punjab from other nations trying to gain control of India including the Turks, Afghanis, Persians and Greek. Takshashila University, reputed to be the oldest University in the World is located in Taxila, Pakistan. It is a World Heritage site.
Punjab is the home of the Sikhs. With their Golden Temple located in Amritsar, this is the only Sikh majority state in India. Although in the West Sikh's are generally seen as a sub-religion of Hinduism, there are many differences between the two religions. One being that Sikh's do not follow the caste system and believe in equality among all people.
Now let's get to the food…
While Punjabi's love their Tandoori Chicken and other meat dishes, they also enjoy many interesting Vegetarian dishes. No one loves paneer as much as the Punjabi's. Matar Paneer and Saag Paneer are the two most popular paneer dishes and now I added one more to my paneer curry repertoire.
Punjabi Thali
This mini thali includes:
Khoya Paneer
Pakora Kadhi
Naan
Jeera Rice
Mango Pickle (store bought)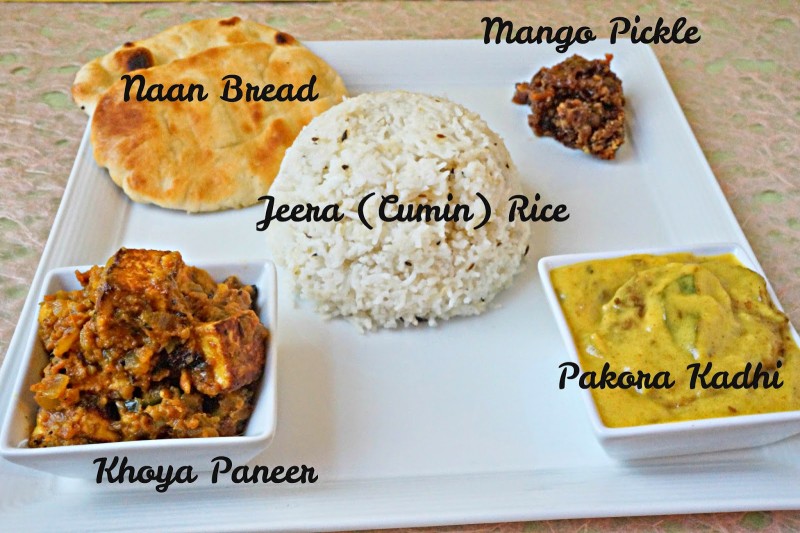 Khoya Paneer
Serves 4
Ingredients:
2 tablespoons oil
8 oz. paneer, diced
3 oz. khoya, grated
2 onions, chopped
2 green chiles, thinly sliced
2 tomatoes, pureed
1 tablespoon ginger garlic paste
1 teaspoon cumin seed
1 teaspoon ground turmeric
1 1/2 teaspoons red chile powder (cayenne pepper)
1 teaspoon ground coriander
1/2 teaspoon garam masala
salt, to taste
2 tablespoons cilantro, finely chopped
Heat oil in a large skillet/wok. Add paneer and fry until golden brown on all sides. Remove from pan.
Add khoya and fry for another 2 minutes until golden brown. Remove from pan.
Add cumin seed, ginger garlic paste and chiles to skillet.
Add onions and saute until translucent. Add tomato puree, turmeric, chile powder, coriander and garam masala. Stir to combine. Add 1/4 cup water and salt. Cook on high for 5 minutes.
Add paneer and khoya, mashing the khoya well with the back of the spoon so that it melts into the sauce. Cook for another 2 minutes.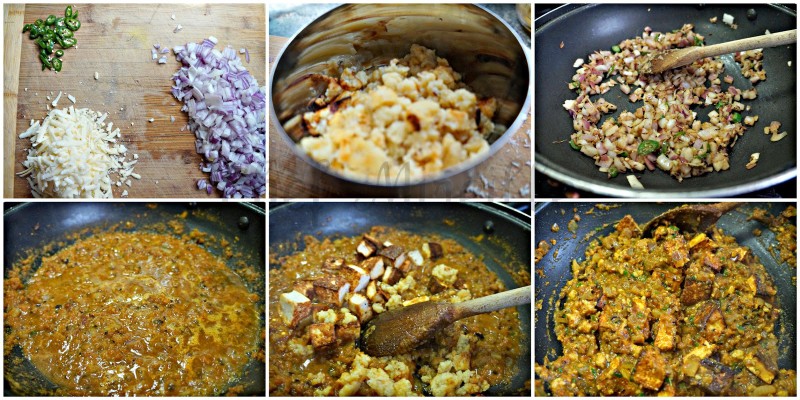 Add cilantro and cook for 1 more minute.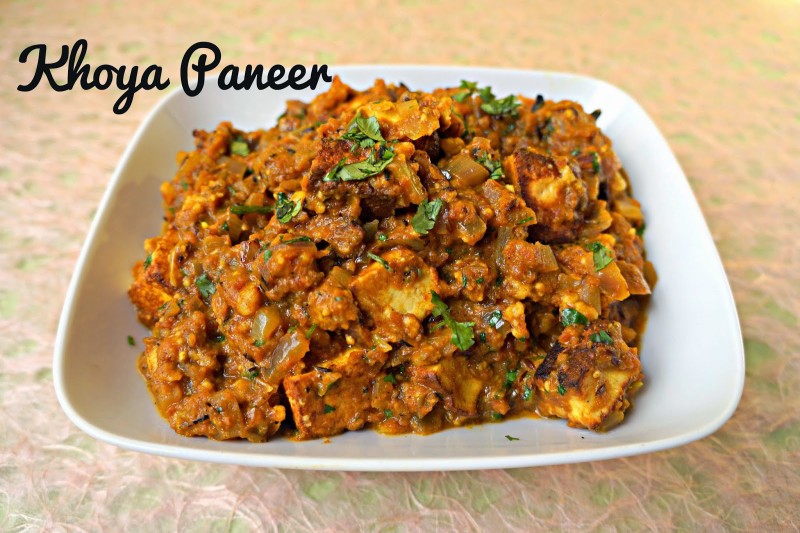 I love pakora's and all of its variations, except one and the one I don't like is the most common – Onion Pakora. I use onion as a seasoning and not as a vegetable. I hate onion rings and anything with onion being the primary ingredients. I don't like the slimy quality of cooked onions and I don't like the astringent taste of raw onions. That's why most of my recipes that include onions always have the onions chopped very finely so that I get the delicious onion flavor, however the onion itself will just disintegrate into the gravy.
While this kadhi is more traditionally made with onion pakora, I instead used cabbage pakora. Let's first make the pakora for the kadhi.
Cabbage Pakora
Yield: 15 pakora
Ingredients:
1 1/2 cups green cabbage, grated
1 1/2 cups chickpea flour (besan)
1 teaspoon ajwain (carom seed)
1 tablespoon ginger garlic paste
1 tablespoon cumin-coriander powder (dhania-jeera powder)
1/2 teaspoon red chile powder (cayenne powder)
1 teaspoon salt
3/4 cup water
2 tablespoons cilantro, finely chopped
In a large bowl, combine flour, ginger garlic paste, ajwain, cumin-coriander powder, cayenne, cilantro and salt.
Add water to make a thick paste.
Add cabbage and mix well.
In a skillet, heat enough oil for shallow frying.
Place one tablespoon of batter in the skillet for each pakora and fry until golden brown on both sides.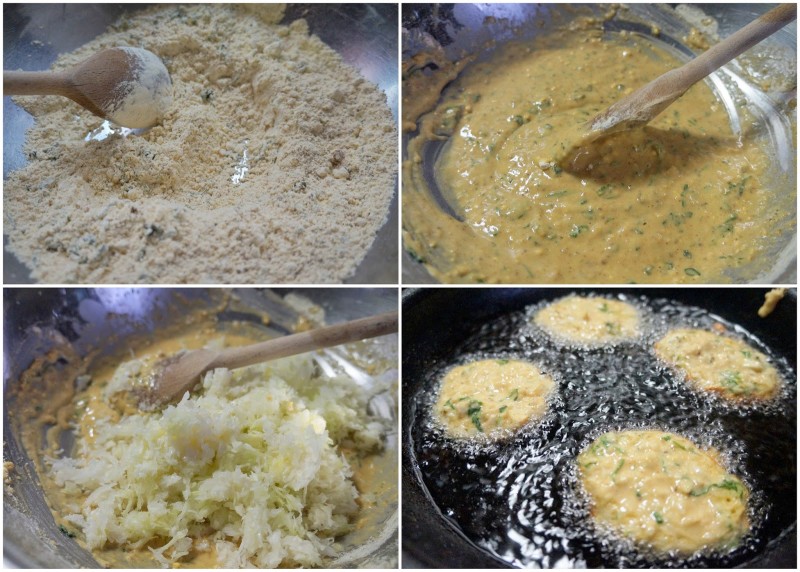 Drain on paper towels.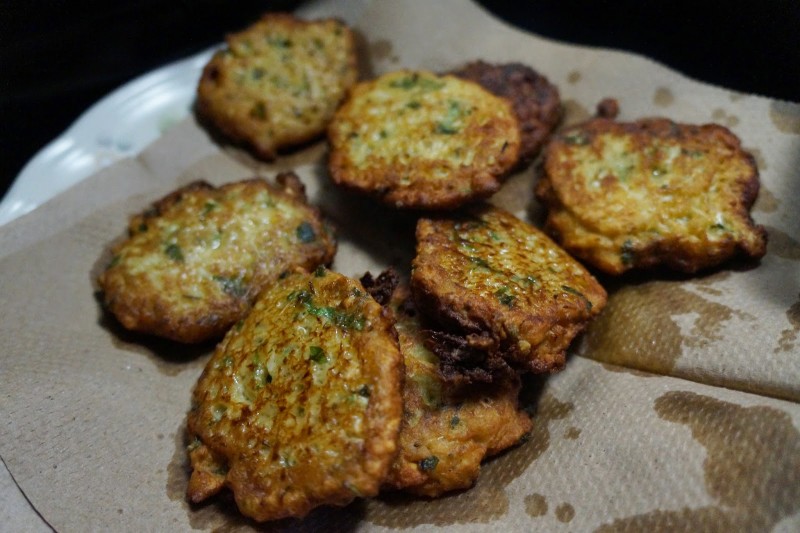 Pakora Kadhi
Serves 6
Ingredients:
1 cup plain yogurt
2/3 cup chickpea flour (besan)
5 cups water
2 teaspoons red chile powder (cayenne pepper)
1 teaspoon ground turmeric
1/2 teaspoon amchoor (dried mango powder)
1 teaspoon garam masala
salt, to taste
1 onion, finely chopped
1 tablespoon ginger garlic paste
1 teaspoon cumin seed
1/4 teaspoon fenugreek seed
2 sprigs curry leaves
2 green chiles, finely chopped
1 dried red chile
15 cabbage pakora (see above for recipe)
3 tablespoons mustard oil
In a large bowl, beat the yogurt with the chile powder, turmeric, amchoor, garam masala and salt until smooth. Add besan and water and beat until very smooth.
In a large skillet or wok, heat mustard oil. Add cumin and fenugreek seeds. When they start to change color, add ginger garlic paste, green chile, and onion. Saute until onions turn translucent.
Add curry leaves and red chile. Fry for 1 more minute.
Add yogurt mixture and boil for 5 minutes.
Add pakoras and simmer for another 5 minutes.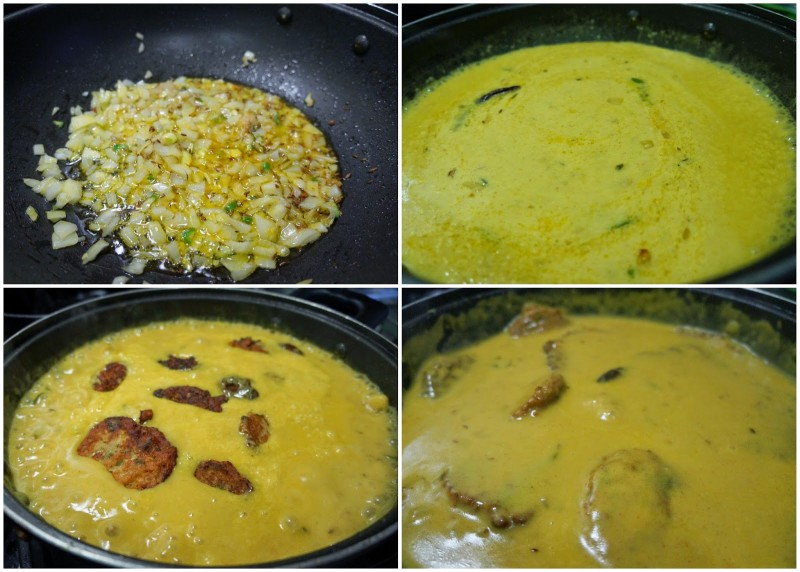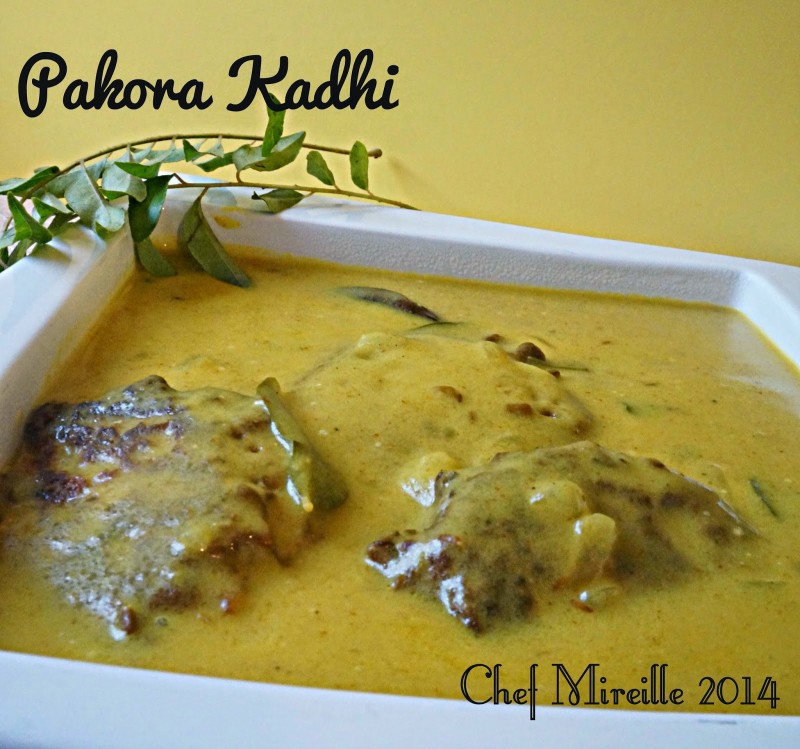 These were so delicious with the thick kadhi.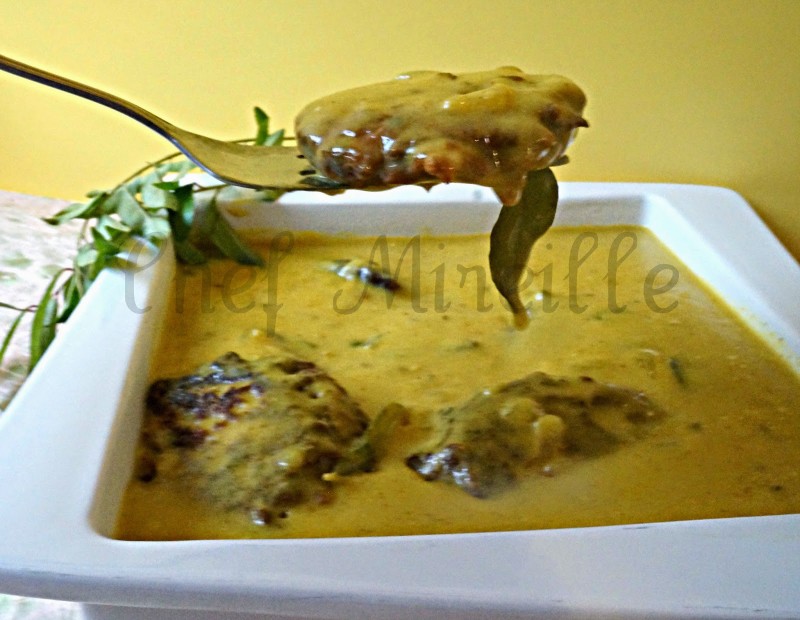 In my post college days immediately after graduating, there was a circle of friends I had that used to go out together all the time. We were all busy with our first jobs post graduation, but we would meet at least once a month for dinner, drinks, conversation and sometimes dancing. A few of us liked to cook, so once in a while instead of going out to dinner we would cook dinner at home for the whole group. Everyone would contribute some money for the groceries. The four of us who liked to cook would pick a country and explore a new cuisine. One time we picked India..so you see I was interested in Indian cooking long before I became a blogger.
Our parents used to refer to us as the United Nations because it was a very diverse group of friends that included Puerto Rico, Poland, Japan and India, just to name a few. So you would think the Indian of the group would help us right. He had absolutely no knowledge or interest in cooking and only volunteered to be one of the tasters. So myself, a Puerto Rican, a Japanese and a Dominican Republic girl did our best to put together a traditional Indian meal.
Anyway, that was the first time I made Naan bread and I have never made it again. It's just so much easier to run to the Pakistani restaurant 6 blocks from my house and get some freshly made out of the Tandoor that I just don't bother. However, nothing says Punjab more than Naan bread so here I go a decade and a half later, making it again!!!
Naan Bread Recipe
Yield: 17 small breads
Ingredients:
3 1/2 cups all purpose flour
1 package (2 1/4 teaspoons) active dry yeast
1/2 cup warm water (115 – 120 F)
3/4 cup plain yogurt
2 teaspoons sugar
2 teaspoons salt
1 -2 tablespoons warm water, as needed
1 tablespoon ghee
1 tablespoon black onion seed/kalonji/nigella seed (optional)
extra ghee, for brushing
Combine sugar and water in a small bowl. Sprinkle yeast on top and leave it for 5-10 minutes, until foamy.
Using an electric mixer with the paddle attachment or by hand with a wooden spoon, mix flour, yogurt, salt and ghee.
Add proofed yeast to this and knead by hand or using the dough hook of an electric mixer. Knead for about 5 minutes, until you have a smooth and elastic dough.
Place in a lightly greased bowl. Cover with plastic wrap and a kitchen towel and leave it to rest for 1 hour, until doubled in size.
Punch down dough and divide into 17 smooth and round balls. Cover with a kitchen towel and leave to rise for another 20 minutes.
Preheat broiler to high.
Spray a broil pan with non stick spray or use a cookie sheet lined with aluminum foil.
Roll each ball into a small oval, about 5″. Brush the top with ghee and sprinkle with a little onion seed, if desired. Roll with the rolling pin once or twice again to press the onion seed into the dough.
Place on broiler pan/cookie sheet.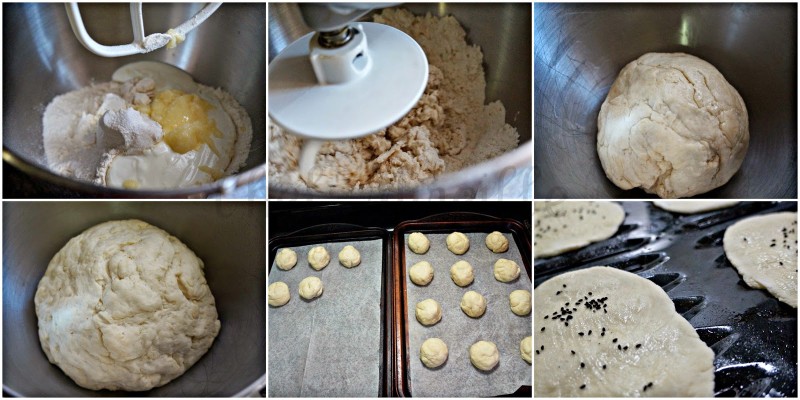 Broil for 1-2 minutes on each side, until golden brown.
Brush with ghee and keep covered, until ready to serve.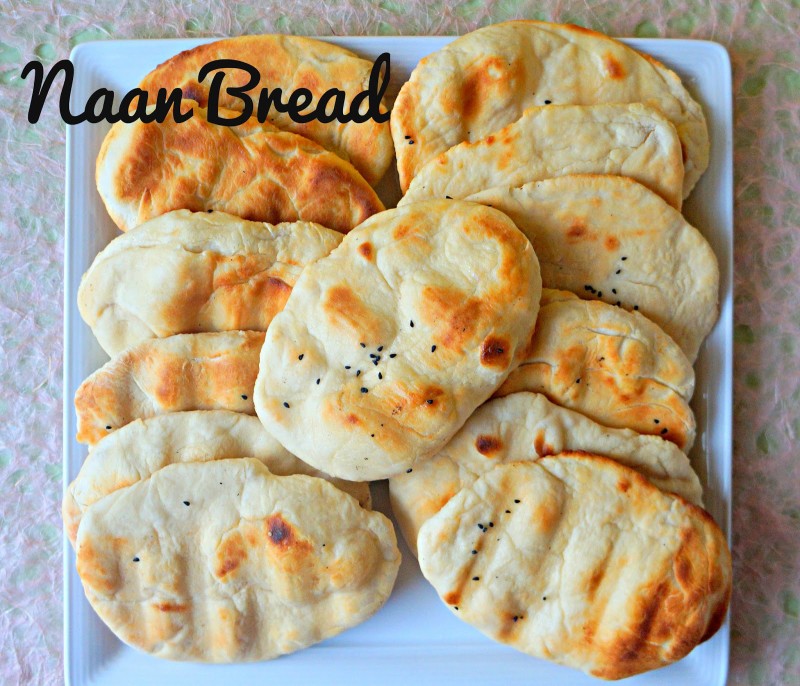 Not particular to Punjab, but this is a common rice eaten throughout most of India.
Jeera Rice
Ingredients:
1 tablespoon oil
1 teaspoon cumin seeds
3 1/2 cups water
2 cups Basmati rice
salt, to taste
Soak rice in water for about 15 minutes.
Heat oil in a saucepan. Add cumin seed and toast for 1/2 minute until they start to change color.
Add water and salt. Bring to a boil.
Add rice. Stir and reduce to a simmer. Cook for about 20 minutes, until rice has absorbed all of the water and is tender.
To complete this Punjabi meal, add some pickle and you are ready to feast!