Last Updated on April 10, 2018 by Chef Mireille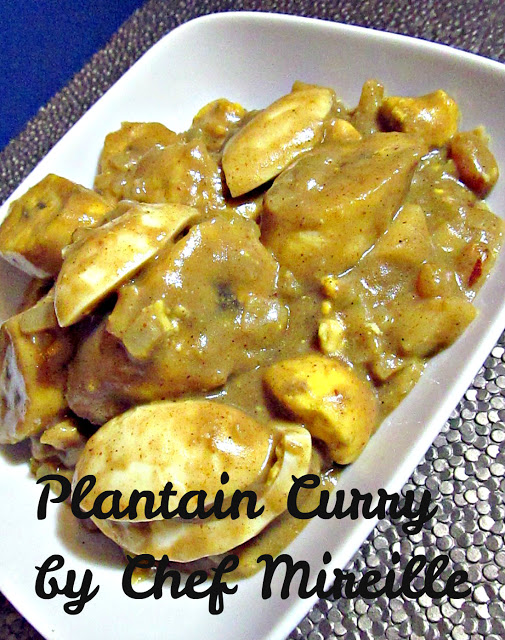 Blogging Marathon #26
Theme: One Ingredient from Three Cookbooks
For today's recipe, I am using a cookbook I have never used before. I received it as a gift several years ago – I think from one of my aunts but to be quite honest, I can't really remember who exactly. Since none of them read this blog, I don't think I'll offend anyone. The book is called Essential Caribbean and it includes recipes from throughout the Caribbean diaspora. This recipe is from the island of Bermuda.
Such a variety of ingredients including eggs and apple had me a little wary, but I was game. The original recipe actually called for green banana (unripened banana) – what we call fig in the Caribbean. I've never been a fan of green banana, so I substituted green plantain and made a few other minor changes.
Plantain Curry
Serves 6-8
Ingredients:
2 tablespoons oil
2 onions, chopped
3 tablespoons golden raisins
1 apple, peeled, cored and diced
1/2 teaspoon salt
1 1/2 ounces all purpose flour
1 tablespoon curry powder
1 cup coconut milk
2 cups water
4 green plantains, sliced
4 hard boiled eggs, quartered
Heat oil . Add onions and saute until translucent. Add raisins, apple and salt. Stir in flour and curry powder. Cook, stirring constantly for 3-4 minutes.
Reduce the heat to low and slowly add in the coconut milk and water a little at a time, stirring constantly until thoroughly incorporated.
Add the plantain and bring to a boil. Reduce to a simmer and cook for 15 minutes, until plantains are thoroughly cooked. Add the eggs and cook 1-2 minutes, until heated through.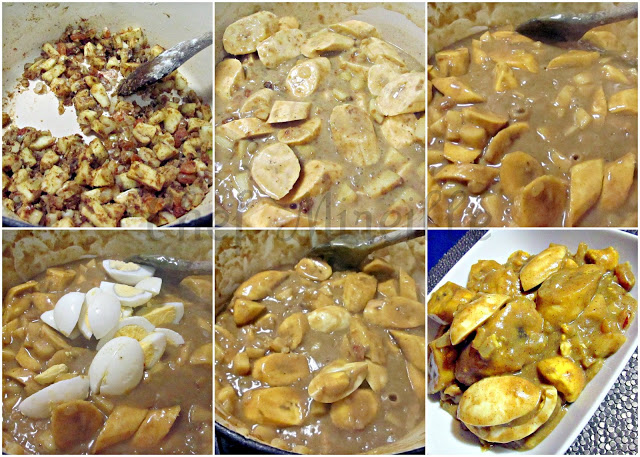 Serve with rice and mango chutney or pineapple chutney.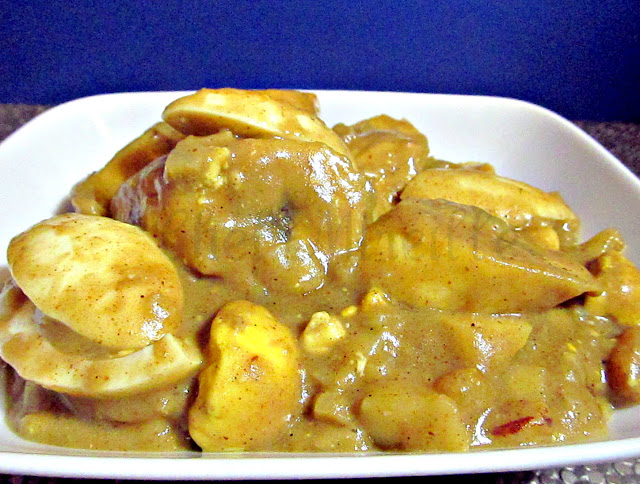 Update: Linking to Simply Food's Flavours of Caribbean hosted by The Spicy Pear
LIKE THIS RECIPE? LEAVE A COMMENT..I LIVE FOR THEM!
Chef Mireille