Last Updated on May 20, 2015 by Chef Mireille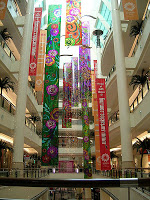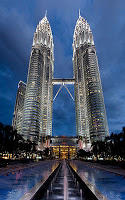 As a New Yorker, we all miss the Twin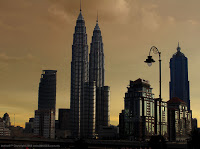 Towers and are waiting for the day when they will be rebuilt. There is an empty space in our skyline. Until they are, there is another place where you can view superb architectural talent – Kuala Lampur's Petrona Towers. Built by Agentinian American, Cesar Pelli, they are currently the tallest Twin Towers in the world and were the tallest building in the world from 1998-2004. The designs on the towers are based on geometric patterns common in Islamic architecture. Special features include the double-deck sky-bridge and double-decker elevators.
In addition to business offices, the Petronas Towers house the Petronas Philharmonic Hall, home of the Malaysian Philharmonic Orchestra, as well as shopping arcades, restaurants, and a science museum.
Whether or not you are able to come with me on our Malaysian Cuisine and Cultural Tour in August, Malaysia should be on your list of vacation destinations to see this architectural masterpiece and the wonderful sights and experiences available throughout the country.

Chef Mireille
https://www.globaltasteinc.com
Like me on FACEBOOK!
Follow me on TWITTER!