Last Updated on December 16, 2020 by Chef Mireille
Nam Khao – Laotian Rice Ball Salad – This Laotian Salad can easily serve as a summertime main course. The rice balls themselves can also be served as an appetizer on their own.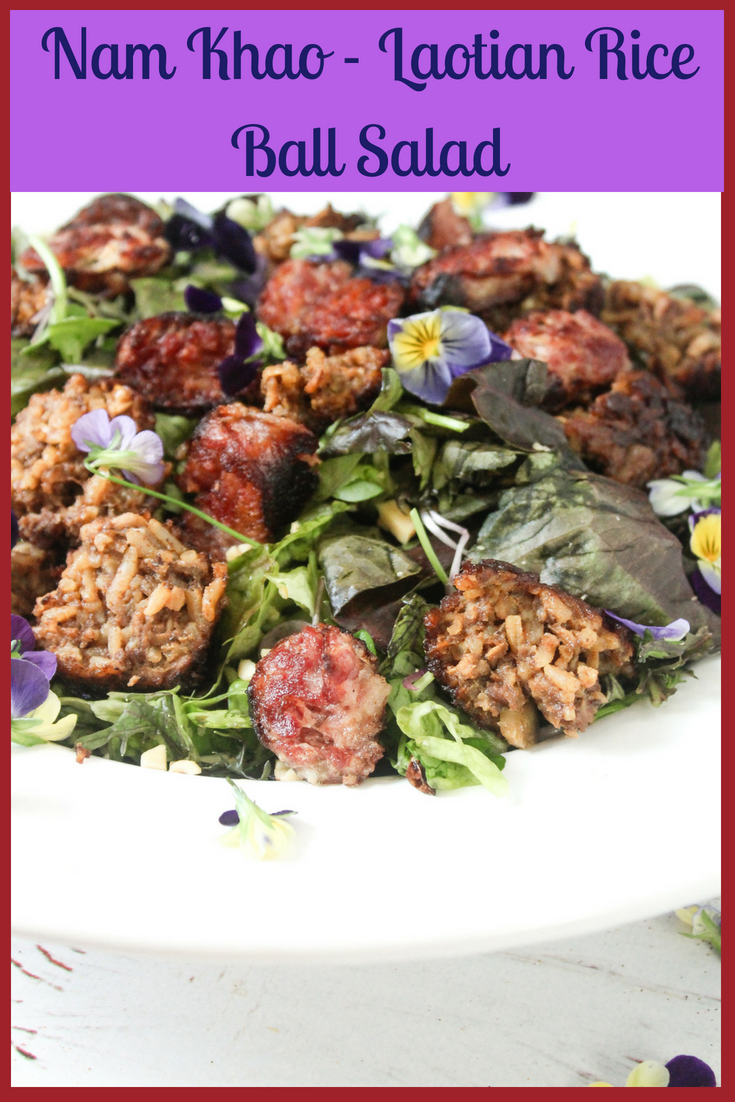 It's summertime and summertime means backyard parties. Some might be casual affairs with everyone chatting over burgers and weiners. However, summer is also the time for garden parties. The tables and chairs come out of the shed, it's covered with a nice tablecloth and topped with gorgeous dishes and stemware. These sit down semi-formal dinners make for a lovely afternoon with friendly conversation, good food and drink and the summer sun!
However, it's often a lot of work for the hosts. Planning the menu has additional factors to consider. After all, when eating outside in the hot sun, people don't generally want hot, heavy meals so they sweat up a storm while trying to eat it. On the other hand, if you keep it too light with just salads, they are going to leave your house and immediately feel the need to drive to a restaurant afterwards as they will still feel hungry.
This salad creates the perfect balance. The salad base is light and fresh and yet the rice balls are filling. This filling salad can easily serve as the main course at your next garden party.
Laotian Cuisine
Laotian food has similarities with Thai food. In fact, the famous Green Papaya Salad that we all eat in Thai restaurants actually originated in Laos. I first came into contact with Lao cuisine and culture when I went on a volunteer vacation to Worthington, Minnesota which had a large influx of Lao immigrants at the time. I've already previously posted Lao cuisine with this delicious curried Chicken Noodle Soup. Today, I am presenting a popular Lao Salad, with the main ingredient being deep fried rice balls. Frying always makes everything taste better right?
This salad traditionally includes som moo, a pickled pork sausage. The only Lao sausage I could find in Chinatown was a fresh sausage, not pickled, so that is the one adaptation I made to the traditional recipe. Pickling is very common in Lao cuisine. Recently, I've done a lot of exploring into this region of the world by visiting both local Lao restaurants like Khe-Yo and Cambodian restaurants. Generally pickled vegetables are served with most dishes. Any variety of vegetables can be used like cauliflower, carrots and broccoli. Vegetables are blanched and then pickled with vinegar, sugar and salt. Although I did not include it, pickled vegetables will also be a nice addition to the salad.
I had just come back from the farmer's market with a variety of salad greens so I used a combination of Red Boston Lettuce, Radish Sprouts and Red Mizuna in the salad base, but you can keep it simple and just use some Romaine Lettuce if you prefer. Also, the pretty garnish of edible flowers is optional but will definitely make the salad plates look pretty at your garden party!

IN THE MAKING – MAKING THE RICE BALLS
Want to make them Vegetarian? Substitute the meat with mashed chickpeas or soya chunks and use Tamari (fermented soy sauce) for the fish sauce!
The Gluten Free Rice Balls are so delicious you can even serve them on their own as a party appetizer if you prefer!
For the non alcohol drinkers, pair it with this refreshing Rhubarb Lavender Iced Tea.
Garnished with the pretty flowers – who can resist right!!!
Do you know anyone else who likes learning about international food, culture, history and travel? Bring them over here to join the party! Don't forget to use those share buttons!
Start Here to find out how the Schizo Chef can help you with your cooking, travel and other needs!
If you like this recipe, PLEASE LEAVE A COMMENT & SUBSCRIBE
Check out the Blogging Marathon page for the other Blogging Marathoners doing this BM#89