Last Updated on May 20, 2015 by Chef Mireille
As an active social media chef who tweets on food, I received a personal invitation to Martha Stewart as part of her special Twitter section on Monday's cookie episode. It was wonderful as the Red Carpet was rolled out to us. We received a special backstage and set tour.
Kenan Thompson of Saturday Night Live was her special guest and I saw him getting his make-up applied. Too bad I wasn't fast enough with the camera to get that shot 🙁
Sitting in her conference room lined with Emmy awards, we received a preview of what was to be unveiled on the show. Specifically, her new iPad cookie application. It is a comprehensive, user friendly app. complete with crisp, high quality video demonstrations, in addition to the recipes. Too bad I don't have an iPad as we were all offered free installations. She did give away one iPad to an under-enthused guest who barely cracked a smile. She even asked him if he already had one so that she could give it to someone else who did not have one. If it had been me, I would have been one of those crazy guests jumping up and down and hugging everyone around me.
As you enter the set from Stage Left, you first come across her kitchen where all food presented on the show comes from, complete with her hard working staff.
Next is the Stage Center where the show is filmed. This is also a comprehensive kitchen. We got an upclose look at all of her kitchen appliances and gadgets, including the supersized cookies made for the set that day.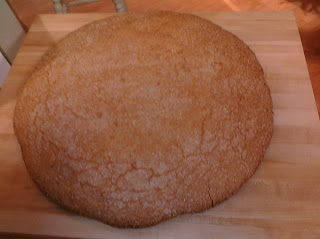 Super-Sized Sugar Cookie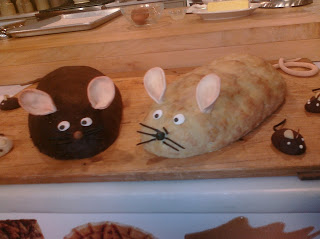 Super-Sized Mice Cookies
Next we came across an award winning wall display created by her staff horticulturalist with fragrant herbs coming from it before we proceeded to Stage Right and ended right in front of her greenhouse.
We then proceeded to join the audience, as we were encouraged to tweet away during the show. The entire audience received samples of two cookies that were prepared that day, along with organic milk. The sugar cookies were wonderfully sparkly, from an aesthetic point of view. This was achieved by applying water with a pastry brush after topping with sugar. Top again with sugar after the water and you will get a sparkly sugar cookie.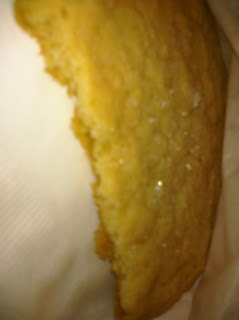 Sparkly Sugar Cookie, after a few bites
The Mexican Chocolate cookies were my favorite – sweet with just that little bit of spice due to the addition of ancho chile powder. They were so good I gobbled it up before I remembered to take a photo. Sorry 🙁
Martha herself was so gracious and approachable, answering questions. I have now become a big fan. For an opportunity to be part of her studio audience, request your free tickets here. Afterwards, us tweeters were invited to take a photo with Martha.
The experience was definitely worth the early day, although I don't know if I would have gotten on a 3:30am bus after working until 1am to get here for the show, as I discovered one of my fellow tweeters from Pittsburgh did!
Chef Mireille