Last Updated on December 14, 2020 by Chef Mireille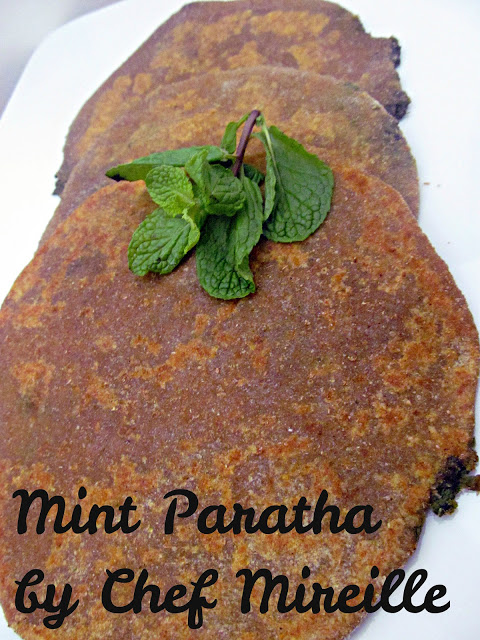 Blogging Marathon #24
Theme: Cooking from a Restaurant Menu
For the last item off of Akbar's menu, I am doing Pudina (Mint) Paratha. Making Indian flatbreads is still something I have yet to master, but like they say – practice makes perfect. Let's see what kind of shaped parathas I am going to end up with 🙂
Mint Paratha
(click here for printable recipe)
Ingredients:
1 1/2 cups whole wheat flour
1 tablespoon ghee
1/2 teaspoon ground turmeric
1/2 teaspoon garam masala
1 1/2 teaspoons salt
3/4 cup water
1/2 cup mint leaves, firmly packed
2 large chiles, finely chopped
1 teaspoon ginger paste
2 tablespoons water
In a large bowl, combine flours, ghee, turmeric, garam masala, salt and 3/4 cup water. Mix until a soft dough is formed. Cover and let rest for 15 minutes.
Grind mint, chiles, 2 tablespoons of water and ginger paste until you have a smooth paste.

Divide the dough into 8 equal portions. Flatten into a small disc between your palms. Form a well with the dough and place a little of the mint filling inside. Close to form a ball.
On a lightly floured surface, roll out the dough to a round paratha, about 6″ diameter.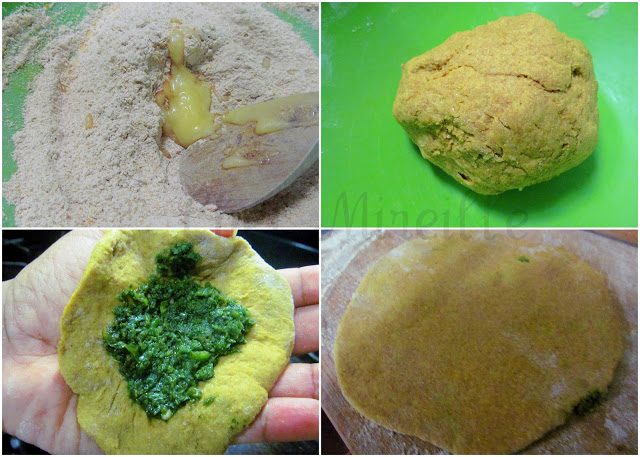 Heat a griddle/skillet/tawa. Brush with a little ghee and place paratha on skillet. Cook for a few minutes on each side until golden.

Check out the Blogging Marathon page for the other Blogging Marathoners doing BM#24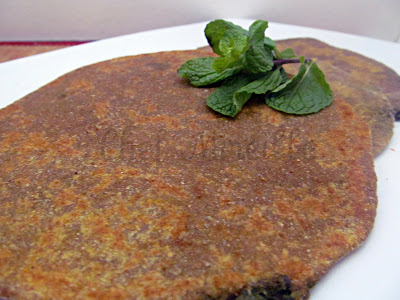 LIKE THIS RECIPE? LEAVE A COMMENT..I LIVE FOR THEM!
Chef Mireille
Like me on FACEBOOK!
Follow me on TWITTER!