Last Updated on November 13, 2019 by Chef Mireille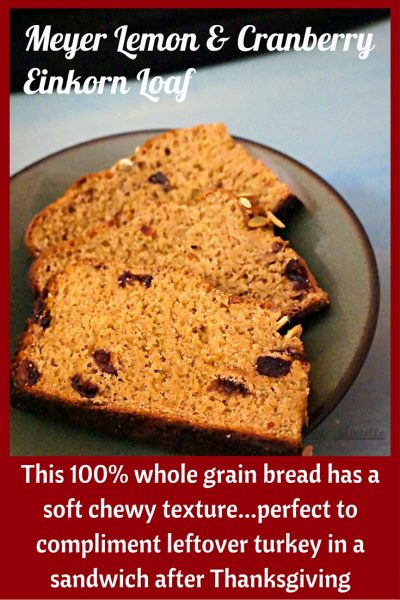 Strolling through the farmer's market several months ago, I noticed a vendor of whole grains. He had both the whole grains and the grains milled into flour. Farro, spelt, millet, amaranth and something called einkorn which is a new term to me. He explained to me that it is an ancient grain and one of the purest forms of wheat that day. I did not buy it on that day, but instead came home and did some research on google to learn more about the grain. It intrigued me and I wanted to try it, so when I saw the vendor again a few months ago I purchased a bag of the einkorn flour. I have been researching recipes, but the recipes vary so much, I was put off trying to make the bread.
#BreadBakers has presented itself and I thought it was the perfect time to utilize this ancient grain with this month's theme of Family Feasts, which basically means any bread that you deem festive enough to bring to a family holiday meal. I can imagine a holiday meal being celebrated hundreds of years ago using the popular grain of the time. Although I have only seen basic breads meant for sandwiches, etc. made with this bread, the vendor at the farmer's market told me that shortbread tastes awesome made with this bread, so I thought why not do a sweet bread since based on him, the flour works great in sweets also. I added some seasonal ingredients like pepitas, dried cranberries and homemade Meyer Lemon powder and created a sweet bread. However, I went a little too light on the sugar and the bread is still more appropriate for sandwiches. It's the perfect bread to complement leftover turkey the next day – a vehicle for Turkey & Cheese sandwiches, but can also stand up to a hearty Turkey Chili, another good idea for Thanksgiving leftovers…or use it in a savory bread pudding as part of your #Thanksgiving meal. You can try my bread pudding recipe here.
Einkorn is one of the oldest ancient grains in existence. Einkorn is one of the purest varieties of wheat. It is a diploid meaning only has two sets of chromosomes. Most other modern forms of wheat are hexaploids, meaning they are a hybrid of at least 6 sets of chromosomes. Einkorn in this pure form has a different type of gluten, making it easier to digest. While people who must maintain a 100% gluten free diet because of Celiac's disease or other health conditions still should not consume Einkorn, it is a good alternative for those who have problems digesting wheat or complain of bloating after eating wheat. Einkorn is a good alternative for those who prefer to maintain a low gluten diet.
Einkorn does not react in the same way that other wheat flours behave. It will never double in size and will always be a no knead formula because it will become a very sticky &  tacky dough. You need a dark place for the bread to rise and that is why I chose to let it rise in the oven (of course with the oven being off). Einkorn contains caretenoids that oxidize when exposed to light and that is why it is essential to cover the dough well and leave it in a dark place to rise.
Since it was my first time working with Einkorn, common sense would be to use a recipe already published and follow to the T, but common sense is highly overrated when it comes to culinary endeavors. I instead read as much as I could on the behavior of Einkorn and consulted many recipes. The recipes varied so greatly in ratios of yeast to flour that I just threw caution to the wind and used my judgement. I combined all the ingredients in a bowl, covered it securely, put it in the oven and prayed….A LOT…
Meyer Lemon & Cranberry Einkorn Loaf
Prep Time: 2 1/4 hours
Cook Time: 40 minutes
Yield: 1 loaf
Ingredients:
5 1/3 cups Einkorn flour
2 teaspoons instant yeast
1 teaspoon salt
1/4 cup sugar
1 tablespoon Meyer Lemon powder
3/4 cup dried cranberries
1 3/4 cups warm water
Combine 5 cups of the flour, yeast, salt, sugar, Meyer Lemon powder and cranberries in a large bowl.
Add water and mix until thoroughly combined. Cover well with plastic wrap and a kitchen towel. Leave in a dark, warm place to rise for about 1 1/2 hours. The bread will have risen, but don't expect it to be doubled as much as with most modern breads.
Place the remaining 1/3 cup of Einkorn flour on a work surface. Transfer the risen dough to the work surface. Knead in the flour until just combined. Place in a Dutch Oven pot sprayed with non stick spray. Dough will be sticky and tacky, but that's normal with Einkorn. Cover Dutch oven and leave to rise again for 30 minutes. Meanwhile, preheat the oven.
Preheat oven to 450 F for 30 minutes.
Make 2 slashes in the bread. Using a pastry brush, brush water on top of the bread and sprinkle with pepitas.
Bake, covered for 30 minutes. Uncover and bake another 5-10 minutes until the top is golden and crusty.
Notes:
This flour does not develop gluten the way most modern flours do, so don't be tempted to continue to knead. Mix just until ingredients are incorporated.
It has a very soft and tender crumb.
It's not dense like most whole grain breads. The porous bread tastes great with some salty cheese…
or how about with this Mango Pomegranate Chicken Salad
Let's take a look at what my fellow bakers have baked for this month's Family Feast Breads event:
#BreadBakers is a group of
bread loving bakers who get together once a month to bake bread with a common ingredient or theme. Follow our Pinterest board right here. Links are also updated each month on this home page.
We take turns hosting each month and choosing the theme/ingredient.
If you are a food blogger and would like to join us, just send Stacy an email with your blog URL to [email protected].