Last Updated on December 14, 2020 by Chef Mireille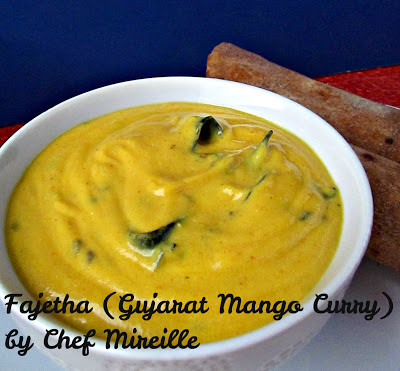 Blogging Marathon #28
Theme: Mango
Back in November, I had the first meeting with a BM blogger who was visiting from India. It was so wonderful to put a face and personality to a name and blog. We met a few times during her stay in NY. The last time I brought her some farewell goodies for her trip back to India and she was a preparing a family meal at her cousin's home. I got to sample some of the delicious food she was making. One of them was this mango curry. While I do use mango in savory dishes like in my Thai Mango Salmon and Mango & Seitan Stir Fry, I've never used the puree before as a liquid curry. I usually reserve the puree for smoothies and sweets like my eggless Spiced Mango Tea Cake and Mango Coconut Flan or condiments like my Mango Papaya Jam, Mango Hot Sauce or Mango Ketchup.
If you didn't guess it by all these links to mango recipes I have posted here, mango is my favorite fruit so it was a no brainer to choose this BM theme. The first thing that came to mind was sweets and smoothies, but I wanted to include some variety. It was then that I remembered Vaishali's delicious curry. I hopped on over to her blog and followed her recipe. Only a few minor adjustments were made because of the ingredients I had on hand.
Fajetha (Gujarati Mango Curry)
Serves 2-4
Ingredients:
1/2 cup canned mango pulp (if using fresh mango puree, add 2 tablespoons grated jaggery)
1/2 cup Greek/strained yogurt
1/2 cup + 1/3 cup water
2 tablespoon chickpea flour/besan
1 green chile, finely chopped
1/4 teaspoon ginger powder
1/4 teaspoon red chile powder (cayenne pepper)
1/4 teaspoon coriander-cumin powder
1/8 teaspoon ground turmeric
salt, to taste
6 curry leaves
2 teaspoons ghee
1/2 teaspoon cumin seed
a pinch of aseofetida
Mix mango pulp, yogurt, besan, water, chile, ginger, cayenne, coriander-cumin, turmeric, salt, jaggery (if using) and curry leaves. Bring to a boil. Reduce to a simmer and cook for 10 minutes.
In a skillet, heat ghee. Add asoefetida and cumin seed and cook until seeds are toasted, about 2 minutes. Add to mango and cook another 2 minutes.

I made it a little on the thick side to eat with Tomato Paratha, however it is more traditionally eaten with rice and can be thinned out with more water, per your preference.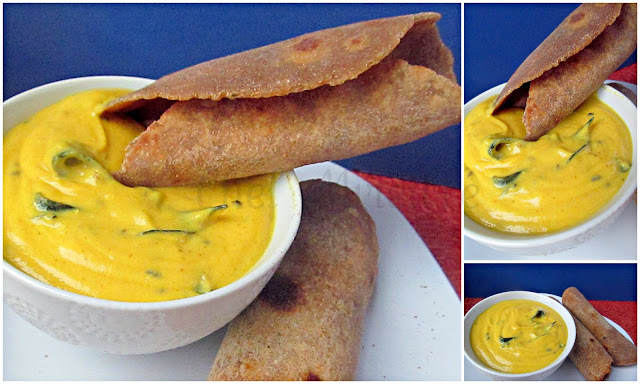 This recipe takes about 15 minutes if using the canned mango pulp. Who can beat that for an easy recipe?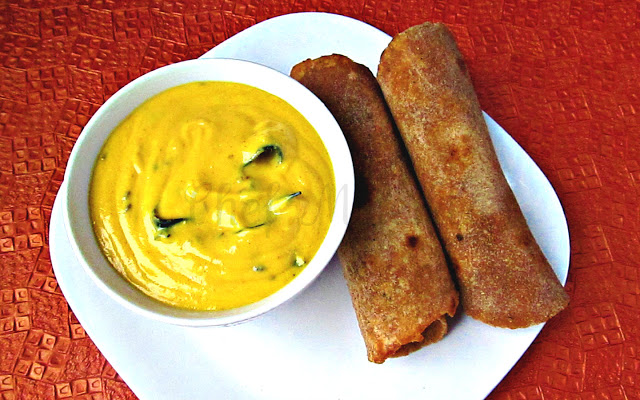 After doing this recipe, I saw another version of this recipe called Mango Kutan, so this sweet mango curry also has a variation in Kerala, but in their version coconut is also added.
Check out the Blogging Marathon page for the other Blogging Marathoners doing BM#28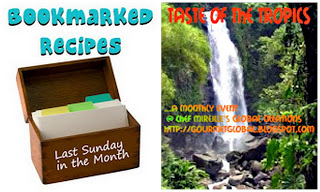 …linking to Taste of the Tropics hosted by Nabanita & Bookmarked Recipes
LIKE THIS RECIPE? LEAVE A COMMENT..I LIVE FOR THEM!
Chef Mireille