Last Updated on April 2, 2019 by Chef Mireille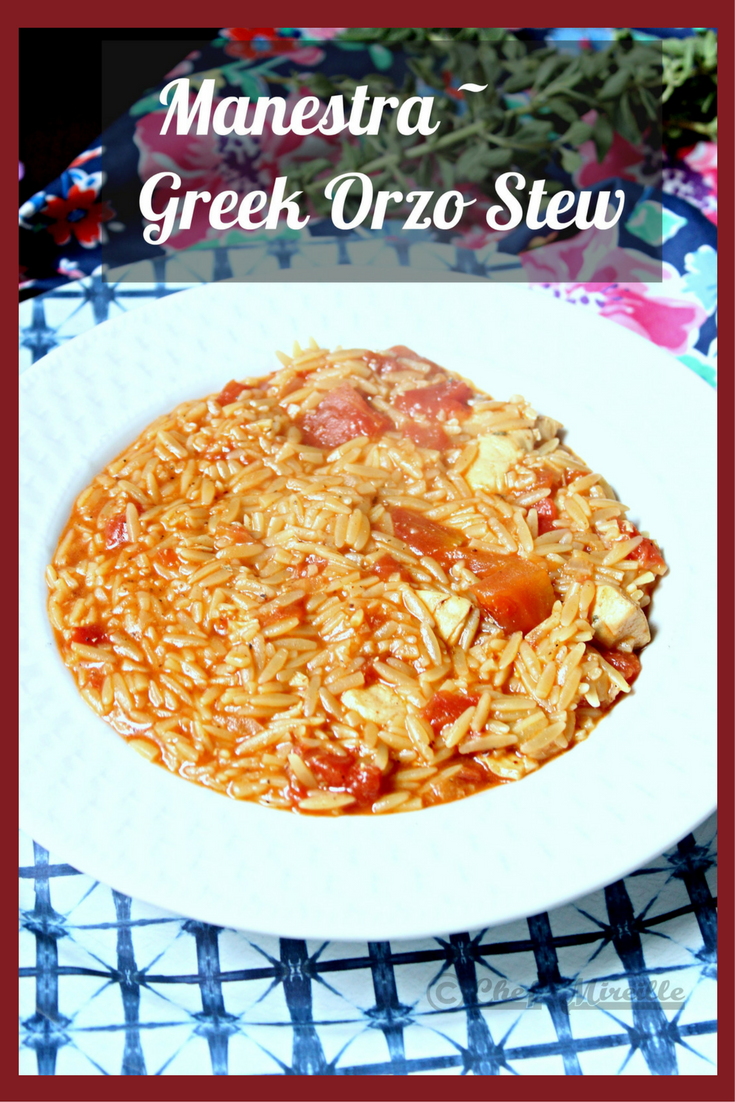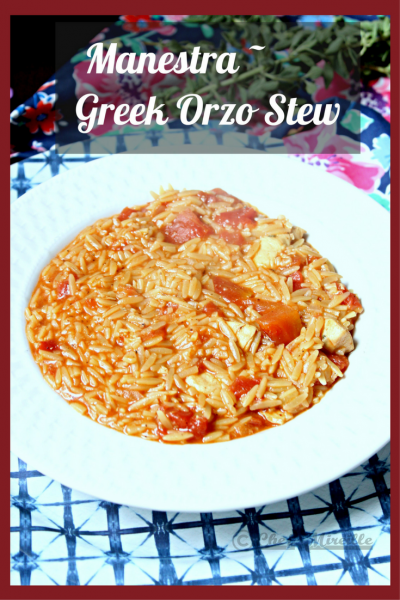 Manestra – Greek Orzo Stew is a classic comfort food from the Greek Isles. Just like the Italian islands – Sicily, Sardinia, etc. – the Middle Eastern influence is strong in the cuisine of the islands. Figs, dates, orange blossom water and smoky spices like cumin, cinnamon, coriander and paprika are more common than the rosemary and parsley dominated cuisine of the mainland.
Manestra is poor man's food. The main ingredients are orzo and tomatoes and whatever scraps of meat lying about would traditionally be added to it – anything from leftover roast lamb to ground beef or chicken. It is classic comfort food. Although I used Muir Glen canned tomatoes, it can also be made with fresh tomatoes. Just a few simple ingredients and this traditional dish is ready in less than 30 minutes.
I hope you have enjoyed this week's exploration into Greek cuisine. With the dishes I've presented this week, a complete Greek dinner party is ready to be enjoyed.
Appetizer – Greek Lamb Meatballs with Mint Yogurt Sauce
Main Course – Manestra
Dessert – Galaktoboureko – Semolina Cake
This brought me back to my younger days when I was a regular in Astoria, New York City's Greek enclave of the 90's. I haven't had Greek food in quite a while and I forgot how much I love it. I need to start cooking more Greek again!
IN THE MAKING
Ready in under 30 minutes, it's the perfect #onepotmeal for weeknights!
Manestra – Greek Orzo Stew
Rating: 51
Prep Time: 10 minutes
Cook Time: 20 minutes
Total Time: 20 minutes
Per Serving 417 calories
Fat 14 g
Carbs 57 g
Protein 17 g
Ingredients
1 lb. chicken tenderloin, cut into bite size pieces
3 cloves garlic
1 tablespoon fresh oregano leaves
2 tablespoons olive oil
1 finely chopped onion
28 oz. can ground tomatoes (or crushed tomatoes)
1 teaspoon paprika
1/4 teaspoon ground cinnamon
1 teaspoon aleppo pepper
1/2 teaspoon sugar
1 lb. orzo
salt and pepper, to taste
sumac (optional garnish)
Instructions
Finely chop the garlic with the oregano leaves. Toss with the chicken and 1 tablespoon of the olive oil. For optimal flavor, marinate for at least 1 hour, but not absolutely necessary.
In a large pot, heat remaining oil. Add chicken and onion. Cook on high heat for 5 minutes stirring occasionally, until the onions turn translucent.
Add tomatoes, paprika, cinnamon, aleppo pepper, sugar and 5 cups water. Stir to combine. Bring to a boil.
Add orzo and cook for 10 minutes, stirring frequently with a metal spoon as the orzo has a tendency to stick to the bottom of the pot.
Add salt and pepper, to taste. Stir to combine.
To serve, garnish with sumac or a quick squeeze of lemon juice.
Notes
it's also often garnished with cheese, which gives it a nice creamy texture. Feta, Kasseri or even Parmesan can be used.
Check out the Blogging Marathon page for the other Blogging Marathoners doing this BM#74