Last Updated on December 16, 2020 by Chef Mireille
Banana Blossoms are a very common ingredient in Southeast Asian cooking, especially Malaysian, Vietnamese and Philipino cooking.
Banana blossoms are the hearts of unopened banana flowers. They can be eaten raw or cooked and are used primarily in soups and salads.
In South Asia as well as the Caribbean (depending on the island), these are products that are readily available in your local market. However, here in the United States, finding fresh Banana Blossoms can be very challenging, unless you are lucky enough to live near a Chinatown that has Southeast Asian markets. In any Chinatown, even if you cannot locate the fresh, you should definitely be able to find the canned versions and even in some gourmet markets you might also be able to locate the canned version.
This is one of my favorite salads to make. The last time I taught a cooking class on Malaysian cuisine, this was the biggest hit and something that everyone said they would make again and again.
The most important thing to remember, whether you are using either the fresh or the frozen banana blossoms is that they oxidize very quickly. Once you have peeled the outer layers, squeeze lemon juice over them so that they will not change color, especially if they are to be used in salads. If they oxidize, the salad will not be aesthetically appetizing.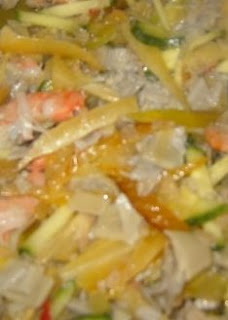 Pisang Jantung
1 fresh banana bud
1/2 lemon, juice only
2 tablespoons oil
2 teaspoons dried shrimp, soaked in warm water for 10 minutes, drained and coarsely chopped.
1/3 cup coconut milk
1/4 teaspoon salt
1 cup cucumber, julienned (about the size of matchsticks)
1 starfruit, thinly sliced into strips
1 red chile, thinly sliced
4 shallots, thinly sliced
7 ounces prawns, peeled and deveined
For spice paste:
3 red chiles, thinly sliced
5 shallots, peeled and grated
2 cloves garlic, peeled and crushed
1 teaspoon shrimp paste
2 teaspoons sugar
Remove the outer layers of the banana blossom and simmer for about 20 minutes. Drain. Half lengthwise and rinse with water to remove any dirt from the inside layers. Squeeze 1/2 lemon over it & thinly slice the blossom, vertically.
Steam shrimp for about 5 minutes, until just cooked. Using a food processor, grind all spice paste ingredients with 4 tablespoons water.
In a skillet, heat oil and stir fry dried shrimp for about 1 minutes. Add spice paste and fry for another 2-3 minutes until fragrant. Add the coconut milk and salt. Stir to combine. Remove from the heat to cool.
In a large bowl place all salad ingredients. Pour coconut spice dressing and toss well to combine. Garnish with lime wedges and serve immediately.
Before you know it, it will all be gone!!!
Chef Mireille
https://www.globaltasteinc.com
Like me on FACEBOOK!
Follow me on TWITTER!