Last Updated on December 14, 2020 by Chef Mireille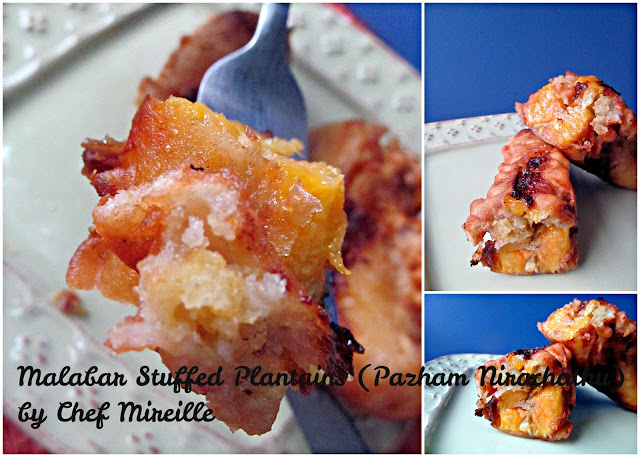 Blogging Marathon #32
Theme: Indian Regional Cuisine – Malabar Coast
The Malabar coast is on the southwestern coastline of India, running from just below Goa to the southern tip of the country. It runs through the Indian states of Karnataka and Kerala. A large Muslim population lives along the coastline.
Any regular readers of my blog know that the only food to rival my mango obsession is my plantain obsession. When I wanted to find a few regional classical Indian recipes to try for this month's BM theme, this stuffed plantain recipe immediately went on the list. It is a traditional tea time treat and often served during Iftar, the meal served after daytime fasting during the Islamic holy month of Ramadan.
I was a little apprehensive because of the sweetened scrambled eggs. I wasn't sure how I would take to the sweet eggs, but since I love plantain, I was willing to give it a try.
Pazham Nirachathu (Stuffed Plantains)
Serves 6
Ingredients
3 ripe plantains
5 tablespoons sugar, divided
1 tablespoon golden raisins
3 tablespoons peanuts (cashews is traditional)
1 tablespoon ghee
2 eggs
1/4 teaspoon ground cardamom
1/2 cup all purpose flour
3 tablespoons rice flour
a pinch of salt
1/2 cup plus 2 tablespoons water
ghee or oil, for frying
In a small bowl, whisk eggs with 4 tablespoons of the sugar.
Heat ghee in a skillet. Fry nuts until golden. Remove to a paper towel. Add raisins and cook for 1-2 minutes, until they plump up. Remove to a paper towel.
Add eggs and cook stirring constantly until you have cooked scrambled eggs. Add cardamom, nuts and raisins and mix well.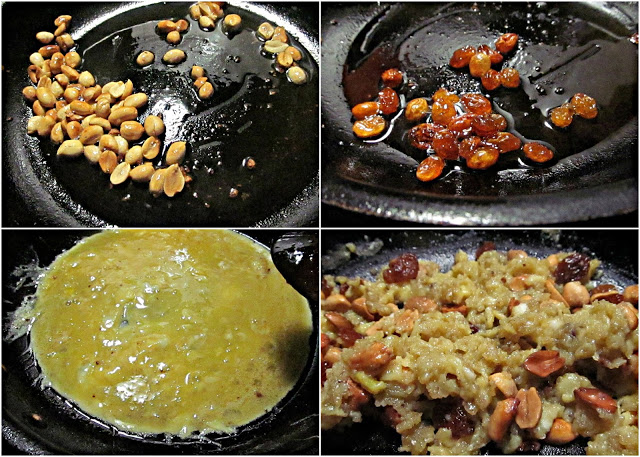 Prepare a batter by mixing the flours with the remaining sugar and salt. Add water and mix well.
Peel the plantains. Make 3 slits at regular intervals around the plantain. Make sure the slits don't go all the way through – stop at the center.
Stuff the egg filling into the 3 slits.
Heat oil to 350 F.
Place 1 of the plantains in the batter, making sure it is coated well on all sides. Place in the hot oil and cook until golden brown on all sides. Repeat for the remaining plantains.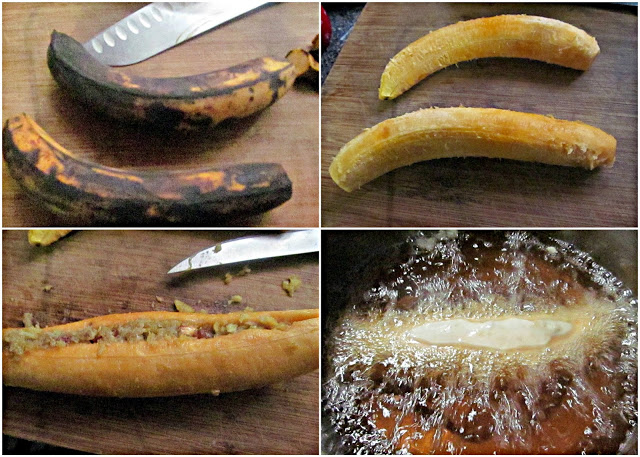 Drain on paper towels. Serve.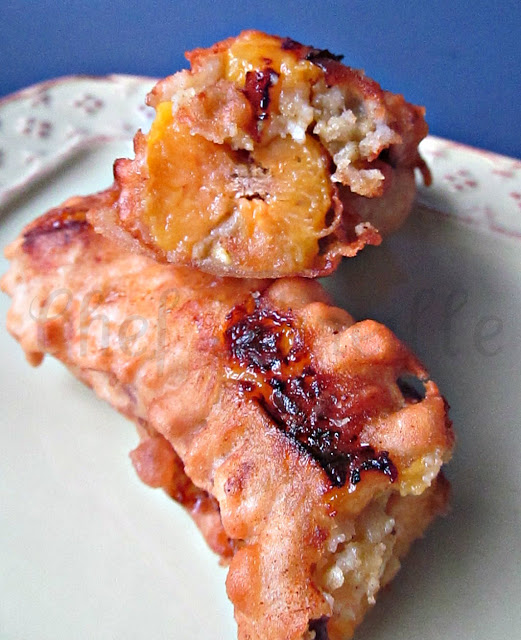 These were so delicious. The peanuts really made a difference. The flavors of plantain and peanut marry very well and when I make this again, I will fry in peanut oil to intensify the nutty taste. With the sweet plantain, the sweet eggs did not taste strange at all. This was a delicious treat I would definitely make again.
Logo courtesy : Preeti
Check out the Blogging Marathon page for the other Blogging Marathoners doing BM# 32
…linking to What's With My Cuppa hosted by Avika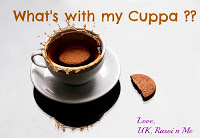 LIKE THIS RECIPE? LEAVE A COMMENT..I LIVE FOR THEM!
Chef Mireille

document.write('