Last Updated on May 19, 2020 by Chef Mireille
Kimchi Fried Rice – How to Make the PERFECT Fried Rice – steps to make the perfect fried rice every time and a delicious Korean fried rice recipe.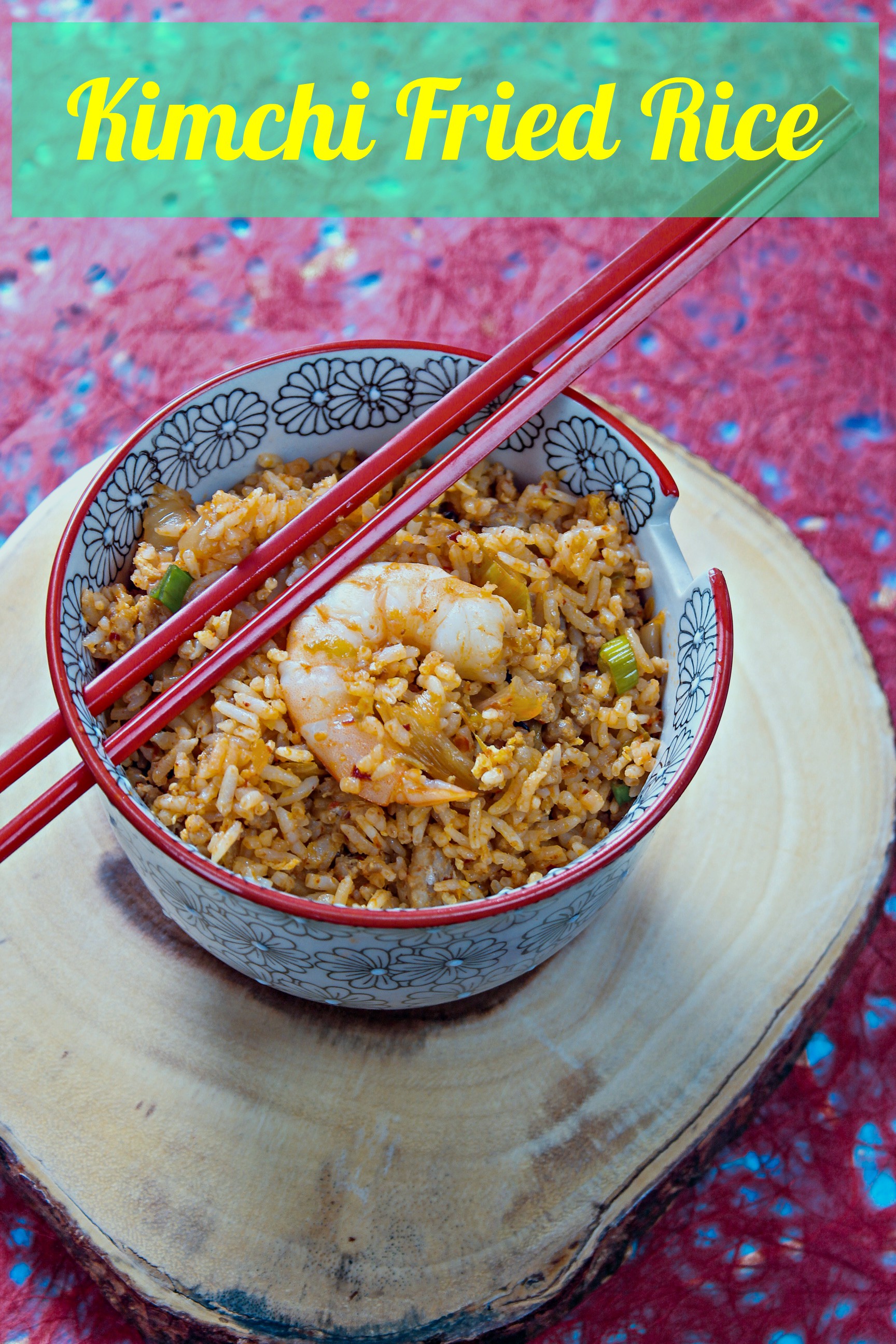 This post was inspired by one of my readers who wanted to know some tips for making fried rice.
HOW TO MAKE THE PERFECT FRIED RICE
Cold Rice – Not just cold, but straight out of the refrigerator cold rice. Rice should not just be chilled at room temperature. The best option is to put cooled cooked rice in the refrigerator overnight and make the fried rice the next day. Make sure to break up any clumps in the cold rice before adding to the pan.
Wet Ingredients – Add your wet ingredients a little at a time, waiting until the rice has absorbed it before adding the rest. This will avoid your rice getting too clumpy.
Order of Ingredients – Balance the addition of ingredients by how long it takes to cook. For example, in this recipe below the shrimp was added last because they cook so quickly and over cooked shrimp tastes like rubber. However, since it is really important for the pork to be cooked fully, that is added first.
Korean food is my favorite Central Asian cuisine. While I do like Chinese and Japanese food, I love the spice and intense flavors that exists in Korean cuisine. Korea is all over the news right now with the expected summit maybe taking place. Why not celebrate some Korean cuisine also? But before we get to today's recipe, how about trying some other Korean delicacies I've cooked in the past!

Korean Recipes
Aehobakjeon – Zucchini Pancakes
Hugimjajuk – Black Sesame Pudding
Gochujang Dak Juk – Rice Porridge Soup
Bibimbap – Rice Bowl
Korean Ginger Soy Fried Chicken (video)
IN THE MAKING
With the tangy kimchi and the fresh shrimp, this version of Kimchi Fried Rice is a spicy and flavorful version. If you'd like it even more spicier, add some Korean Chili Flakes (Gochugaru)
Kimchi Fried Rice – How to Make the PERFECT Fried Rice
Learn the tips and tricks of making perfect fried rice with this Korean version.
Ingredients
1

tablespoon

oil

3

finely chopped garlic cloves

2

tablespoons

finely chopped ginger

8

oz.

ground pork

2

beaten eggs

1 ½

cups

kim chi

rough chopped (16 oz. jar)

2

cups

long grain rice

cooked and chilled

2

tablespoons

light soy sauce

2

tablespoons

sesame oil

1

lb.

shelled shrimp

3

chopped scallions

1

chiffonade

thinly sliced perilla leaf
Instructions
In a wok, heat oil. Add garlic and ginger.

When the garlic starts to brown, add pork.

Cook until meat is browned and cooked through.

Add eggs and mix. When they start to cook, add kim chi.

Stir to combine and cook for 30 seconds.

Whisk together the soy sauce and sesame oil in a little bowl.

Add rice and wet ingredients, a little at a time, until well absorbed.

Cook for a few minutes until rice is well coated with the kim chi.

Add sesame oil and shrimp. Cook, stirring frequently until shrimp is pink and just cooked.

Add scallion and perilla leaf and stir to combine.
Notes
If using Korean soy sauce or dark soy sauce, reduce soy sauce quantity by half.
Substitute mint if perilla leaves are unavailable.
A sunny side up egg is often added on the top either instead of or in addition to the scrambled egg!
Nutrition
Calories:
351.23
kcal
|
Carbohydrates:
38.82
g
|
Protein:
17.67
g
|
Fat:
13.1
g
|
Saturated Fat:
3.42
g
|
Sodium:
483.39
mg
|
Fiber:
0.83
g
|
Sugar:
0.28
g
Did you try this recipe? Leave a comment below.
Please follow me on Instagram @chefmireille or tag me #chefmireille with your pics! I'd love to share them!
If you like this recipe, PLEASE LEAVE A COMMENT & SUBSCRIBE!