Last Updated on April 1, 2019 by Chef Mireille
Using sorghum breakfast cereal high in protein and fiber, this trail mix is the perfect combination for when you need that extra energy boost.

As someone who is a victim of nut allergies, it's pretty much impossible for me to find any kind of trail mix that I can eat without risking my mortality. They usually include a variety of mixed nuts including Brazil nuts, hazelnuts and cashews. All of these I have problems with – with Brazil Nuts the most severe reaction.
For this reason, I almost never buy over the counter granola bars, energy bars or trail mixes. If I want to enjoy any of these, I am left to my own resources.
One easy way to make a delicious and interesting trail mix is to use breakfast cereal as the base. Don't use sugar laden cereals like Fruit Loops or Apple Jacks. Use wholesome cereals like Corn Flakes, Raisin Bran, Rice Krispies or Cheerios. Kashi Vanilla Clusters cereal has become one of my new faves, very similar to the more readily available Honey Bunches of Oats. Just barely sweetened, it's the perfect vehicle for my home made trail mix.
The hint of citrus and spice in this version is very addictive. I brought this as a pre class snack to my students who were taking one of my cooking classes and it was a big hit.
Before we get to today's mix, take a look at some other snack ideas!
Snack Recipes
IN THE MAKING
Kashi Goji Berry Trail Mix
Per Serving 112 calories
Fat 3 g
Carbs 21 g
Protein 4 g
Ingredients
2 cups Kashi Cereal
1 tablespoon Sliced almonds
1 tablespoon pumpkin seeds
2 tablespoons Golden raisins
2 tablespoons goji berries
2 tablespoons sunflower seeds
Zest of 1 lime
¼ teaspoon Cayenne pepper
1/8 teaspoon salt
½ teaspoon raw brown sugar
Instructions
Combine all ingredients and mix to combine.
Put some in a Ziploc bag and carry this delicious mix with you on your next hike when the energy cravings start to attack you!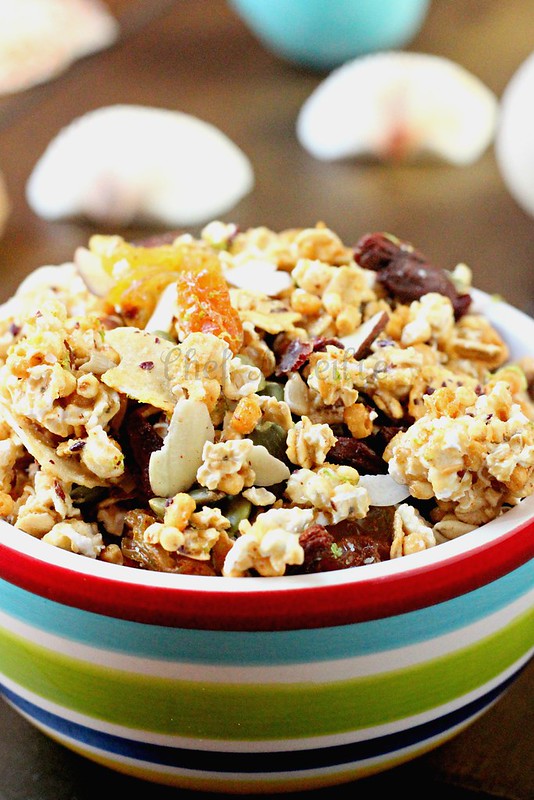 Grab a handful and munch away – guilt free!
Check out the Blogging Marathon page for the other Blogging Marathoners doing this BM#78