Last Updated on June 6, 2015 by Chef Mireille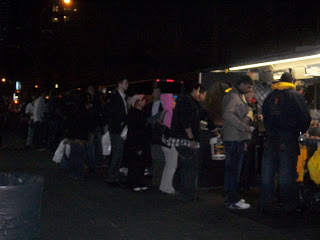 Every major international city has street food. A staple of NY street food are hot dog stands, selling hot dogs, knishes and pretzels. Originally started by German immigrants, most of these stands are presently operated by Indian or Middle Eastern people. After a while, I think they decided that their food would serve the NY street food eating public just as well, if not better.
Now, Halal carts have replaced many of the hot dog stands of yesteryear. Halal carts can be found 3 to a corner, while one can go 20 blocks before coming across a hot dog stand. Halal carts serve chicken and/or lamb as well as falafel with rice and salad or in a pita. Some of them also serve American staples like burgers and fries.
While Halal carts are now a dime a dozen, for a tourist, you may think one is probably just as good as another…WRONG…some are too greasy ….some are too bland…some are good…some are great…and then there is the KING of the NYC Halal cart scene on 6th Ave. and W. 53rd St. They only come out at night and the line starts to form before they even finish set up. Open all night long, this cart is very popular for those on the club scene. After a night of drinking and dancing and working up an appetite, the line forms down the block and around the corner at 4am.
To tell the truth I have yet to try them, but everytime I walk by, the line is never less than 20 deep and I just usually don't have the time to wait.
Whether it's the hype or truly uniquely delicious Halal food, I have yet to discover. Why don't you be the judge?
Have a meal at the 53rd street Halal Cart and let me know what you think?

Chef Mireille
https://www.globaltasteinc.com
Like me on FACEBOOK!
Follow me on TWITTER!