Last Updated on June 9, 2023 by Chef Mireille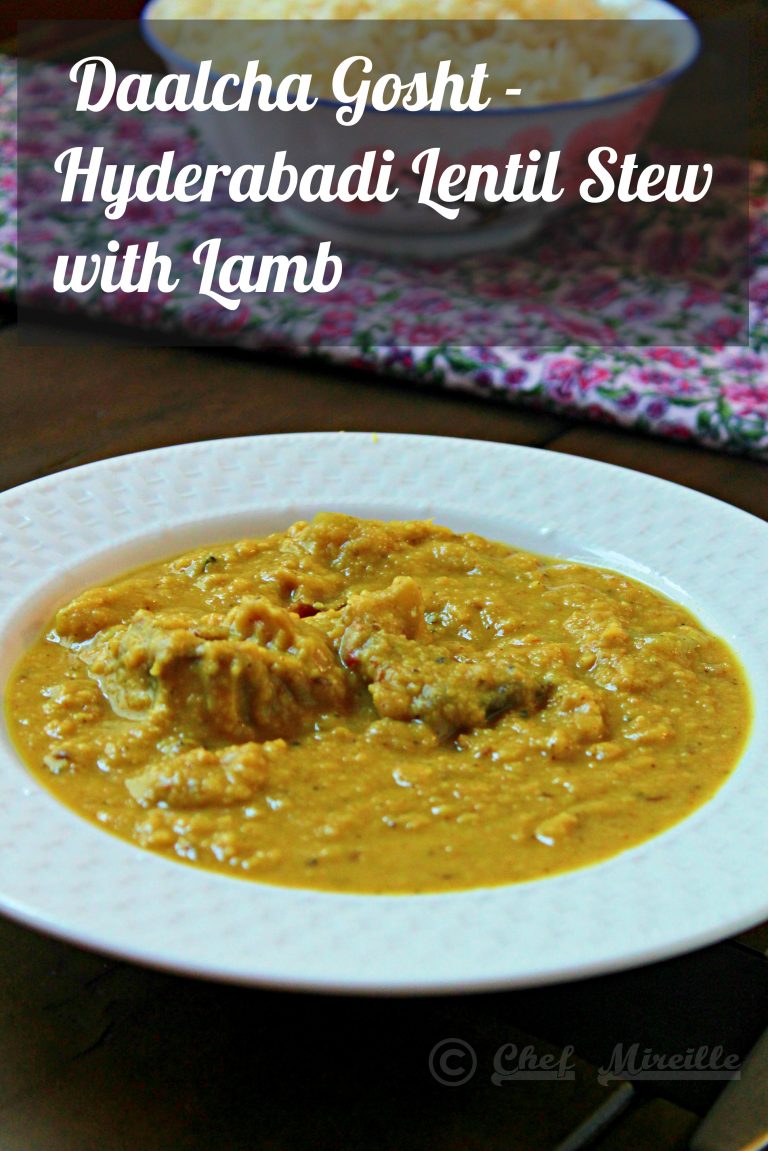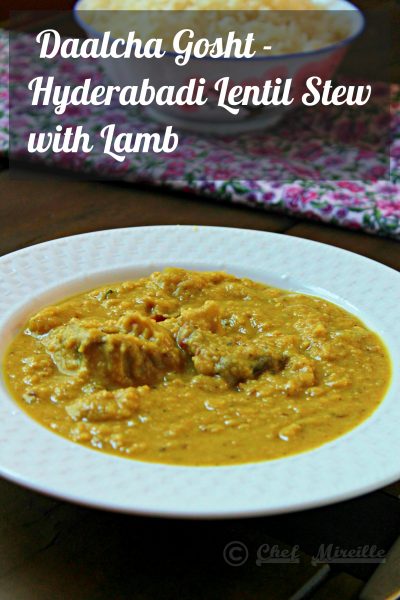 This protein rich Hyderabadi Lamb & Dal Curry – Daalcha Gosht is a hearty and healthy meal. With just a small quantity of meat, it is not high in fat. Serve with Basmati rice for a filling and delicious Indian Meal!
Don't get scared of the cooking time. The 4 hours is for pre soaking the peas and is not necessary if you use a pressure cooker!

Hyderabad, an industrialized city located in southeastern India, is widely known throughout India for its cuisine, among other things. Also known as Deccani cuisine, it was developed by Turkish shah, Sultan Quli, part of the Qutb Shahi Dynasty that ruled Hyderabad from 1518-1687. Their cuisine is a fusion of Turkish, Arabic and Mughlai cuisine with local Telugu flavors. Additionally, a sub cuisine also exists in Hyderabad known as Nizami. Nizami cuisine is characterized by being low in fat, but rich in flavor. High taxes made the Nizam's the richest princely rulers of India, which caused their people to develop a cuisine that reflected their poor status. Nizami cuisine does not utilize ghee, milk and yogurt, as does other Indian cuisines. It is known as a low fat cuisine, within India.
The Nizam's ruled Hyderabad state from 1724 under the Asaf Jah Dynasty until 1948, when they were forced by police action to give up their governing status to an independent India. Hyderabad state was absorbed by neighboring states, by dividing it along linguistic lines.
This recipe is one of the recipes developed under Nizami rule. Traditionally,mostly bones would be used as the people would not be able to afford meat. However, today meat on bone is generally used although the quantity of meat to dal is still quite low.
Bottle gourd has become my new favorite vegetable, second only to spinach. I was so happy to find yet another recipe to utilize this new fave. Just in case you missed it, do check out my Bengali Lauki (Bottle Gourd) Curry!
IN THE MAKING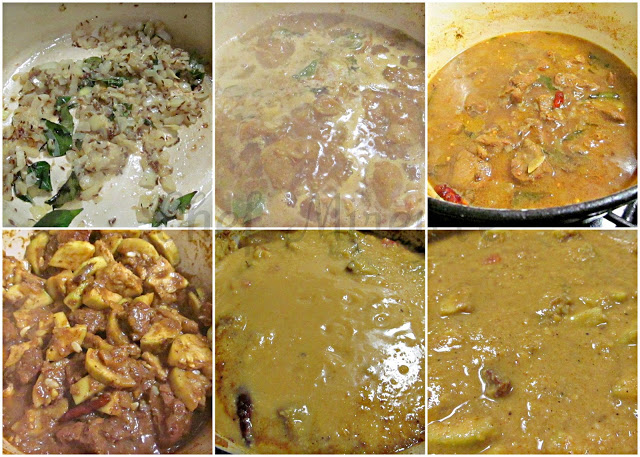 With chile powder, dried chiles and fresh chiles, this is a spicy and flavorful curry to awaken your taste buds. To complete your Hyderabad experience, end your meal with Khubani Ka Mitha.
Hope the Hyderabadi's feel I have represented their cuisine well.
Dalcha Gosht (Hyderabadi Lamb & Dal Curry)
THIS PROTEIN RICH HYDERABADI LAMB & DAL CURRY – DAALCHA GOSHT  IS A HEARTY AND HEALTHY MEAL. WITH JUST A SMALL QUANTITY OF MEAT, IT IS NOT HIGH IN FAT. SERVE WITH BASMATI RICE FOR A FILLING AND DELICIOUS INDIAN MEAL!
Ingredients
12

oz.

lamb with bone

1

teaspoon

ground turmeric

1

tablespoon

red chile powder

cayenne pepper

3

cups

channa dal

yellow split peas, soaked for 4 hours

2

chiles

split

1 to

mato

chopped

1

medium bottle gourd

peeled and cut into large pieces

2

tablespoons

ginger garlic paste

2

teaspoons

cumin seed

2

sprigs curry leaves

1

onion

chopped

1 2

" cinnamon stick

3

cloves

1/2

teaspoon

caraway seed

1/4

teaspoon

cardamom seeds

1

tablespoon

tamarind paste

1/3

cup

boiling water

salt

to taste
Instructions
Combine lamb with chile powder, turmeric and salt. Marinate for at least 30 minutes.

Bring 6 cups of water to a boil with the channa dal, chiles, salt and tomato. Bring to a boil. Simmer and cook until peas are tender, about 45 minutes. Puree using an immersion blender. ( I like it a bit chunky but you can puree completely smooth in a food processor or blender if you prefer)

Combine the cinnamon, cloves, caraway and cardamom seed in a spice grinder. Grind until you have a fine powder.

In a large pot, heat oil. Add cumin seed, onion, dried chiles and curry leaves. Saute until onions are golden. Add ginger garlic paste and lamb. Stir fry for 3-4 minutes. Add masala powder and 2 cups of water. Bring to a boil and simmer for 1 hour, until meat is tender.

Add bottle gourd and cook for another 10 minutes.

In a small bowl, pour the boiling water over the tamarind and let sit for 10 minutes. Strain, pressing all of the liquid out of the tamarind paste and discard the paste.

Add tamarind water and pureed dal. Cook for another 5 minutes.
Nutrition
Calories:
254
kcal
|
Carbohydrates:
48
g
|
Protein:
11
g
|
Fat:
3
g
|
Saturated Fat:
1
g
|
Polyunsaturated Fat:
1
g
|
Monounsaturated Fat:
1
g
|
Sodium:
6
mg
|
Potassium:
144
mg
|
Fiber:
18
g
|
Sugar:
4
g
|
Vitamin A:
540
IU
|
Vitamin C:
20
mg
|
Calcium:
149
mg
|
Iron:
4
mg
Did you try this recipe? Leave a comment below.
Please follow me on Instagram @chefmireille or tag me #chefmireille with your pics! I'd love to share them!