Last Updated on May 20, 2015 by Chef Mireille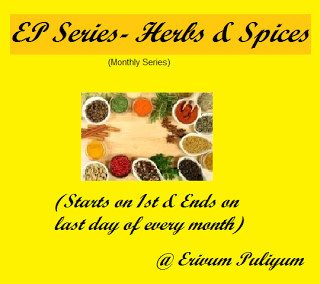 I am proud to be guest hosting Julie's monthly Herbs & Spices event.
Every month a spice and herb is chosen and recipes are collected using either one or both. I have selected Nutmeg & Parsley.
Parsley is an all purpose herb that enhances the flavor of anything it is added to, with its lemony undertones. It is used heavily in Italian, Middle Eastern and Caribbean cuisines. With my Caribbean background, I am used to this being added to almost all savory foods. Parsley is great in marinades, salads and pastas, as well as so much more.
Nutmeg is a rather strong spice, used often in sweet dishes. It marries well with peaches, pumpkin, bananas and ginger. Nutmeg is another spice that is used often in Caribbean sweets. Small quantities are also often added to savory things in classical French cuisine like Bechamel and any cream based sauce. Macaroni & Cheese, as well as Mashed Potatoes will often include a pinch as well.
Both of these also have many health benefits, making it advantageous to include in your diet. Nutmeg is a natural sleep aid, liver and kidney detox and is also used for relieving muscle and joint pain. The ancient Romans and Greeks used nutmeg as a brain tonic. Nutmeg stimulates brain activity thereby decreasing fatigue, stress, anxiety and depression. It can also be used as a topical ointment with honey to help eliminate acne and scars.
Parsley is loaded with Vitamin K, which is essential for bone strength. It's also a natural anti-inflammatory and is rich in antioxidants. Additionally, it is a great source for Vitamin A & Vitamin C.
Be creative and try using these flavorful ingredients in everything from salads to desserts!!!
Event Rules:
1.The event runs for the period of January 1st – January 31st, 2013.
2.The theme for this month is "Parsley & Nutmeg".You can use one ingredient in a dish or use both but that ingredient should be one of the main ingredients.It can vary from starter,main dish ,dessert or any other recipes,sweet or savory anything.(No recipes which don't follow this rule will not qualify for the event)
3.Bloggers and Non bloggers can participate.Bloggers can link their recipes using the linky tool below.Bloggers who find it difficult or find some problem to link can also send &Non-bloggers can send in their recipes to my mail (islandpalate(at) gmail (dot) com) with the following details:
Your Name-
Recipe Name-
Recipe Details-
Pic of the Dish
4.Recipe must be linked to this event announcement page and to Julie's page.
5.You can link veg & non vegrecipes.
6.Send in any number of entries.You can link in your old entries too but specific to the herb & spice,just add the link & logo,no reposting required.
7.Usage of logo is appreciated for all entries.
8.There are 5 awards for the BEST INNOVATIVE RECIPE AWARD, TOP CONTRIBUTOR AWARD,BEST HEALTHY DISH AWARD , PARTICIPATION AWARD & BEST PRESENTATION AWARD.So,Folks put on your innovative caps and think tight,do right and link in your recipes at the earliest before January 31st, 2013.
Best Wishes to All !!!!
LIKE THIS RECIPE? LEAVE A COMMENT..I LIVE FOR THEM!
Chef Mireille
Like me on FACEBOOK!
Follow me on TWITTER!