Last Updated on May 20, 2015 by Chef Mireille
Good Afternoon,
I hope everyone is having a great day. Dr. Oz came up with a 28 day plan to renew your body, mind and soul. It is a list of different things to start adding to your life, one day at a time and after 28 days, you will have made strides to achieving a healthier, happier life.
One of the things on the list was to drink green tea. I generally become a tea fanatic once the weather goes below 40 degrees. Nothing beats a warm cup of tea on a cold, wintry night. One of my favorite green teas to drink is Gen Mai Cha. When you look at the tea leaves for the first time, you will probably do a double take, as I did the first time. Is that popcorn mixed in with the tea leaves?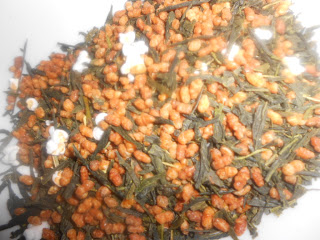 I used to work at a tea house. We served British high tea, complete with scones and clotted cream. It was working here where I became a tea afficionado and had lots of opportunities to try the 100+ varieties of tea we sold. Many customers would order this tea with popcorn and roasted rice and I just could not imagine this would be anything pleasant to drink. Then one day, curiosity got the better of me and I tried it and I have been hooked ever since. It's a very mild flavored tea, with just a little hint of natural sweetness and I love it. So now you may wonder who in the heck came up with this combination?
It was during World War II, when tea was scarce. The Japanese came up with this concoction to stretch the tea leaves to make them last longer, as tea was becoming hard to come by. Sencha tea leaves were mixed with roasted rice and popped corn and Gen Mai Cha was born., literally translated it means Brown Rice Tea.
I have now turned most of my friends and relatives on to this delicious wonder. The last time my cousin was visiting from Holland I made her a cup, she looked at it and wondered what the heck kind of tea I was giving her with popcorn and rice. She tasted it and she was hooked and we had to run to Chinatown to get her a huge box before her flight back to Amsterdam.
As with all green teas, drinking a cup of Gen Mai Cha daily, may lower your risk for some cancers, lower bad cholesterol, promote weight loss and raise your intake of antioxidants.
Enjoy a cup of Gen Mai Cha today to kickstart your plan to eat/drink better. There is no reason to wait until January to start this resolution, which I know is on a lot of your New Year lists!
Chef Mireille
facebook.com/GlobalTastes
twitter.com/GlobalTastes
https://digg.com/scribingchef
[email protected]