Last Updated on January 12, 2020 by Chef Mireille
Fresh Fig Salad with Orange Emulsion Dressing
A quick and easy salad to put together when fresh figs are in season.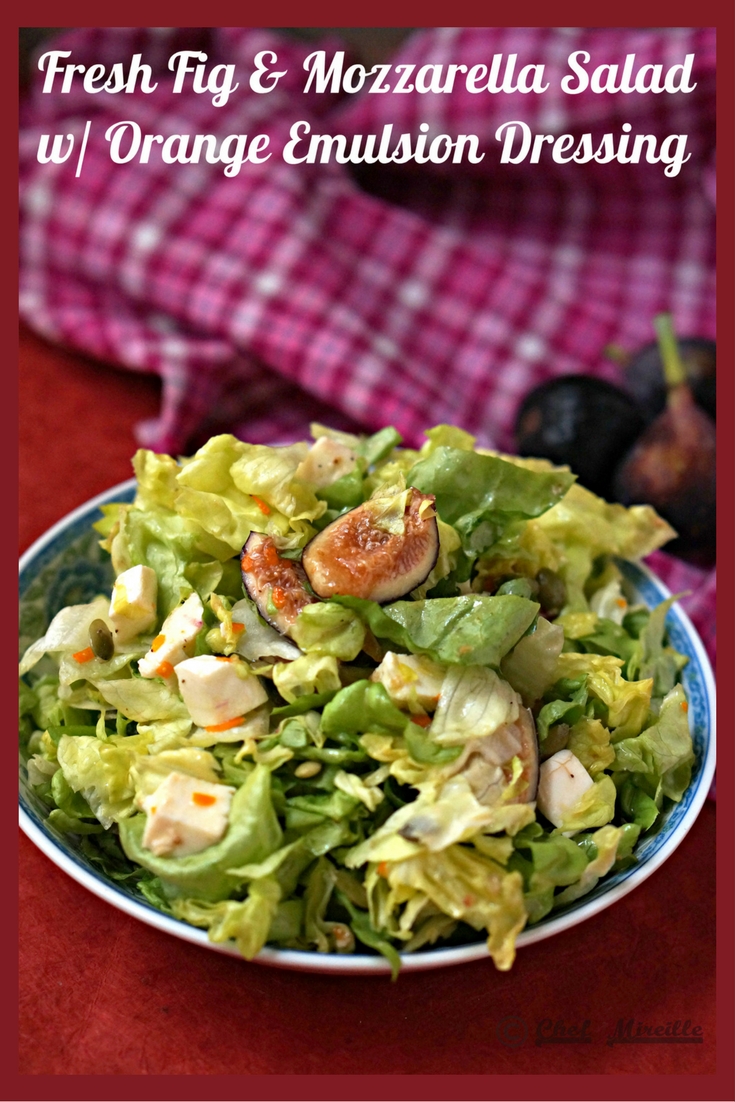 Fresh figs have been hard to come by this season. The few times I have seen them they have looked horrible – half rotten. With an insanely busy work schedule, I just did not have the energy or the time to do some grocery shopping. I decided to try instacart, a service I have been thinking about trying for several months now. It is like having your own personal shopper. You pick which local markets you want them to shop at and your food is delivered within 2 hours and way cheaper than Fresh Direct. I will be doing a complete review of this service soon on the blog, so stay tuned. Anyway, so I decided to use this service and try for fresh figs. The figs from Fairway arrived in perfect condition, still firm. I decided to make this Fresh Fig salad using some of the stuff I purchased from Fairway via instacart. The one thing with figs is they don't have a long shelf life, so I will be eating fig salads and fig sandwiches for the next few days, but I am overjoyed and getting my full of figs this week!
I am in the process of reworking the curriculum before my culinary teaching semester begins in a few weeks. That's why my schedule is so hectic. When I finish my temporary sous chef duties where I am working these two weeks, I have to come home and do work to prepare for my classes. Ah, it's better to have too much work than too little right?  I am always adjusting my curriculum to present recipes that both teach my students technique and that they will enjoy to eat. I was perusing my old binder from culinary school and came across this salad dressing, which I remember loving so much. This Orange Emulsion dressing complimented the figs perfectly.
It's been hot and humid the last few days. I am in amazement how the tennis players are playing in this heat as they finish up the final matches of the US Open. We already have a women's winner in Angelique Kerber who is now the new #1 in the world. As we wait to see who wins the men's final match tomorrow, enjoy this light salad – perfect for these hot temperatures! Hopefully, you will be enjoying the match and this salad inside an air conditioned apartment!
This salad is so delicious to have in Spring and Summer when fresh figs are easily found.
Picking Figs
Black Mission Figs, the ones I used in this salad, are very delicate. When picking at the market, pick firm figs and make sure they are on the top of the bag when you bring them home so that the weight of other things will not crush tehm.
Serve this fresh fig salad immediately.
Fresh Fig Salad with Orange Emulsion Dressing
This salad is light and fresh. The perfect summer salad, when figs are in season.
Ingredients
Salad Ingredients:
4

cups

sliced Boston lettuce

5

quartered figs

1/2

cup

diced fresh mozzarella

1/2

teaspoon

finely chopped orange zest

1

tablespoon

pepitas

pumpkin seeds

2-3

tablespoons

orange emulsion dressing

see below, to taste
Dressing Ingredients:
Yield: 2 cups

3/4

cup

orange juice

1 1/2

teaspoons

grated orange zest

1/3

cup

rice wine vinegar

1/2

cup

olive oil

1/4

cup

canola oil

3

tablespoons

honey

1

teaspoon

salt

1/2

teaspoon

ground black pepper
Instructions
To make salad:
Combine lettuce, figs, mozzarella, zest and pepitas.

Add dressing and toss gently.

Serve immediately.
To make dressing:
Combine juice, zest, vinegar, honey and salt and pepper. Whisk well.

While whisking constantly, slowly add oils until thorough incorporated.

Taste and adjust salt and pepper, as necessary.
Notes
Figs can be substituted with peaches, nectarines or plums.
Nutrition
Serving:
206
g
|
Carbohydrates:
35.9
g
|
Protein:
11.1
g
|
Fat:
15.6
g
|
Saturated Fat:
4.9
g
|
Sodium:
182
mg
|
Fiber:
5.6
g
|
Sugar:
24.3
g
Did you try this recipe? Leave a comment below.
Please follow me on Instagram @chefmireille or tag me #chefmireille with your pics! I'd love to share them!
Ready to make this recipe? I would love to see your photos! Tag me on Instagram @chefmireille #theschizochef with your pics!
Do you know anyone else who likes learning about international recipes, culture, history and travel? Bring them over here to join the party! Don't forget to use those share buttons!
Start Here to find out how the Schizo Chef can help you with your cooking, travel and other needs!
If you like this recipe, PLEASE LEAVE A COMMENT & SUBSCRIBE!
…linki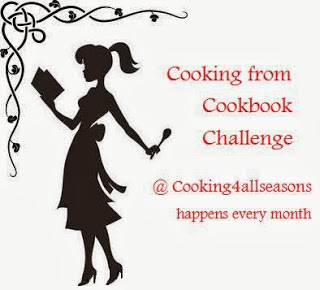 ng to September Week 2 of Cooking from Cookbook Challenge