Last Updated on December 14, 2020 by Chef Mireille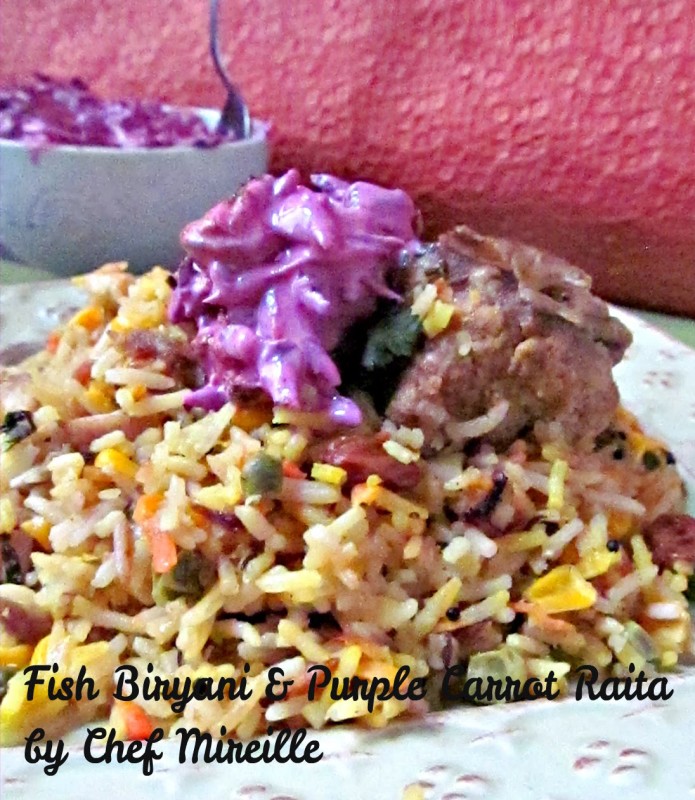 Although I am a meat eater, I do cook and eat a lot of Vegetarian food, however after 3 or 4 days of having no meat, I start craving meat. No matter what else I eat – be it a decadent dessert or a flavorful veggie meal, I don't feel satisfied until I have some kind of meat. I end up snacking and eating the whole day until I begin to wonder why I am I eating so much and then the realization dawns that I haven't eaten any meat in a few days. It does not have to be a lot – a few shrimp, a small piece of fish or chicken and I'm happy.
That's how this biryani came about. I opened my freezer and all I had was chicken tenderloins and fish. I went with the fish. I save shrimp shells and vegetable scraps – broccoli stalks, asparagus stalks, parsley stems, cilantro stems, carrot peels and store them in the freezer for when I am ready to make stock. Since I was doing a fish biryani, I thought a really flavorful shrimp stock would make it taste amazing.
Nothing complements biryani like a nice, cooling raita. I had come home from the Union Square Farmer's Market with a bunch of rainbow carrots in orange, yellow and purple hues. To make this raita so colorful and appealing, I used the purple carrot. Just like last week, this recipe is adapted from Maddhur Jaffrey's From Curries to Kebabs and is my submission this week for Cookbook Cooking Challenge.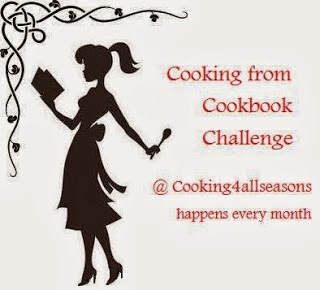 Let's first make the raita…
Carrot-Raisin Raita
Ingredients:
1 cup plain yogurt
1 medium purple carrot, grated
1/4 teaspoon roasted cumin powder
1/4 teaspoon salt
1 1/2 teaspoons sugar
1/8 teaspoon cayenne pepper
2 tablespoons golden raisins
garam masala, for garnish
Combine raisins and ample water in a small bowl and heat in microwave for 2 minutes.
In a bowl, beat yogurt until smooth. Add cumin, salt, sugar and cayenne. Stir to combine. Add carrots and mix. Add raisins and stir to combine.

Garnish with garam masala.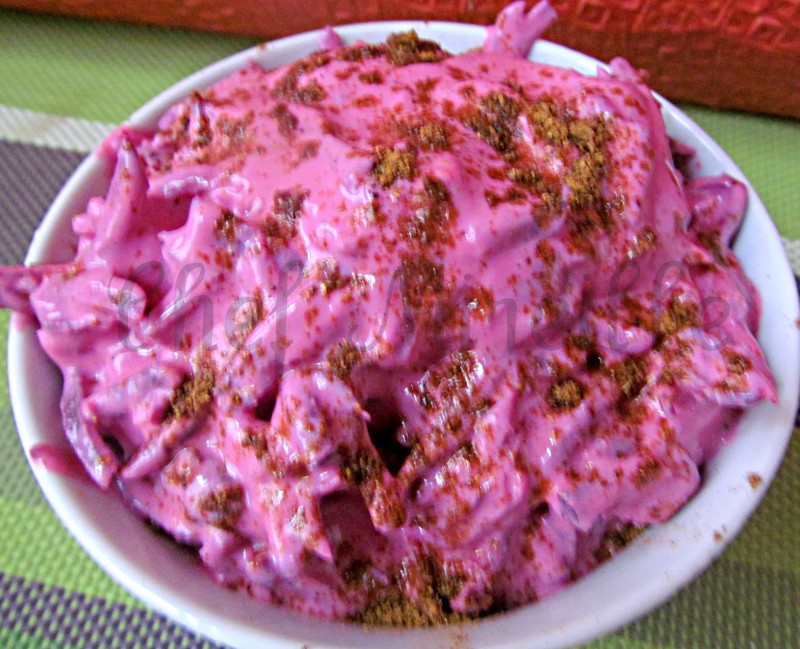 Fish Biryani with Homemade Shrimp Stock
Stock Ingredients:
8 oz. shrimp shells
8 oz. vegetable scraps
1 white onion, quartered
1 red onion, quartered
5 cloves
5 green cardamom
1 black cardamom
4 dried red chiles (I used Kashmiri Lal Mirch)
1 tablespoon coriander seed
7 cups water
Biryani Ingredients:
1 lb. pollock fillet (you can substitute any firm white fish like cod or haddock)
1 teaspoons garam masala
1/4 teaspoon red chile powder (cayenne pepper)
1/2 teaspoon salt
1/4 cup rice flour
1 tablespoon oil
2 cups Basmati rice
1 cinnamon stick
2 cloves
1/2 teaspoon cumin seed
1 teaspoon mustard seed
2 dried red chiles
1 onion, chopped
2 cloves garlic, chopped
1/2 teaspoon ground turmeric
1/4 cup water
2 tablespoons golden raisins
2 tablespoons almonds, chopped
1 tablespoon cashews, broken
1/3 cup frozen peas, defrosted
3/4 cup frozen corn, defrosted
3/4 cup carrots, grated
salt, to taste
juice of 1 lemon
2 tablespoons cilantro, chopped
To make the stock, combine all of the stock ingredients. Bring to a boil. Reduce to a simmer and cook for 30 minutes.

Cool and strain. Keep the liquid and discard all vegetables, etc. This should yield 5 1/2 cups of stock.
Cut the fish into large pieces. Sprinkle with garam masala, chile powder and salt.
Dust the fish with the rice flour and toss well, until the fish is well coated with the flour.
Heat oil 1″ deep in a large skillet. Drop fish pieces in and fry until golden brown and crispy. Drain on paper towels.
In a small bowl, dissolve turmeric in water.
In a pot, heat 1 tablespoon of oil. Add mustard seed. After popping stops, add cinnamon, dried chiles, cloves and cumin seed. Fry for 1 minute.
Add onion and garlic. Saute until golden. Add carrots, nuts, raisins, corn and peas. Cook for 1 minute.
Add 3 1/2 cups of stock and bring to a boil. Add rice. Stir and bring to a boil again. Reduce to a simmer and cook for 10 minutes.
Sprinkle with the turmeric water. Add fish pieces. Cover and cook on low heat for another 5 minutes.
Add chopped cilantro and lemon juice. Stir to combine.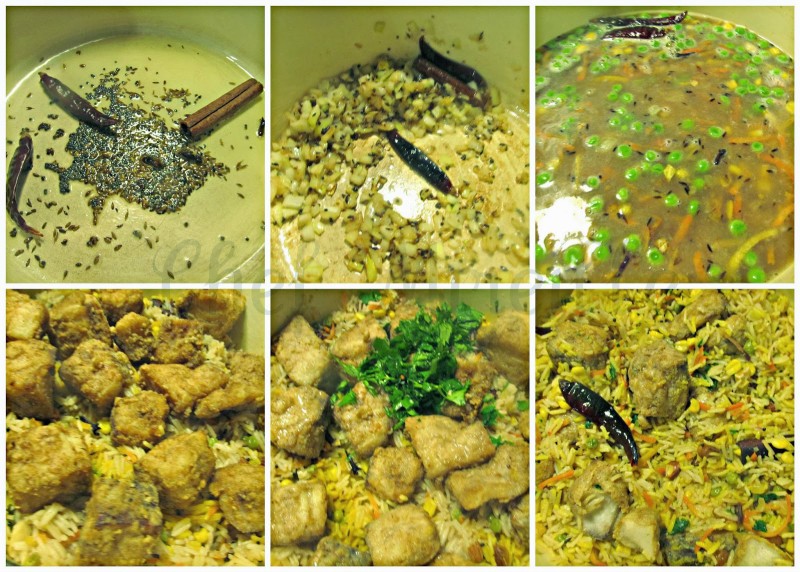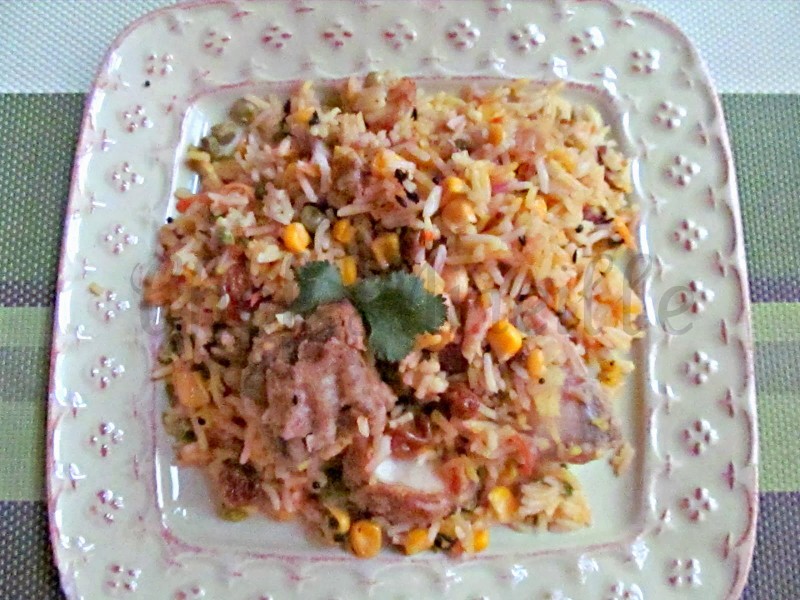 Serve with Carrot Raita.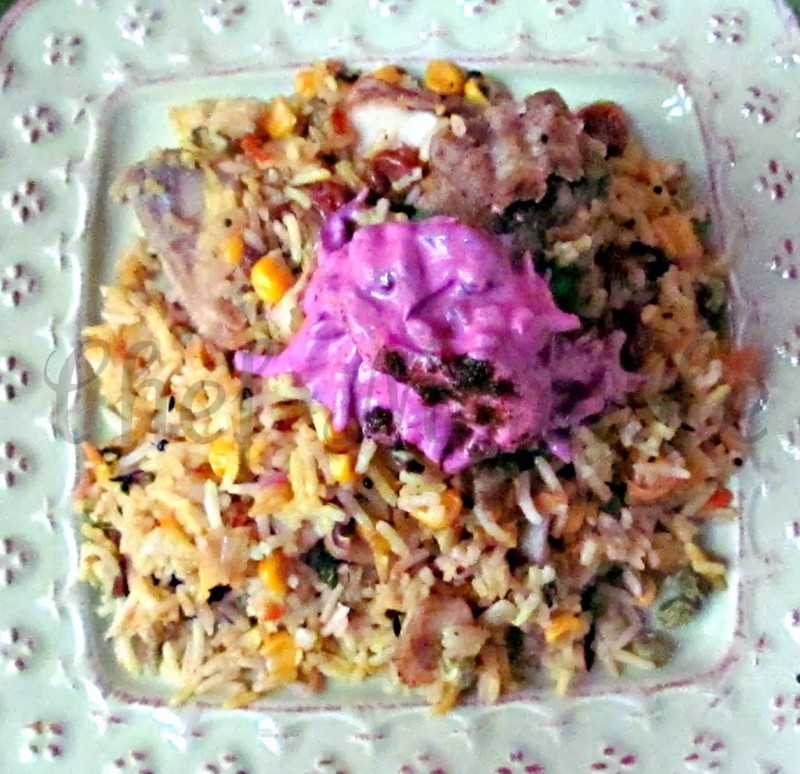 These photos came out really bad on the day I took them, not to mention it's back when I had the old camera, so please don't let these photos deter you from trying this delicious meal.
Sending to Fabulous Feast Friday& Shop Local for the carrots I picked up at the Farmer's Market.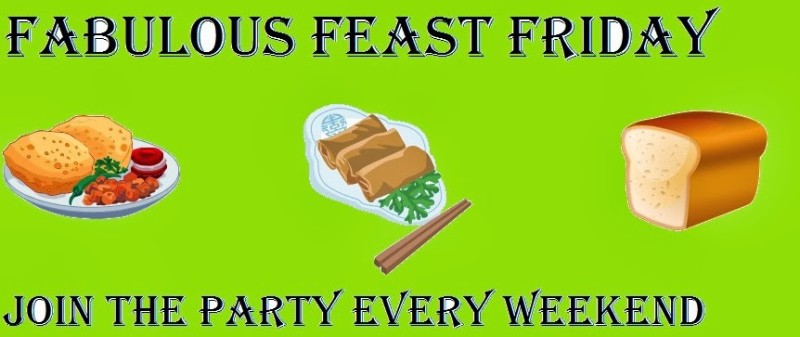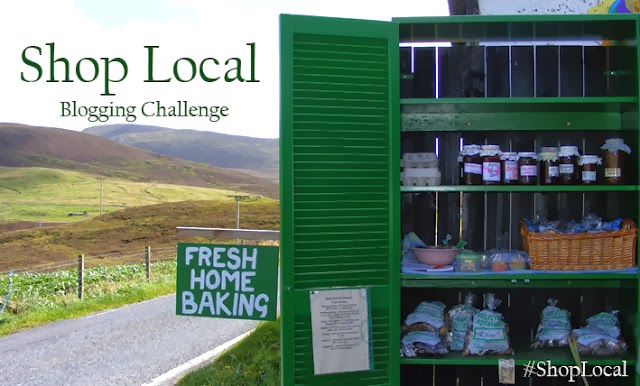 LIKE THIS RECIPE? LEAVE A COMMENT..I LIVE FOR THEM!
Chef Mireille