Last Updated on May 20, 2015 by Chef Mireille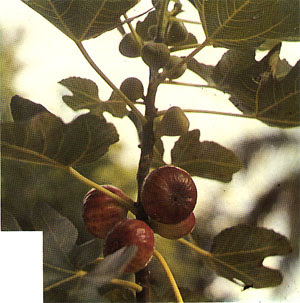 Yesterday as I was walking around Manhattan, I was noticing figs everywhere. All of the Indian fruit vendors have them on their stands. Figs have become the "en vogue" fruit. With the popularity of Mediterranean and Middle Eastern food at an all time high, the fig has landed with reckless abandon everywhere – even in my local Shoprite supermarket in Brooklyn. I no longer have to schlep all over town to some super expensive gourmet supermarket to find a fig – now they are everywhere and I am loving it.
For the Caribbeans out there, I am not referring to the baby bananas that West Indians call fig or more appropriately spelled figue. The fig is the fruit that is used in Fig Newtons. Now I know everyone knows what a fig newton is. But fig newtons use dried figs and in years past, dried figs were all you were able to find. This rampant availability of the fresh fig is a new phenomenon. If you have not tried a fresh fig, you must go out and buy one NOW. They are not the seedy, grainy dried fig that you may not like. A fresh fig is a refreshing, sweet fruit that is delicious on a warm sunny day, like the Indian summer we are having today in NY. They are one of the most popular fruits eaten in the Middle Eastern desert countries. They are light and refreshing with a high amount of potassium to give you the energy to cope with the heat.
The fig is native to Western Asia, but was transported successfully to the Mediterranean. The fig is a very sturdy plant, able to grow in dry as well as sub tropical climates. In addition to Western Asia and the Mediterranean, figs are grown almost all over the world – from California to Columbia to China to India.
Although some people prefer to peel the fruit, I enjoy it as is. I bite into it as though I am biting into a perfectly ripe peach. Another great condiment now readily available in many supermarkets in fig spread. I first discovered fig spread several years back when I was working at Whole Foods. We used to make a pizza with fig spread, arugula and parmesan. It was one of our most popular pizzas – absolutely delicious! It is great on crostini with some cheese on top – like firm goat cheese or machego!
So go out there and buy those fresh figs and embrace the increasing globalization of the world that is enabling us to have access to all the produce the world has to offer!!
Chef Mireille
https://www.globaltasteinc.com
Like me on FACEBOOK!
Follow me on TWITTER!