Last Updated on December 14, 2020 by Chef Mireille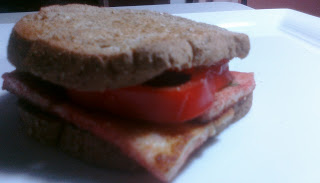 I have a fabulous post to end the blogging marathon tomorrow, but I was paneered out of ideas. I didn't want to do something classic, eventhough it's one of my faves, like Muttar Paneer. There are, I am sure, hundreds of this recipe you can find online and I always strive to bring new and interesting recipes and cuisines to you.
I have not yet met a person who did not like Tandoori. Even people who say they don't usually like Indian food usually like Tandoori, even kids. I took my friend from Dominican Republic a few months ago to Jackson Heights' Little India a few months ago. She and her kids had never had Indian food before, eventhough her daughter's name is Anjali. She is the biggest Dominican Bollywood fan I have ever met. (Her daughter is named after Kajal's character in Kuch Kuch Hota Hai) I think the main reason we are friends is because I know where to take her to get Bollywood movies and she can borrow from my Bollywood library 🙂 just kidding! Even her 4 year old son loved the Tandoori chicken. Of course, that was only until his picky 6 year old sister decided she did not like it. Then he followed her and decided he did not like it. I know him well and if she wasn't there, he would have eaten the whole plate and asked for more!!
As long as your kid isn't super picky and isn't following their older sibling, Tandoori is a great way to introduce them to Indian cuisine.
As much as you may love Indian food, the thought of buying all those spices, roasting them, grinding them and then there's all the dishes to do afterwards may be more than you can contemplate. Thankfully, there are so many ready made products in the market that can help make the task a little easier.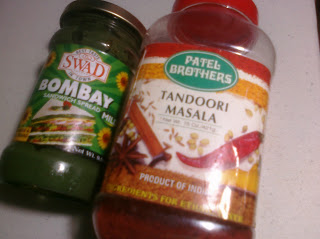 I LOVE this Bombay sandwich spread, which is a mix of mint and coriander, with a bit of spice. I discovered it a few years ago and now always have it. It goes great with the Salmon Burgers I get from Costco.
Exhausted after almost a week of making paneer curries and the like, I was ready for something simple, so here is a delicious, simple sandwich to quench your appetite for Tandoori.
(continuing to apologize for the photos…still using cellphone camera until I get battery for my digital)
Tandoori Paneer Sandwich
(for 2 sandwiches)
4 slices bread, toasted
4 slices paneer
2 teaspoons Tandoori Masala
1/2 teaspoon salt
1 teaspoon oil
4 teaspoons Bombay Spread
4 teaspoons Mango Chutney
a few slices of tomato or bell pepper
Sprinkle paneer liberally with Tandoori Spice and salt.
Heat a skillet with the oil. Add paneer slices and fry until browned on both sides.
To assemble sandwich, spread Bombay Spread on one slice of toast of each sandwich and mango chutney on the other side of toast.
Place 2 slices of fried paneer on one slice.
Top with a few slices of tomato or bell pepper.
Cover with another slice of bread and enjoy your sandwich that marries the sweetness of the chutney, the slight spice of the Bombay Spread, freshness of tomato/bell pepper and the delish taste of Tandoori!
Check out the Blogging> Marathon page for the other Blogging Marathoners doing BM#12
Chef Mireille