Last Updated on May 20, 2015 by Chef Mireille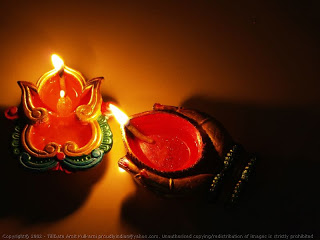 Yesterday was Diwali, aka as "The Festival of Lights". It is the most important Hindu holiday, celebrated as the Hindu New Year. No matter what strain of Hinduism you practice – Jain, Sikh and even some Buddhists – Diwali is the most important holiday on the calendar. It celebrates different things depending what strain you practice and where you are located – Some say it celebrates the birth of Lakshmi (Hindu Goddess of Wealth, Properity and Luck) while others believe it celebrates Lord Krishna defeating Indra. Click here for more information about Diwali.
It is called The Festival of Lights because lights line the cities where Diwali is celebrated and in homes, candles and diyas are lit in glory to the Gods. Here in America, Diwali was celebrated in many home with candles, diya and incense burning even if we were unable to make it to temple. Prayers are offered as well.
Sweet things are traditionally eaten on Diwali so that hopefully sweet things will occur in our lives in the coming year.
Here is a recipe for Gajar Halwa, which originates from the Indian state of Rajasthan:
500 grams of carrots, peeled and shredded
1 litre of milk
1 cup of sugar
25 grams each of almonds, pistacchios and raisins
4 dried dates
1 teaspoon cardamom powder
a few drops of Rose essence
ghee (clarified butter)
Instructions:
Soak dates in water for 15 minutes. Drain and chop.
Chop nuts and raisins.
Cook carrots and milk together, stirring frequently until the mixture is dry and thick.
Add sugar and continue stirring until the sugar is dissolved and absorbed by the carrot mixture.
Add 4 tablespoons of ghee and fry until the color has turned red.
Mix in essence and cardamom powder.
Serve, garnished with the nuts, dates and raisins.
Recipe taken from Aroona Reejhsinghani's Best of Indian Sweets and Desserts