Last Updated on June 4, 2015 by Chef Mireille
I grew up in Queens and in the Richmond Hill section of Queens, Phagwa is celebrated annually. Phagwa is an Indian festival, usually called Holi in India. They have had an annual event in the Richmond Hill area for many years. In Richmond Hill, there is a large number of Indian decent people from Trinidad and Guyana, where the event is called Phagwa. Also called the Festival of Colors, it celebrates the arrival of Spring and people play throwing colors at each other. If you are a Bollywood fan, I am sure you have seen a holi scene or song in many a movie. Here's one example:

They now have a Holi festival in Manhattan. As I now live in Brooklyn, it is easier for me to get to Manhattan than Queens, so I left my house in Brooklyn to attend the Holi Festival in Manhattan at Dag Hammarskjold Plaza on Sunday. As I am walking from the train station, I don't hear any Bhangra music so I start to get a little worried. When I get there, there is nothing. I look it up on my smartphone and I have the wrong Sunday – it is in two weeks. Silly me, I thought it would be the same week that Holi actually takes place.
The festival in Queens took place on Sunday, so I guess they don't want to do two on the same day…but now I was in Manhattan and starving. I had brought a friend with me and we both purposefully did not eat before I left home because I promised here there would be delicious good food to be enjoyed. So now I had to at least make good on my promise of good food and I remembered there was a fabulous Indian restaurant in the area I had been to a few years ago. It is one of the few restaurants that offers all you can eat buffets on weekends, as well as during the week.
We arrived 20 minutes before the buffet time was ending. It runs from 11:30am-4pm. The staff was so accommodating. Some of the food had run out, but there was enough of most things for us to still have a good plate of food. The only thing I asked for was for some more rice. Not only did they bring out some fresh rice, but after we were already eating, they brought directly to our table a fresh plate of both Tandoori Chicken and Chicken Tikka Masala. Many restaurants, when they are getting ready to shut down, would just say :"Sorry, that's all that's left". Instead, we received freshly prepared food 10 minutes before closing.
Darbar has excellent customer service…and the buffet is delicious too! $12.95 all you can eat and the selections were: assorted Vegetable Pakora, Pani Puri, Basmati Rice, Goat Curry, Tandoori Chicken, Chicken Tikka Masala, Goa Fish Curry, Channa Dal with Spinach, Potato and Eggplant Curry, Cabbage Masala, Paneer Curry Fresh Salad and Chutneys, Dal Makani and one other type of dal I can't remember, Seviyan and Mango Mousse.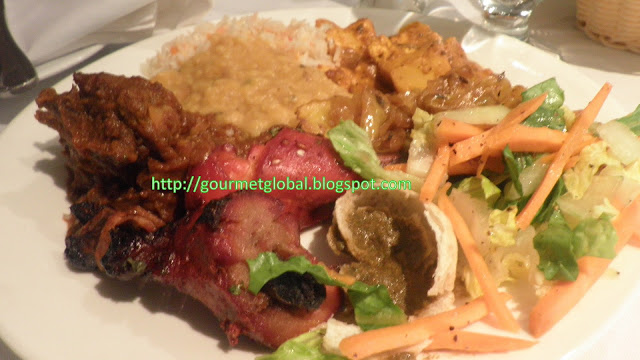 my plate of food at Darbar
Everything is accompanied by endless Naan – they'll keep on bringing more until you tell them to stop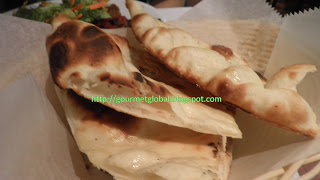 The highlights were the Goat Curry, Cabbage and the desserts. The goat curry was so soft and tender in a flavorful curry, but not too spicy. My friend who is from the Dominican Republic and can't really tolerate spicy food had about three servings of the Goat Curry. She said it was even better than her Mom's goat. The cabbage was a perfect blend of spices. My friend thought it was too spicy, but I couldn't stop eating it.
The Mango Mousse was more like a mango custard. It was quite dense but popping with intense mango flavor.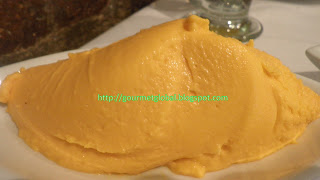 At the first bite, I did not love the Seviyan (a milk pudding with vermicelli, raisins and almonds) The saffron and cardamom was very assaulting, but I usually like Seviyan, so I went back to it and the more I ate it, the flavors mellowed and I ended up preferring it to the Mango Mousse. Perhaps the flavor was so strong in the first bite because it did not balance well with the other flavors in my mouth. Next time, I will finish my meal with something neutral like the salad, to serve as a palate cleanser, prior to eating the dessert. Then I'll probably love the Seviyan from the first bite.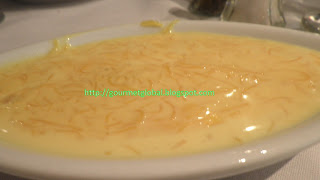 If you ever wandering around the east side of Manhattan and don't know where to go for lunch, I highly recommend the lunch buffet at Darbar.
..and don't forget you can still make the 3rd annual Holi Festival at Dag Hammarskjold Plaza on Sunday, March 25th, from 12pm-5pm. I'll be there! See here for photos from the past two Holi Festivals in Manhattan.
Chef Mireille
https://www.globaltasteinc.com
Like me on FACEBOOK!
Follow me on TWITTER!
Contact me at [email protected] for personal chef and cooking class services!